The first of this year's Grocery Savings Challenges is the Pantry Challenge, otherwise known as "eat down the pantry" so you can save money and reduce food waste. It's a great way to welcome the new year and recover from the holidays!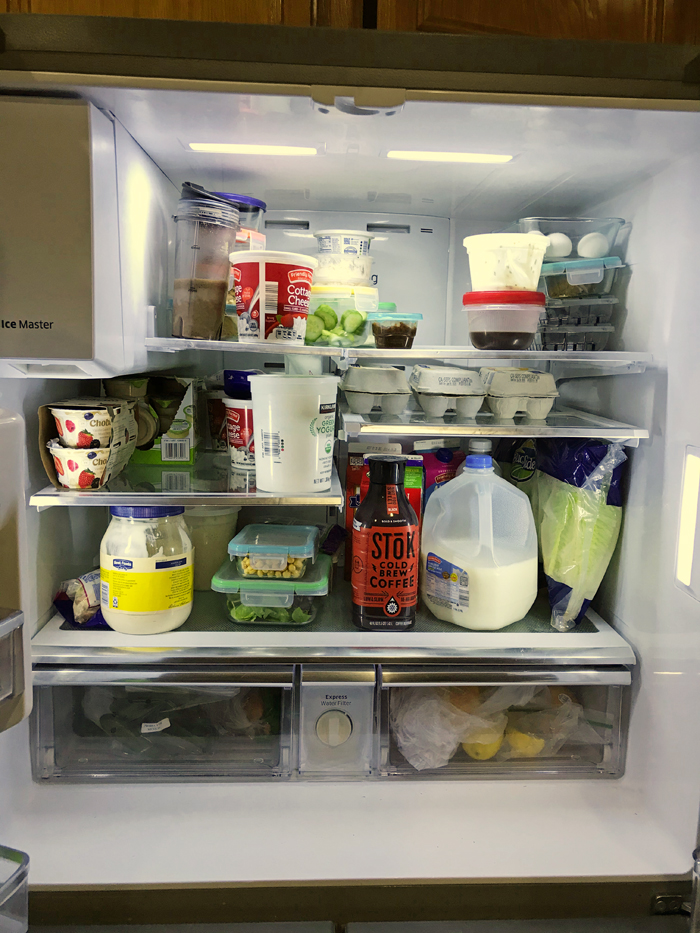 So, here's what the insides of the fridge look like at this moment in time. The coffee and the flavored yogurts are for my college son. They make the fridge look fuller than it is.
I'll confess, it was tempting to go to the store "for produce" today, but I resisted. Or I was lazy. Could be either one.
Seeing as I have a full pan of cauliflower, carrots, and zucchini roasting for tonight's dinner, and lettuce and cauliflower enough for tomorrow's meals, I'm thinking we can squeak by for another couple days.
It was a weird day, that first Monday back after what feels like a month of holidays. I feel very unaccomplished.
But, I did eat leftovers. Does that count?
Breakfast
Bryan had his usual steel cut oats for breakfast before he left for work. Our college son clattered around in the kitchen while I was trying to sleep, so I'm thinking he ate something. 😉
When I got up, I reheated some mashed potatoes from Day 1, sauteed some onions, peppers, and mushrooms, and fried a couple eggs. I was hoping that going the veg route would help me fight some of the sugar cravings I've been having lately.
Seeing as I baked a pastry later in the day, I'm not sure it worked. Ha!
The kids had waffles, eggs, and cranberry bread when they woke up later.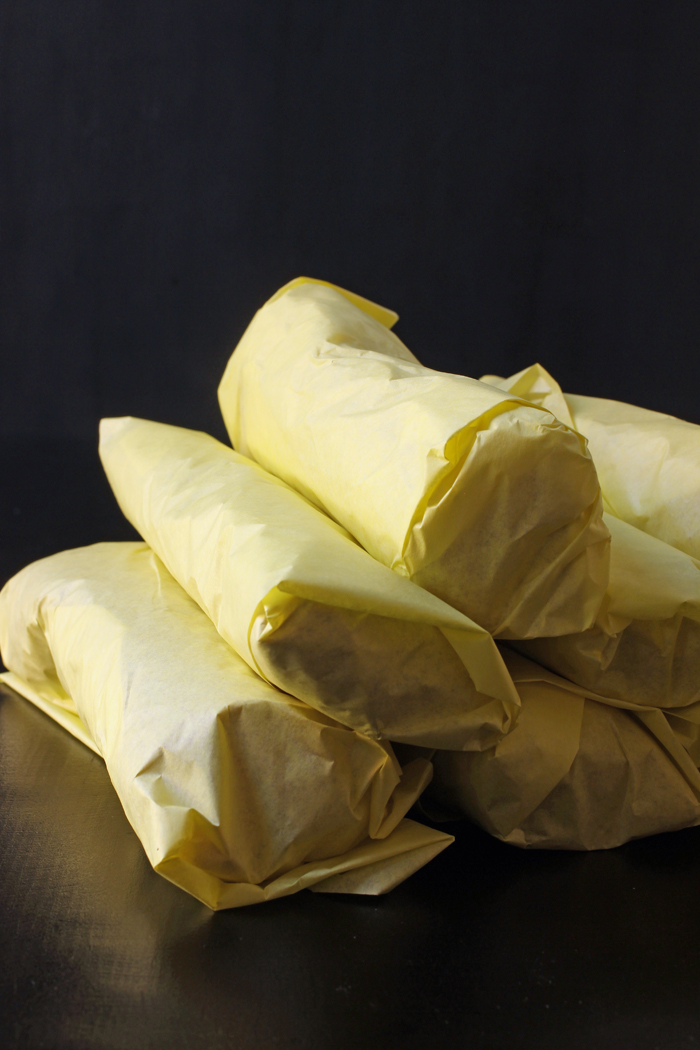 Lunch
Bryan has a stash of Chicken Fajita Burritos at work, so that's what he had for lunch.
The kids made sandwiches. And had leftover donuts. I had the rest of the mashed potatoes and some pork roast.
It all felt so scattered and disjointed. I'm hoping for a more cohesive dinner and tomorrow.
A fun dessert
Today is the official end of Christmas, Epiphany, the day the wise men brought Jesus gifts. And since I had a box of puff pastry in the freezer, we're celebrating with a French King's Cake!
I initially read the recipe wrong and thought I was going to be using up some of my stash of almond paste. It wasn't until I was already committed that I realized that wasn't the case. Instead, the filling is similar to the topping in my Sweet Almond Toasts (Poorman's Bostock).
Unfortunately, the puff pastry did not cooperate. I'd never purchased Trader's Joe's puff pastry. Turns out it's narrow and rectangular. I needed square. Rolling it was problematic; after it was rolled and cut and assembled, it shrunk back to its original proportions. And the filling oozed out.
And it looked like a football when all was said and done. Hmph. I want to revisit this recipe again sometime. We love almond desserts, and it reminded us of Oslo Kringle.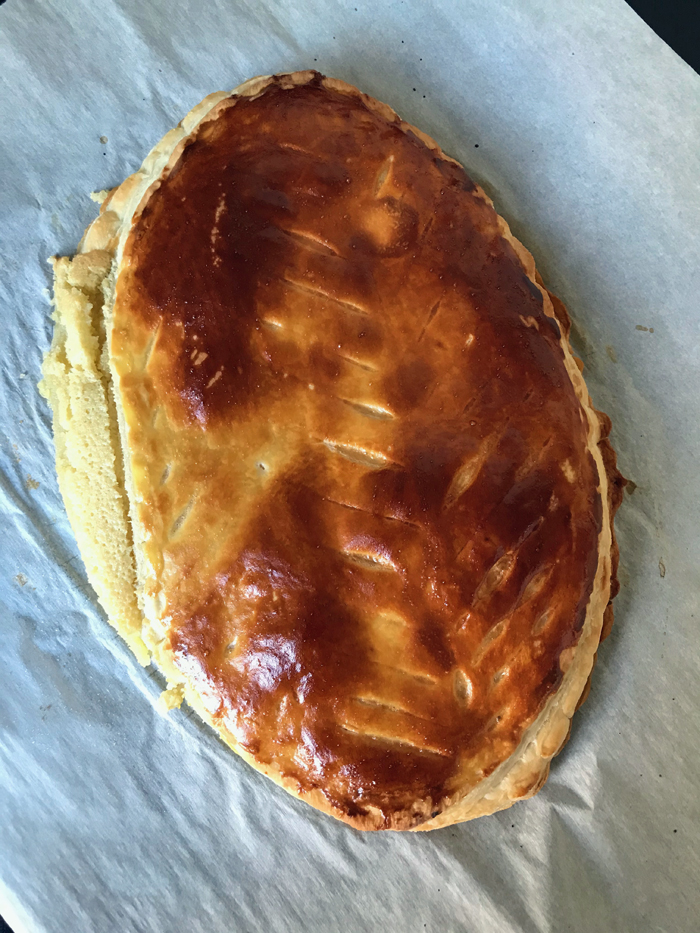 Dinner
I had purchased several chuck roasts on sale at ALDI a few weeks back, so I made stew with one of them. Kinda of a riff on Boeuf Bourguignon, without all the hassle. Except I used sherry instead of red wine. And cooked it in the crockpot.
So, basically the bacon and mushrooms were the only similarities. Whatevs.
I roasted veggies that will be done in a bit here and cooked Rice in the Instant Pot. I don't think anyone will complain about beef stew and a cake for dessert. Do you?
How's your pantry challenge today?