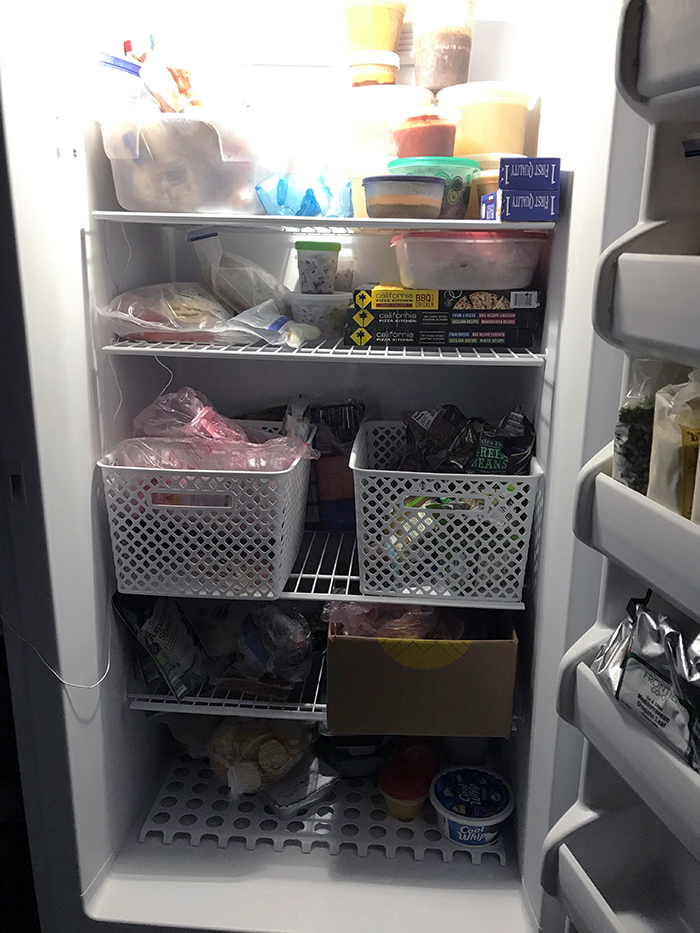 Happy Monday, folks! I hope it's been a good one. While the day itself felt scattered and overwhelming, I must admit we've got full tummies tonight!
The freezer is looking fairly bare. Though there is still a fair bit of stock to burn through, it's in good shape to be so much more functional!
I found some brownies in the fridge freezer and Oh my! They were from a flourless brownie recipe my daughter tried out awhile back, and wow! are they good.
Some freezer randomness is a blessing is disguise.
We've got four more days to go with this month's challenge, and while I am ready to shift gears, I'm contemplating a weekly freezer dive to finish off the randomness and make sure we're using that stuff up.
I know I haven't had time to respond to all your comments recently, but I noticed that theme in the conversation: we could keep going even though we're ready for change.
Anyone else up for a weekly freezer challenge?
Breakfast
Even though I didn't do a full meal prep yesterday, what I did do was so helpful when morning rolled around. The college boys had steel cut oats all ready to go. Everyone enjoyed the muffins I made.
I used my Banana Chocolate Chip Muffins Recipe with a few tweaks:
I made 1 1/2 batches into 24 muffins.
I was out of oil so I used 1/2 butter and 1 cup applesauce. I really like the texture. They baked much higher than they would have with oil.
The chocolate chunks were a very nice touch.
Yesterday I had one of the kids cook up the breakfast sausage I had thawed. I used most of it today in an Egg Bake. I thawed a box of spinach in the microwave, squeeze that dry and used it on the bottom. Sprinkled with sausage, and then topped with a sauté of onions and mushrooms. Poured 1 dozen beaten eggs over that and sprinkled with cheese. Baked at 375 for 4o minutes or so. It was really good! We'll reheat leftovers tomorrow.
Lunch
There were just four of us home for lunch. We did a combination of leftover tomato soup, salad, and grilled cheese sandwiches.
We had one casualty of the day. I cooked two chicken breasts in the instant pot, but due to a miscommunication among all the kids, it got left out too long. Had to chuck it. A disappointment, but since we've done pretty well avoiding food waste this month, I'm not going to sweat it.
While I was prepping veggies for lunch, I made a bunch of salads for the next day or two. That really helped me last week, so here's hoping for more of the same.
Dinner
Dinner felt really crazy. I was rushed to go get one of the boys at the train and should have asked for help.
I made Baked Rice but realized that if I was going to make Fish Packets I wouldn't have enough foil. So, at the last minute I moved the rice and water into a dutch oven.
It worked out okay, but I still didn't have enough foil for all the fish I cooked. We had three kinds: tuna, tilapia, and salmon. Variety of seasons. Some of us loved the fish; some didn't. Some filled up on rice. It all worked out in the end.
Food is fuel.
How did today go for you?