This year I'm doing twelve Grocery Savings Challenges, one per month. The first is a Pantry Challenge where we focus on using what we have in order to save money and waste less.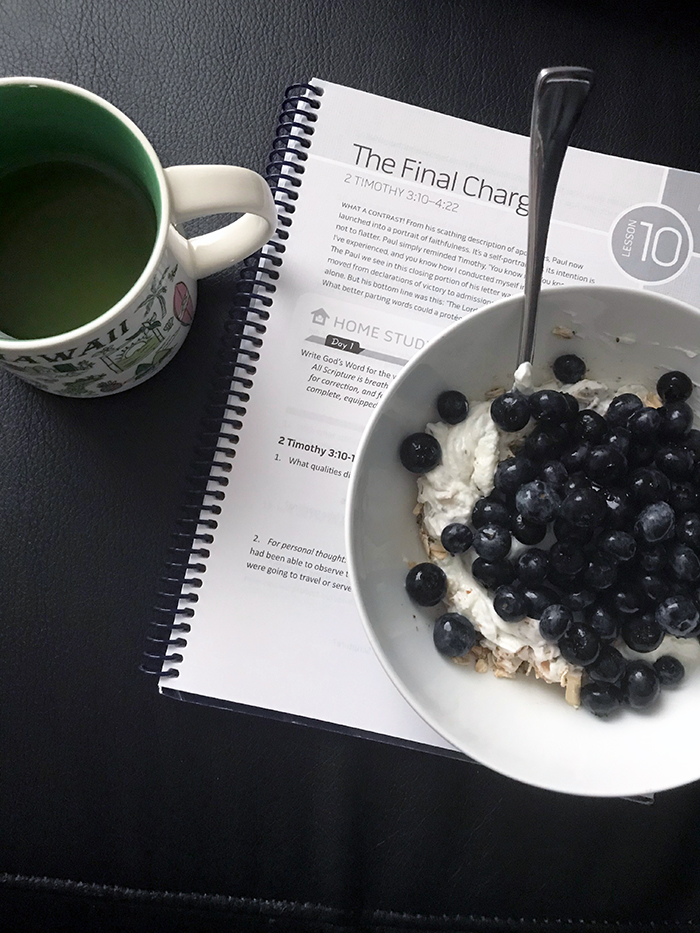 Wow. The days are just packed, aren't they? Today was a pretty chill Monday holiday for us.
I got up fairly early and started in on meal prep and grocery shopping. While I didn't get everything done on my list, I got a fair amount sorted. I'm not mentally ready for the week to begin, but at least meals will be a bit easier.
Grocery Shopping
Once I'd had my tea and breakfast, I headed to Sprouts for a small handful of things: Honeycrisp apples (98 cents/pound!), bell peppers (98 cents each!) blueberries, and shredded cabbage and carrots for my salads.
Then I headed to ALDI for the rest of the things I want for the next few days: milk, eggs, lettuce, green onions, cherry tomatoes, half & half, baby carrots, and salt.
I ended up spending $36, which brings our monthly total to $261.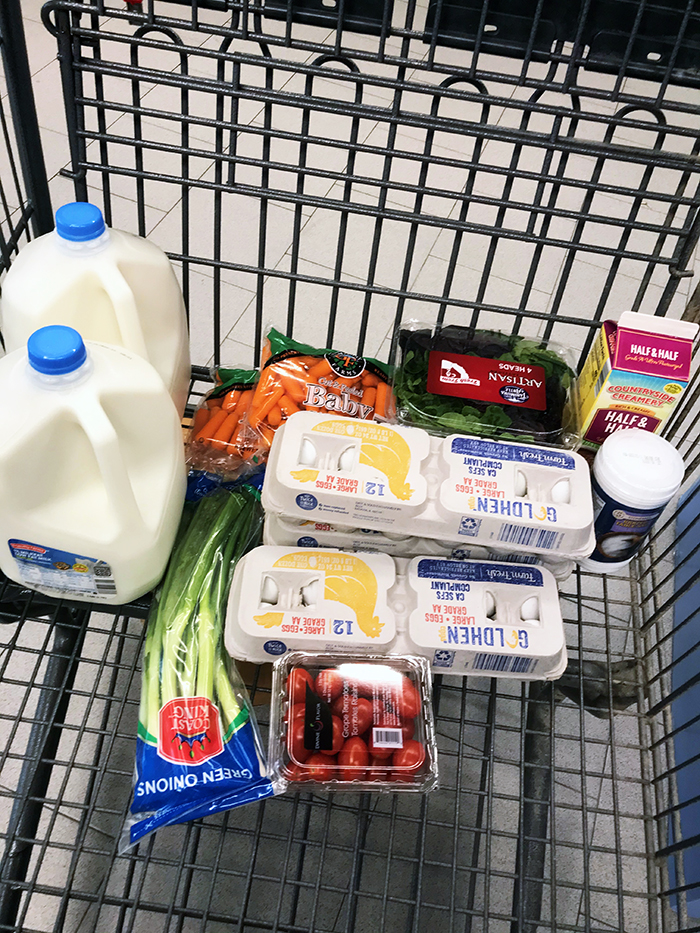 Breakfast
I had my usual: Greek Yogurt and Muesli. One son had fried eggs, toast, and breakfast gravy. Bryan had his Coach's Oats. FishChick11 made my Basic Pancake Recipe for everyone else.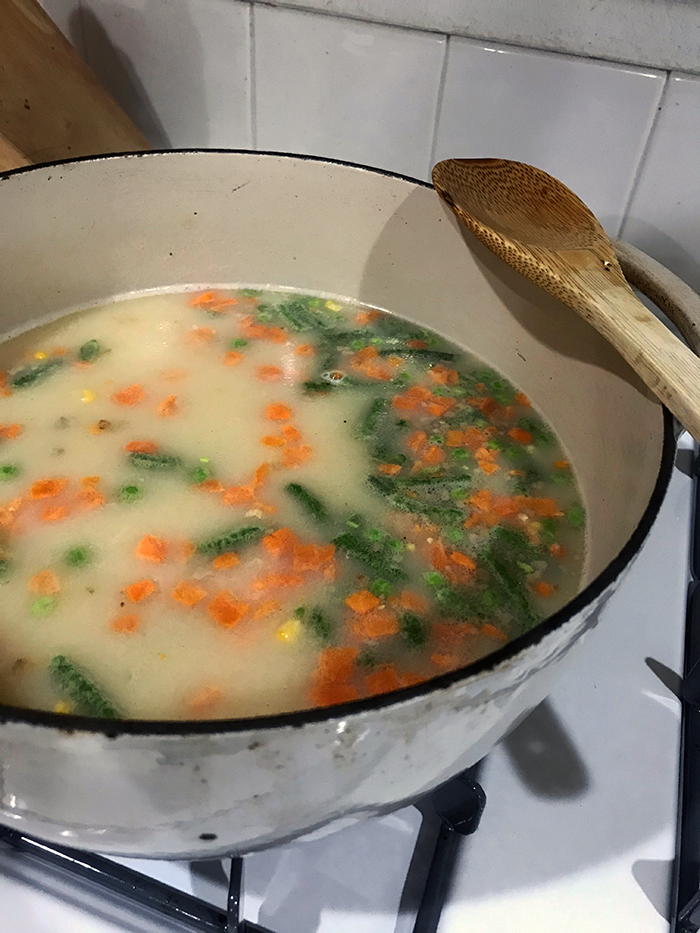 Lunch
The kids had friends over again for D&D, so I made them a chowder, using my Soup from Leftovers method. I used chicken stock from the freezer, the potatoes from Imperfect Produce, the rest of the breakfast gravy, and a bag of mixed vegetables.
They also made cucumber sandwiches and tea to serve to their friends. And we thawed some mini cakes we had in the freezer.
Bryan and I went out to Ty's Burger House for a lunch date, since he had the day off work.
Dinner
Yesterday I had prepped Easy Vegetable Bolognese with the plan to make lasagna. We had it over noodles and zoodles tonight.
FB15 and FC11 aren't crazy about the vegetables, so they had a plain bolognese from the freezer on their noodles and veggies on the side.
I actually have so much sauce that I'll be able to make a lasagna to freeze.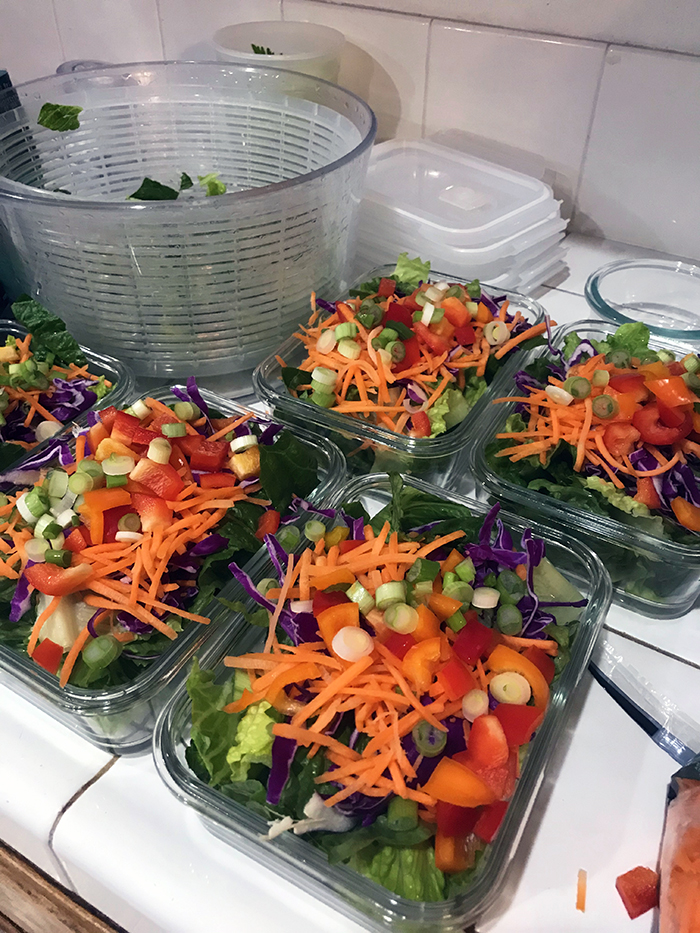 Meal Prep
I love it when I can get a head start on the week. Meal Prep helps me do that.
This morning I made Oatmeal Waffles and Cranberry Bread. I also made Simple Hard Cooked Eggs in the Instant Pot followed by a batch of Perfectly Poached Chicken, seasoned with the Herbes de Provence.
In the afternoon, I chopped a load of vegetables and made five Meal Prep Salads.
How's the Pantry Challenge going for you?