Dust off your slow cooker and let's get this party started! Crocktoberfest is here, and what better time to put your slow cooker to work for you, saving you time and money!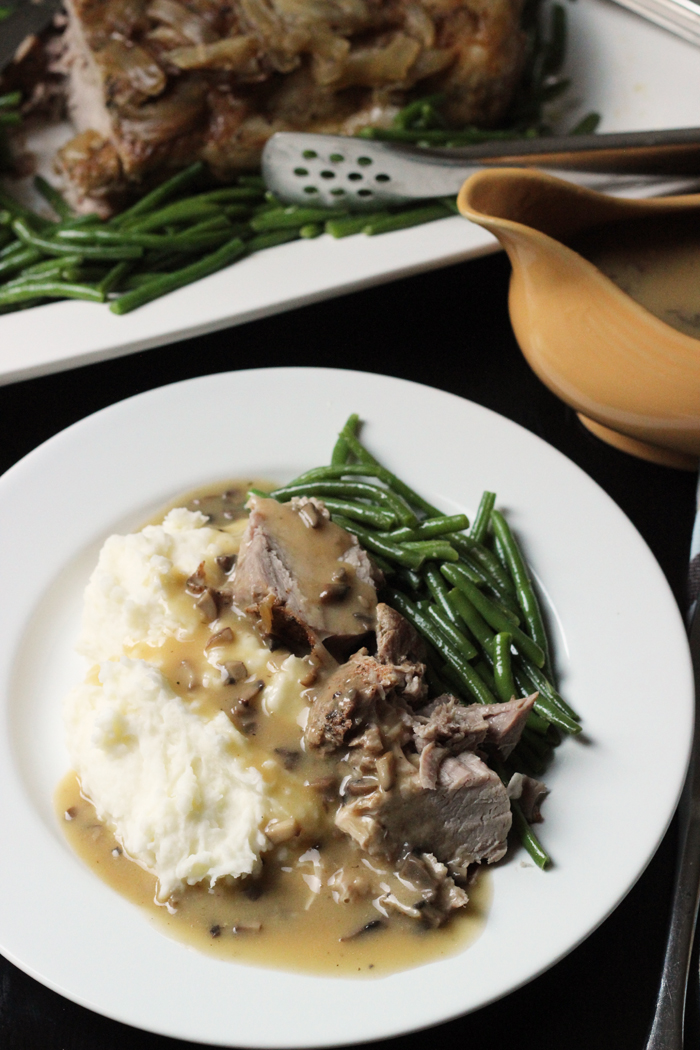 You know I love a good theme. I am also a nerd. So…
October is the perfect time to have some fun! How about dusting off your slow cooker and giving it a run for its money?
In October's Grocery Savings Challenge, we're focusing on the slow cooker to help us save money.
Let's celebrate Crocktoberfest!
What is Crocktoberfest?
While Oktoberfest is a Bavarian fall festival held in October and featuring much beer and frolicking, Crocktoberfest is a celebration of the slow cooker. And it makes so much sense for us to hold it in October. The weather has cooled in the northern hemisphere, making for a perfect time to cook up what the slow cooker does best: stews, soups, sauces, and braises.
Not only is the slow cooker an amazing invention for busy cooks, but using it will also save you money.
How can the slow cooker save you money?
Let me count the ways!
The slow cooker is a whiz at braising cheap cuts of meat. Inexpensive cuts of meat tend to be a little tough and require longer cooking times. The slow cooker is perfect at that, allowing you to enjoy some affordable proteins that taste delicious.
Who wants to get take-out when dinner's all ready? If you're out and about during the day or just hunkered down in your home office, you're far less likely to get take-out when a meal is already prepared. The slow cooker allows you to do that advance prep pretty easily without a lot of fuss.
Big batches are easy-peasy in a slow cooker, so fill your freezer. It's so simple to make a big batch of stew, soup, chili, pasta sauce, beans, etc… in the slow cooker which makes it simple to cook ahead and freeze extra for later. Having a stash in the freezer will save you time, money, and effort over the long haul.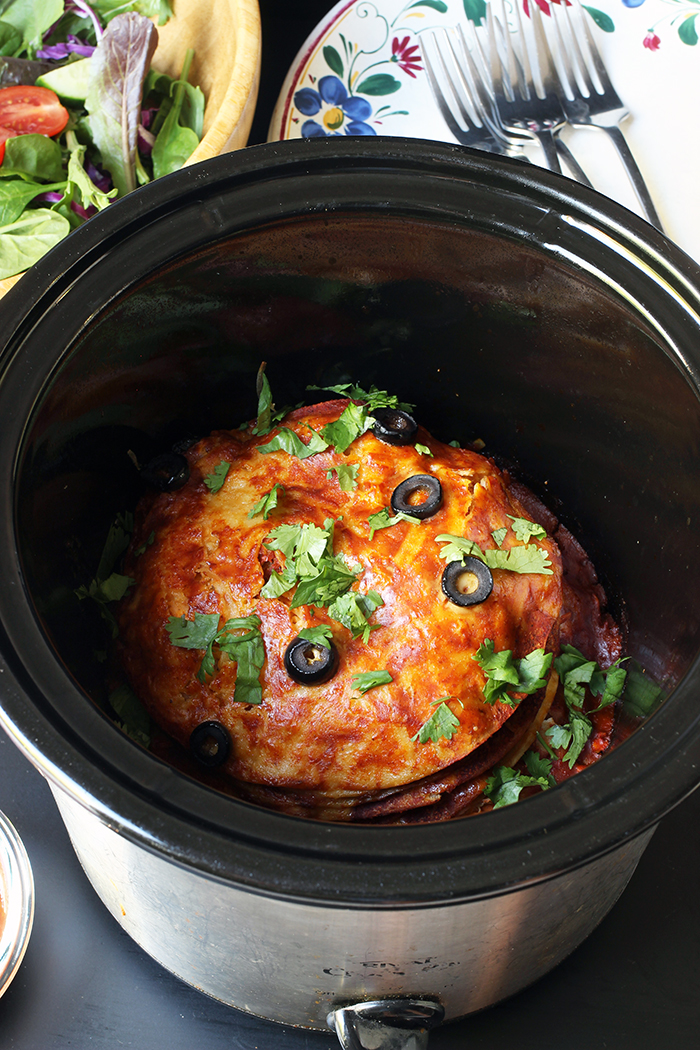 Dust off your Slow Cooker!
This month on Good Cheap Eats, I'm encouraging you to use your slow cooker more!
I will be!
In fact, I'm endeavoring to use my slow cooker every day in October.
Yes, really! I'm not honestly sure I can swing, but I'm going to try.
In preparation, I've been experimenting with more slow cooking and developing some recipes I'll share with you this month.
I also made sure our slow cooker recipe archive was tidy and organized!
To expand my horizons, I checked out a range of slow cooker books and decided on one to add to my collection, The Complete Slow Cooker from America's Test Kitchen. I know from experience that they are a little more fastidious about recipe preparation than I am — which is saying a lot! — so I figured I wouldn't end up with too many disasters and could increase my knowledge of strategies that work. I'll include a review of the book and the recipes we test later this month.
What can you make in the slow cooker?
It's really fascinating what you can make in the slow cooker! Some of the things on my list to make in October include:
dips
chicken wings
ribs
egg bake
casseroles
meatloaf
sandwiches
taco and sandwich fillings
soups
stews
rice pilaf
potatoes (baked as well as buttered)
mashed potatoes
carrots
cheesecake
party mix
creme brûlée
pudding cakes
brownies
Some of the things I'll be making this month are things I always make in the slow cooker.
Others are …. experiments. I'll be sharing my experiments as I go along via Instagram, but I'll be sure to give you a round-up each week in the Gazette.
Clearly, some of these things are not your set-it-and-forget-it type recipes. Many of the new and "can-you-really-slow-cook-that" recipes I've seen call for much shorter cooking times than you probably think of for slow cooking. This requires you to be home, but in a lockdown, pandemic kind of year, maybe the slow cooker has finally another time to shine?
I'll let you know!
Does the kind of crockpot matter?
I don't honestly know from experience if the type of slow cooker matters.
I was really interested in AT's reviews of slow cookers. None of the six I own made their list as recommended. Neither were they on a list put out by Good Housekeeping. Or Food & Wine.
Gulp. I confess, I've been very brand loyal to the official Crock-pot name over the years. Perhaps that wasn't wise?
Well, we'll see how this month goes. I own three large ovals (will likely donate one for lack of space), one beaten up round, one mini, and one casserole style. Over the course of the month, I will use all six and see what I truly love and what could maybe give up some valuable kitchen real estate.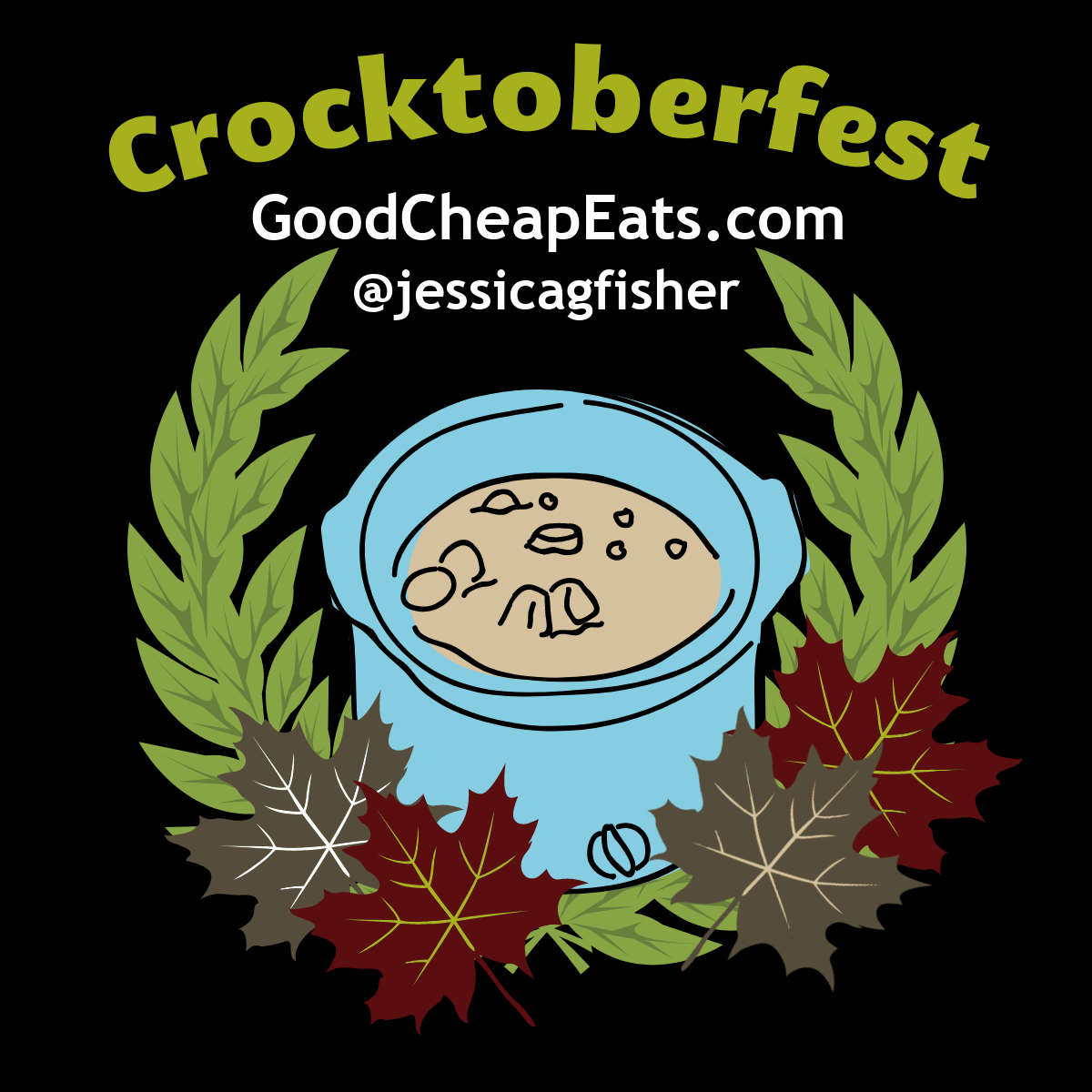 Want to join me for Crocktoberfest?
I hope you will! There are lots of ways to participate:
Follow along here on the blog and leave a comment. I love to chat with you!
Subscribe to the FREE Good Cheap Eats Gazette. It comes out each Sunday afternoon with a roundup of recent posts and behind-the-scenes details. If you're subscribed, you'll already have an email with the free idea sheet waiting for you. Check your inbox and spam before signing up again. Trust me, it's better that way. Otherwise, sign up here.
Follow along on Instagram. I do live streaming every weekday at 9:30 Pacific. You can find me @jessicagfisher.
Whether you cook in your slow cooker once, twice, or thirty-one times, I hope you'll let this money- and time-saving device help you more in the kitchen.
Ready for Crocktoberfest?