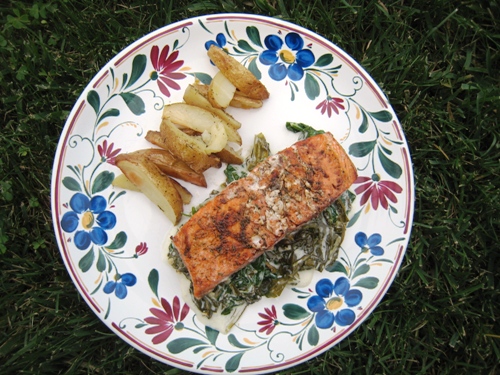 I did not grow up eating greens. And if my son hadn't gone all "wild edible foliage" on me, I might never have considered cooking green leafy vegetables. But, here we are. Last year we tried chard and mustard greens. This week? Sorrel.
There was a large bunch of sorrel in our produce box and darned if I knew what to do with it. I went to my go-to foodies, Shaina and Aimee. Both were extremely helpful. We tried chopped sorrel and romaine in a salad one night. Amazing what a lemony flavor sorrel has!
Last night we had Creamed Sorrel and Spinach. I didn't really know what I was doing, but at least three of us really enjoyed the flavors of the greens and how they complemented the fish that I seasoned and grilled.
(The little people didn't like "the planty stuff.")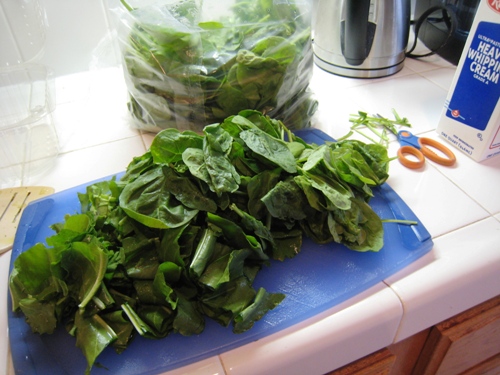 A little research told me that sorrel would be quite flavorful. Since I didn't know how much so, I decided to balance it with spinach. I had a huge package of organic spinach from Costco, so why not?
Recipe: Creamed Sorrel and Spinach
Ingredients
2 Tablespoons butter
1 Tablespoon chopped garlic
1 large bunch sorrel, coarsely chopped
2 handfuls baby spinach
2 Tablespoons heavy cream
salt and pepper to taste
Instructions
In a large skillet over medium heat, melt the butter. Cook the garlic in the butter until fragrant.
Add the sorrel and spinach and cook over high heat, quickly, just until it starts to wilt.
Stir in the cream and stir to combine.
Season to taste with salt and pepper.
Serve immediately.
Preparation time: 5 minute(s)
Cooking time: 10 minute(s)
Number of servings (yield): 4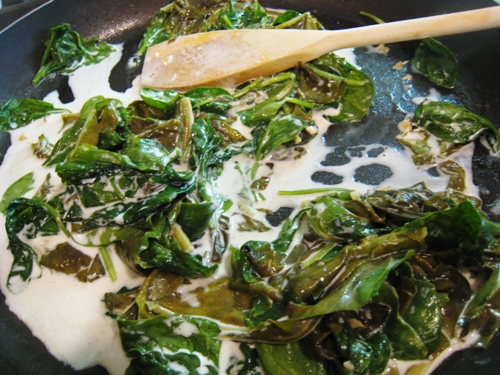 Have you ever tasted sorrel? What do you do with it?