Usually when one is heading to a potluck, one hopes that her meal arrives there in good shape. Admittedly, some dishes travel better than others. And sometimes how you package the food makes a world of difference.
When I was a child, we made a Black Forest Cake to take to a holiday event at my cousin's house, about an hour's drive away. We didn't own a cake carrier, so we wrapped it in plastic wrap and set it on the back seat. A darkened car and sixty minutes later, we arrived at our destination only to find that a young family member had sat on the cake!
Needless to say, that was one potluck dish that didn't travel well.
So that you can avoid such mishaps, today we're sharing recipes for foods that travel well. Browse through today's list if you're looking for potluck inspiration over the next couple months.
One item that is tasty, seasonal, and easy to transport is this Cranberry-Orange Muffin recipe.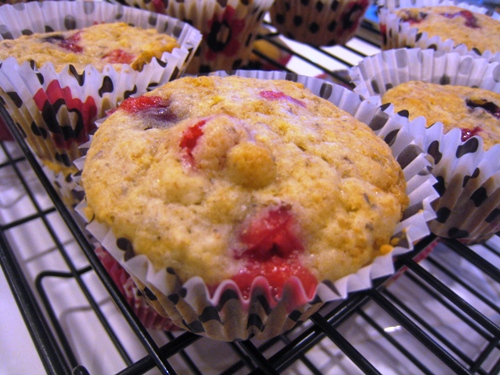 I took my Mix and Match Muffins and used fresh cranberries and orange zest for my mix-ins. Delicious!I don't bother to chop the cranberries. Just rinse and add to the recipe.
If you don't have a fancy cupcake carrier, fill a regular shirt-size gift box with muffins. Easy to bake, easy to take.

Recipe: Cranberry-Orange Muffins
Ingredients
3 cups unbleached flour
1/2 cup whole wheat flour
4 teaspoons baking powder
1/2 teaspoon baking soda
1/2 teaspoon salt
1 cup sugar, brown sugar, or sucanat
1/2 cup oil
1 cup milk
1/2 cup plain yogurt
2 eggs or 2 Tablespoons flax seed meal mixed with 6 Tablespoons water
1 teaspoon orange zest
2 cups fresh cranberries
Instructions
Preheat oven to 350 °. Line muffin tin with papers or spray with nonstick cooking spray. In large mixing bowl, combine, flours, baking powder, baking soda, salt, and sugar. (If preparing as a mix, simply combine all these ingredients in a ziptop bag, label well, mark with the wet ingredients and baking instructions.)
In a separate bowl, combine oil, milk, yogurt, and eggs. Whisk to blend. Add wet ingredients to dry. Fold gently until mostly moistened, but still lumpy. Fold in mix-ins.
For 12 extra large muffins, fill muffin cups completely, even mounding past their tops. For 24 kid-size muffins, fill almost full. Bake 25 – 35 minutes, depending on how much you fill them.
What's a favorite traveling recipe of yours?