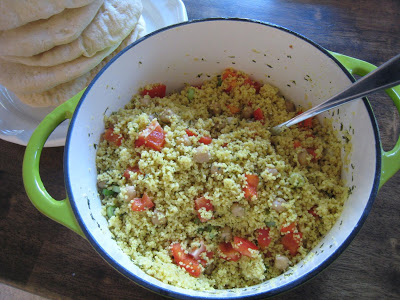 Years ago, I worked for my college catering company, making salads, sandwiches, and deli trays. One of the recipes I frequently made was one similar to this one. It was filling and tasty and spicy. Not hot-spicy, but exotic spicy, using seasonings I hadn't ever come in contact with before.
This is a great salad to prepare during Spring and Summer as it doesn't heat up the kitchen and the tomatoes and bell pepper add a refreshing coolness.
Couscous Salad
14 ounces chicken broth
juice of 1 lemon
1/4 cup olive oil
1 teaspoon curry powder
1/2 teaspoon ground cumin
1 1/2 cups couscous
1 cup garbanzo beans, drained and rinsed
2 green onions, chopped
1 diced red bell pepper
1-2 diced tomatoes
1 Tablespoon fresh chopped parsley or 1 teaspoon dried parsley flakes
In small saucepot, combine chicken broth, lemon juice, olive oil, curry powder, and cumin. Bring to light boil and remove from heat. Stir in couscous and cover. Set 5 minutes. Couscous should absorb all the liquid. Fluff with fork and transfer to serving bowl. Stir in garbanzo beans, green onions, red bell pepper, tomatoes, and parsley. Chill.