Cold weather and fancy dinners sum up Valentine's Day and the month of February. Plan ahead with this seasonal freezer cooking plan.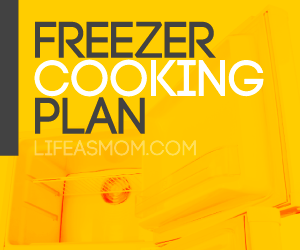 Near the beginning of each month I spend some concentrated time filling the freezer. It might be a few hours to prep breakfasts for the coming weeks, or a full day to really put up some solid meals.
My freezer cookbook came out in October; it includes ten cooking plans including grocery lists to help you pull off a batch cooking session with ease. Since the book's release, I've shared a new cooking plan each month. If you've missed them, download them now for easy freezer cooking.
Cozy Winter Breakfasts – stick-to-your ribs oat dishes, granola, fruit-filled energy bars, and a variety of baking mixes
Holiday Baking – a plethora of cookies and quick breads as well as a Pretzel Berry Cheesecake
Busy Nights – lots of casseroles and one-dish dinners to make supper times easy on busy nights
This month my sister and I chose recipes that would be appropriate for cold weather and fancy dinners. That pretty much sums up February with its chilly temps and Valentine's Day thrown in the mix. This month's plan features two soups, lots of pasta sauce, a boatload of meatballs, a few fancier chicken dinners, and some sweetheart desserts, like berry pie and thumbprint cookies.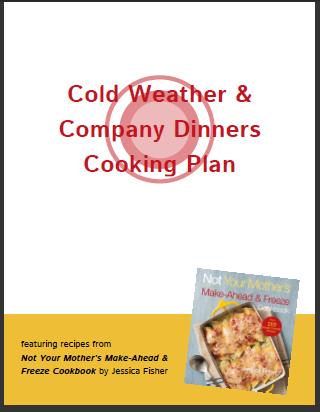 Here are the recipes we've included in the plan:
Stuffed Chicken Parmesan, page 126
Chicken and Wild Rice Bake, page 129
Best-Ever Chicken Pot Pie, page 121
Easy Chicken Gravy, page 110
Baked Manicotti with Sun-Dried Tomatoes and Thyme, page 198
White Bean Soup with Vegetables, page 215
Not Your Mother's Chicken Noodle Soup, page 210
Herbed Meatballs, page 97
Slow Cooker Red Sauce, page 205
Herbed Vinaigrette Dressing, page 130
Jamie's Spice Mix, page 90
Versatile Buttery Pie Crust, p. 356 (see variation for Berry Pie)
So, you can guess what I did over the last week. Yep, I cooked up a storm.
I cooked most of this plan last Friday night and the bulk of Saturday. You can easily break it up over a few days. As I cooked, I took mental notes about what I think will make this cooking plan go smoothly for you.
1. Set the atmosphere for fun.
This cooking plan is a fair amount of work. It's not difficult, but it may take some time. So, set yourself up for fun.
Your definition of fun may depend on your personality, your mood, and the size of your family. 😉 Put on some good music (I enjoyed the Beatles and Andrew Peterson channels on Pandora) and grab a drink that makes you smile. Make the process fun and that's half the battle right there.
2. Do your prep work.
I've talked before about the beauty and ease of mise en place. It's the idea of having all your ingredients prepped and ready to go before you start cooking. This is essential for a bulk cooking session to go well!
It will add to the fun atmosphere. Trust me.
I did the prep work for this plan on Friday night while listening to the Beatles and sipping a glass of Merlot. Quite nice, if I do say so myself.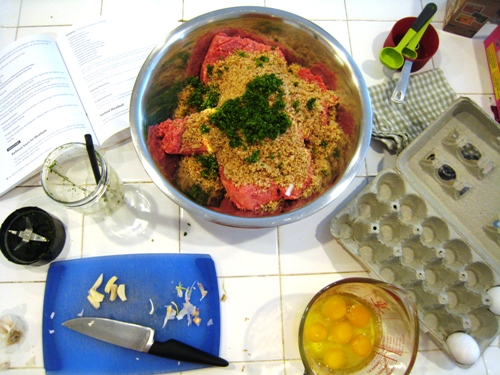 3. Keep going.
One of the tricks to accomplishing a largish cooking plan is to stick with it. It can be tempting to stop. Just push through. You'll be so glad you did.
4. Send the family away.
I didn't say that, did I?
Honestly. My family is so interesting that they distract me from the task at hand. I was so thankful when FishPapa took all six kids for bagels, cocoa, and shopping. I had several hours to work quietly on Saturday morning. It helped my productivity immensely.
5. Plan simple meals for cooking day.
I basically told my husband on Friday and Saturday that he was in charge of meals. He was totally fine with that because he's the type that just needs to know the plan. If the plan is that I have no plan and he gets to make one, he's cool with that. Yeah!
With a little planning and concentrated effort, you can fill your freezer with great meals to enjoy over the coming weeks.
Have YOU done any freezer cooking lately?