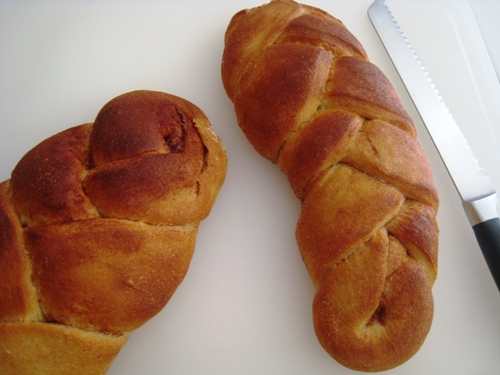 A few months ago my friend Crystal shared her butterhorn recipe. We enjoyed them immensely. I took them one step further and added chocolate to the dough. I also adapted the recipe for the bread machine.
Last freezer cooking day, I experimented with the dough once again and came up with an easy cinnamon twist that is bound to be a great addition to your weekend brunch table. It's not overly sweet, but you could notch it up a bit if you want by adding more cinnamon sugar.
This is a great make-ahead recipe and you can even use the dough three different ways: make regular butterhorns, make the chocolate butterhorns and then make 1 or 2 cinnamon twist loaves.

Cinnamon Twist Loaves (makes 4 large braids)
Dough:
1 cup milk
1/2 cup butter, cubed
2 eggs
1/2 cup sugar
4 – 4 1/2 cups flour
1 teaspoon salt
1 Tablespoons dry yeast, heaping
Braids:
1/2 cup cinnamon sugar
Combine all dough ingredients in the pan of your bread machine according to the manufacturer's directions. Set on the dough cycle and start machine. When the machine beeps, remove dough from pan and divide it into four equal parts.
Roll each part into a 12-inch oval and sprinkle 2 Tablespoons cinnamon sugar over the surface of each oval. Slice each oval into three strips, leaving the top edge attached. Braid the dough, bringing an outside strand to the middle and alternating from side to side. Press points at the end to seal and tuck under slightly.
If preparing ahead, place braids on parchment lined baking sheet and freeze. Once frozen, place in freezer bags and store in the freezer until needed.
To bake: Grease a baking sheet or line with parchment or a silpat mat. Place cinnamon braids on prepared sheet. Allow to rise for 90 minutes, or five hours if frozen, or until doubled in size. Preheat oven to 375 ° and bake braids for 12-15 minutes, or until lightly browned. Cool on wire racks.
What are your multi-purpose recipes?