Maybe it's the fast paced society we live in. Maybe it's that I like to get the biggest bang for my buck. Maybe it's that I'm just lazy. But, I love things that are multi-purpose.
I love a gadget that can serve lots of purposes, like the Night Vision Spy Goggles that I got for my son's 7th birthday. They work great in a nighttime dart gun fight as well as when I send a kid to take the trash out after dark.
See? Multi-purpose.
And multi-purpose in the kitchen? I'm all over that. I love to mix up big batches of meatballs or taco meat and then mix and match them different ways for all kinds of choices in my meal planning. Dinner comes together so nicely when foods can do double duty.
Baking is no different. A few years ago, I adapted a sweet dough recipe for the bread machine — and then proceeded to tweak it in all kinds of ways. It started out as Crystal's massive, I-don't-own-a-bowl-big-enough-to-fit-it-all Butterhorn recipe. I adjusted her bulk dough recipe to fit my bread machine. Because I'm lazy like that.
The rolls are delicious as is. They have a touch of sweetness which allows you to make them work for breakfast, lunch, or dinner. Again, multi-purpose.
Then, I added chocolate. Because I'm a glutton like that.
Remember these?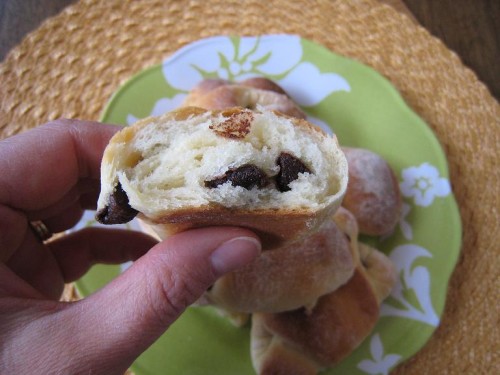 These Chocolate Butterhorns are easy to make and very freezer-friendly. But, quite honestly, you'll probably eat them all before they hit the freezer.
And then, because I was on a roll — and feeling extra lazy — I morphed the dough into these cinnamon twists.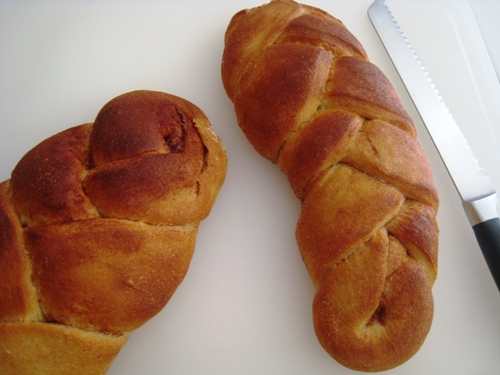 Well, three breads from one dough is pretty sweet. But, says I, why not go for a fourth? The recipe easily divides into four, meaning you could make one of each kind. That's kinda cool. I mean, wouldn't you want to wow the folks at the next brunch or holiday meal.
Yeah, I knew you would.
Make one batch of dough and create four beautiful breads! Butterhorns, Chocolate Butterhorns, Cinnamon Twists, and a Braided Cinnamon Sugar Round.
You're going to be amazed at how fancy-simple the round braid is! I followed Mara's video to the letter, using this multi-purpose sweet dough. Seriously. Me and my floury hands kept walking back to the computer from the kitchen to watch the next step. It was sooooo easy. Special thanks to Kosher on a Budget for sharing the video with me!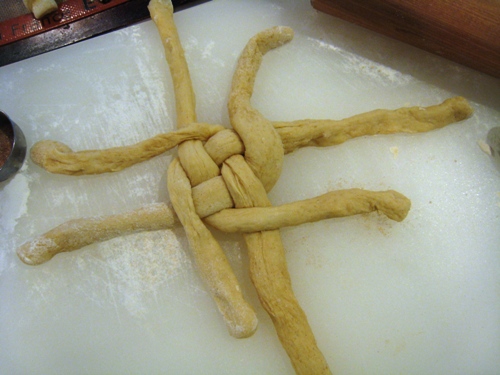 In the middle of the process, it looks like a giant octopus.
But, when it's done, it looks all fancy.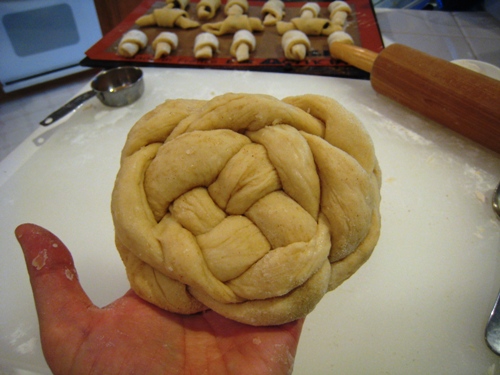 Whip up a batch of dough. You can use the following bread machine recipe or use Crystal's original recipe. (Just remember that the yield is different.) And get baking! You could make 4 Cinnamon Sugar Braided Rounds or you could make a variety of fancy-schmancy breads!
Recipe: Braided Cinnamon Sugar Rounds
Ingredients
1 cup milk
1/2 cup butter, cubed
2 eggs
1/2 cup sugar
4 – 4 1/2 cups flour
1 teaspoon salt
1 Tablespoons dry yeast, heaping
melted butter
1/2 cup cinnamon sugar
Instructions
Combine milk, butter, eggs, sugar, flour, salt and yeast in the pan of your bread machine according to the manufacturer's directions. Set on the dough cycle and start the machine. When the machine beeps, remove the dough from pan and divide it into four equal parts.
Divide each part into four pieces and roll each piece into a long rope. Lay the ropes in a tight tic-tac-toe layout. Put every other rope under the rope crossing it, so that a weave is created.
Moving around the loaf, take an "under" rope and place it over the rope next to it. Do this all the way around the bread.
Next, take the new rope that is now "under" and cross it over the one next to it, now going in the opposite direction of the last round. Continue all the way around the bread.
Continue this process until the ropes are braided all the way around. Tuck the ends underneath the round.
Place the rounds on a parchment or silpat-lined baking sheet. Brush the rounds with melted butter and sprinkle with cinnamon sugar. Allow to rise until doubled in bulk, about 45 minutes.
Preheat the oven to 375 ° and bake braids for 12-15 minutes, or until lightly browned. Cool on wire racks.
Preparation time: 2 hour(s) 15 minute(s)
Cooking time: 15 minute(s)
Number of servings (yield): 12
What's a favorite bread recipe at YOUR house?