one of our more sedate moments (I'm on the left)
Growing up, Christmas morning was a mad affair for our family. Excited children plus presents plus the ubiquitous box of See's Candy produced a somewhat chaotic atmosphere. Sure, Dad eventually cooked up a pan of Lil' Smokies and there was usually an orange in the toe of the stocking. But, for the most part, breakfast consisted of a sugar high.
I still enjoy my traditional See's Candy on Christmas morn, but I've tried to make the morning's caloric intake a tad bit healthier. In the early years when there was just one FishBoy, we were able to cook a full breakfast and eat it before even tackling the stockings. But, over the years, eagerness has trumped appetites more times than not.
A few years ago I established the tradition of filling the stockings with breakfast. Here are some of last year's stocking stuffers: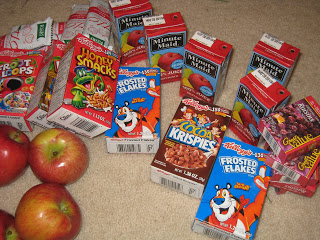 (OK, the sugar cereal probably wasn't the healthiest of all breakfasts, but rest assured this year's stash features free samples of Bare Naked Granola and Kashi cereal.)
Breakfast in a stocking is a great way to mix fun nutrition into the morning's activities. I love giving my kids carte blanche to eat whatever they find.
Breakfast in a Stocking
granola bars
individual, boxed cereal
dried fruit
juice boxes
oranges, clementines, and apples
small packages of crackers
nuts, nut clusters, trail mix
Once the flying wrapping paper settles, we have Second Breakfast. We are, after all hobbits.
What does your Christmas Breakfast look like?