Take stuffed potatoes to a whole new level by making a batch of these Chili Stuffed Sweet Potatoes. They can be served paleo style or simply gluten-free.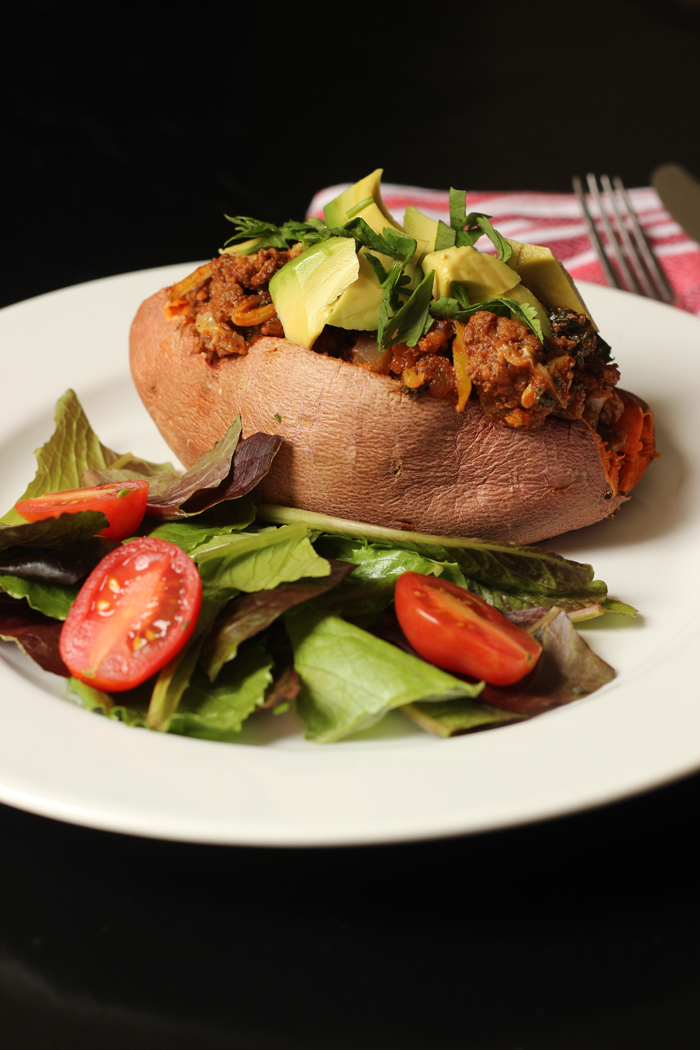 It took me awhile to fully embrace the sweet potato. It's not something that my parents ever prepared for me when I was growing up. The only sweet potatoes I'd ever seen came in a can and were served topped with marshmallows. It just didn't appeal to me.
However, when I did my first Whole 30, regular potatoes were off limits. I made peace with sweet potatoes. And lo and behold! My husband who doesn't like "sweet food" came to love the sweet garnet spud as well. He orders sweet potato fries when we go out now.
These Chili Stuffed Sweet Potatoes are a nice riff on an old classic. I've beefed up the chili with a few generous handfuls of kale and other cruciferous veggies and stuffed it inside a baked sweet potato. The chili is very freezer-friendly, so you can easily throw together this meal in the time it takes to nuke your potatoes.
What Can I Top These Chili Stuffed Sweet Potatoes With?
How you top the Chili Stuffed Sweet Potatoes is really up to you. You can approach it from the paleo/Whole 30 side and just add salsa, hot sauce, and avocado. Or if you're doing dairy, pile on a handful of pepper jack cheese. Either way, it's super filling.
To keep your cool this summer and still enjoy these Chili Stuffed Sweet Potatoes, you can simmer the chili in the crockpot. This chili with jalapenos would be a great as well if you like heat.
And you can microwave or crockpot the sweet potatoes like I do for these crockpot baked potatoes.
Like I said, keeping a stash of chili in the freezer is awesome for quick nights. The chili itself also goes great in these freezer burritos.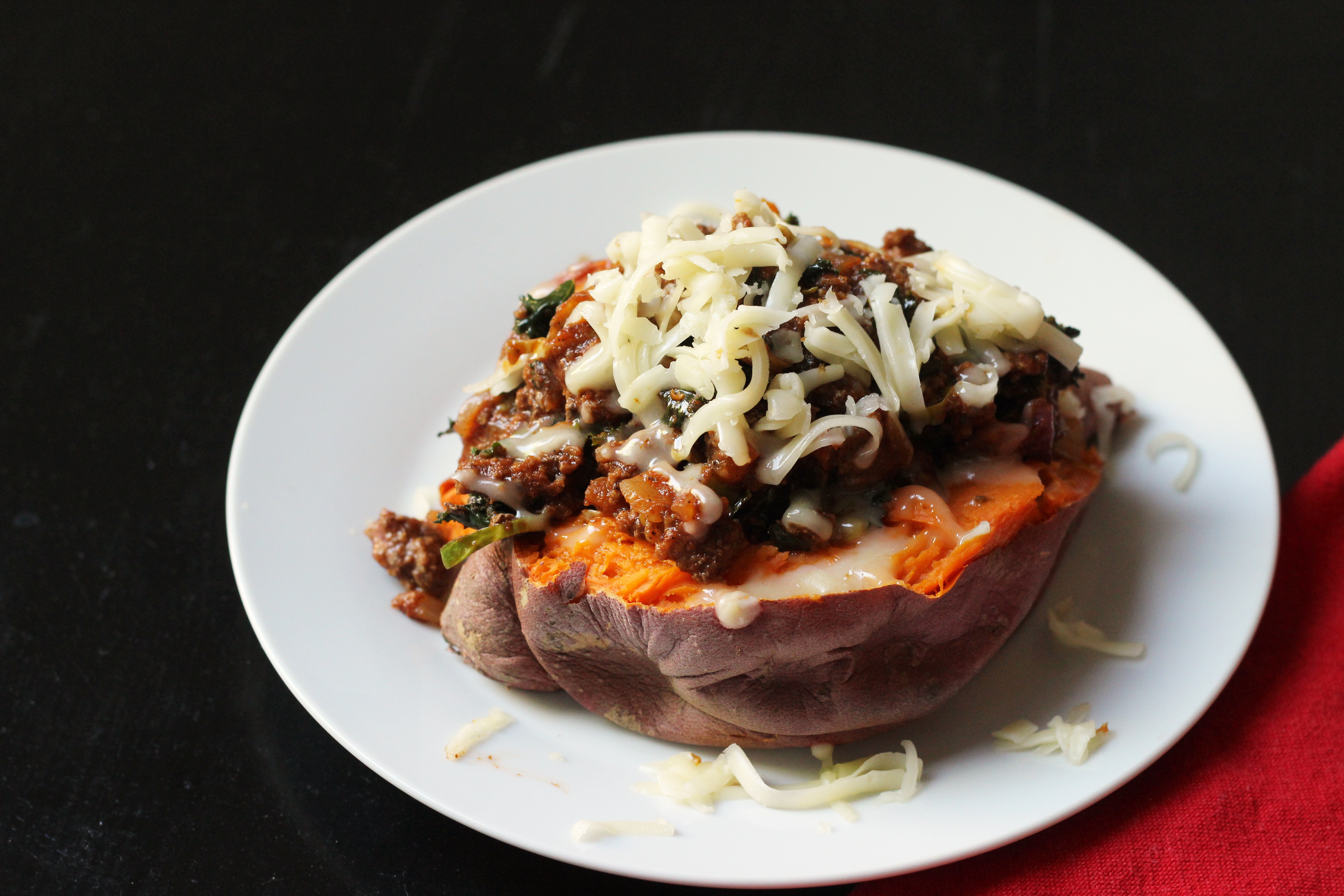 How to make this good and cheap:
Here are some of the strategies you can use to make this recipe more economical:
How I make this recipe easy:
This recipe really couldn't be easier than it is, but having the right kitchen tools can really make your time in the kitchen more enjoyable. Over time, I've honed my collection so that they are perfect for my needs.
Here are the tools that I use for this recipe:
Chili Stuffed Sweet Potatoes
Take stuffed potatoes to a whole new level by making a batch of these Chili Stuffed Sweet Potatoes. They can be served paleo style or simply gluten-free.
Ingredients
1 1/3

lb

ground beef

1

onion

chopped

1

clove

garlic

minced

2

tbsp

chile powder or ground chile

salt

black pepper

4

cup

kale (chopped)

1

15-ounce can

tomato sauce

4

sweet potato

baked, split and smooshed

toppings for potatoes

: shredded cheese, avocado, sour cream, salsa
Instructions
In a large heavy skillet, cook the beef, onion, garlic, and chili powder until the meat is cooked through, and the onion has become translucent. Season to taste with salt and pepper.

Stir in the kale and tomato sauce. Cover and simmer 10 minutes.

Spoon the hot mixture onto the baked sweet potatoes and serve with the toppings.

To freeze: Divide the meat mixture into meal-size portions in plastic containers. Chill in the refrigerator before freezing. Store in the freezer for up to two months. Thaw in the refrigerator. Reheat the mixture in a saucepan and procede with the recipe.
Nutrition
Calories:
400
kcal
|
Carbohydrates:
42
g
|
Protein:
39
g
|
Fat:
9
g
|
Saturated Fat:
3
g
|
Cholesterol:
93
mg
|
Sodium:
820
mg
|
Potassium:
1760
mg
|
Fiber:
7
g
|
Sugar:
11
g
|
Vitamin A:
26785
IU
|
Vitamin C:
93.2
mg
|
Calcium:
186
mg
|
Iron:
7.2
mg