Chicken Pot Pie is the perfect cold-weather dish. Enrobe your favorite gravy-laden chicken and vegetables with flaky pie crust and settle in for the winter.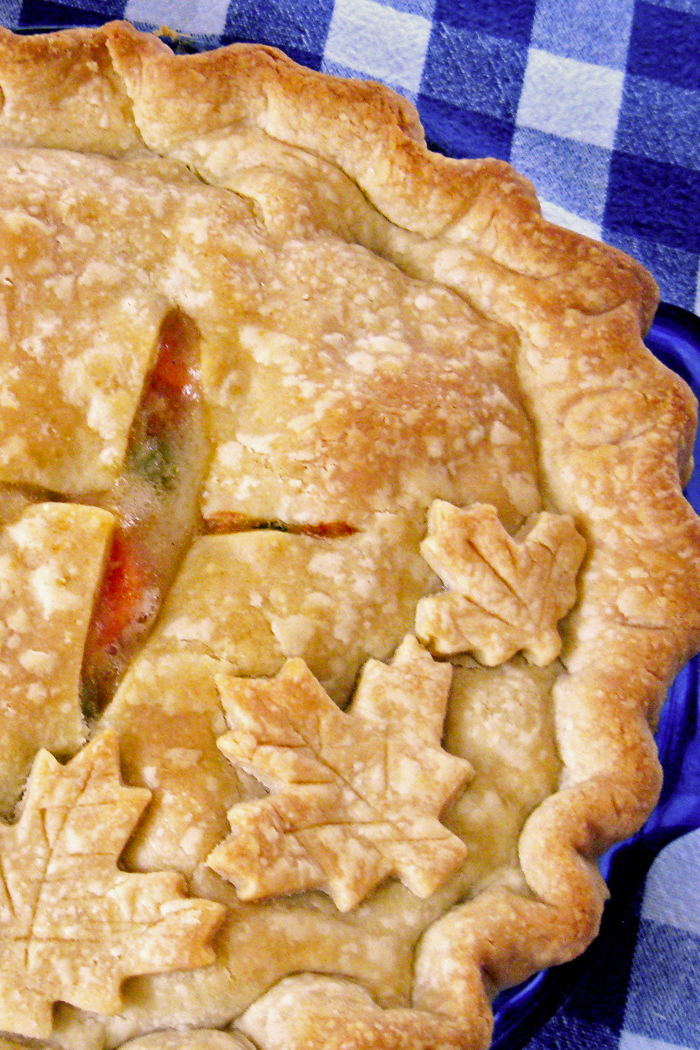 When I was a kid, one of the highlights of my small life was when mom would buy me a frozen chicken pot pie at the grocery store. You know, the kind that serve one and can fit in the toaster oven. I loved them so very much. It was always a toss up for me if I was going to eat it upside down or right side up.
In case you didn't know, if you flip over the baked pot pie into a bowl, the very crisp and crusty bottom can stand up to the saucy gravy while the bottom crust that's now the top won't get soggy and you get double the luscious crust. You're welcome.
Imagine my surprise when I found out as a young mom that YOU COULD MAKE CHICKEN POT PIE YOURSELF?!?!
Chicken Pot Pie
It honestly had never occurred to me. I made other savory pies. Why hadn't I made one with the rocking chicken-vegetables-gravy combo?
Well, let me tell you this opened whole new worlds for me. To find out that I could make chicken pot pie and freeze it, well, oh happy day!
These days I have to make two pies if I'm going to feed my family, but they are happy as clams when I do. I'm branching out with different fillings and toppings, but this traditional chicken pot pie is a big favorite at my house.
Tips for Making Chicken Pot Pie
:: Chicken pot pie is great for making post-Thanksgiving when you've got leftover turkey and veg and gravy to use up. But, it's also totally worth it to make those items on purpose to fold into a pie.
:: Gramma John's Pie Crust is one of my standards, but this pie crust recipe takes less butter per batch and is a little hardier for rolling out.
:: If you're making the pies for freezing, make sure the fillings are all chilled when you assemble the pies. This way you can put them in the freezer immediately, eliminating soggy crust and leaky filling.
:: Make more than one. You'll be glad you did.