Butter makes everything better. At least when it comes to baking these Thick and Chewy Chocolate Chip Cookies. Make a batch and see for yourself!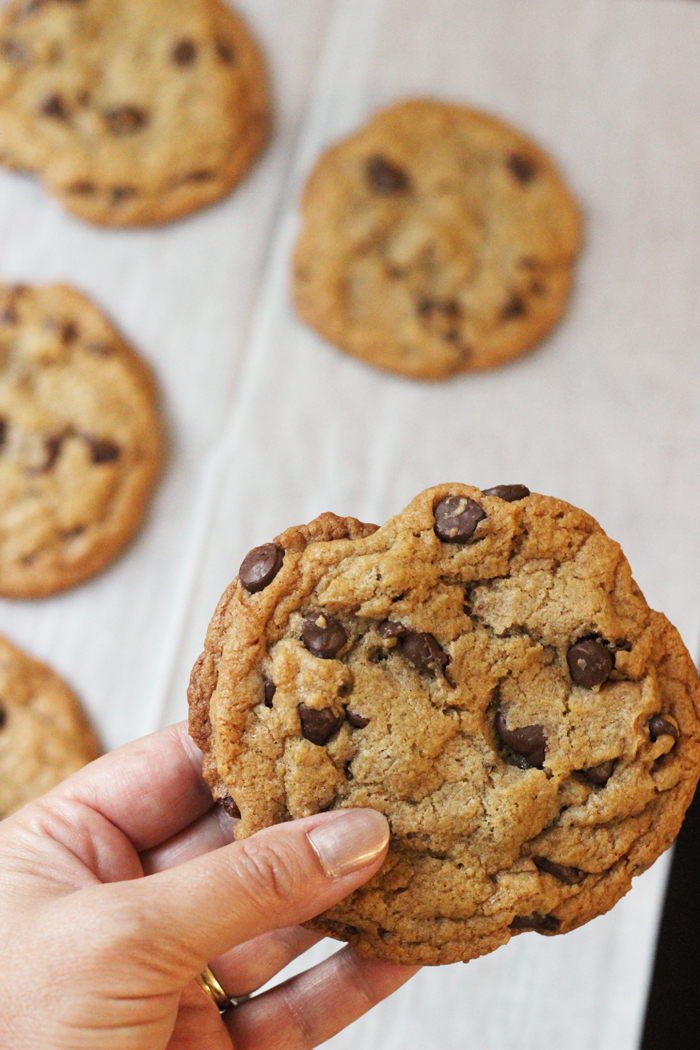 Cookie preferences can vary based on lots of factors. There are those die-hard chocolate chocolate people, the peanut butter cookie lovers, those classic oatmeal raisin supporters, the sugar cookie camp, and those (healthy) snickerdoodle fans.
Don't get me wrong, those are all delicious, but I'd like to nominate the Chocolate Chip Cookie as king of the cookies.
Buttery, Thick, and Chewy Chocolate Chip Cookies
Now, there are quite a few different ways to make them: chewy chocolate chip cookies, crispy chocolate chip cookies, soft-baked chocolate chip cookies and crunchy chocolate chip cookies. Today I've got a winner for the Chewy Chocolate Chip Cookie category.
This recipe was originally a guest post from my friend Lynn of Lynn's Kitchen Adventures. We'd been discussing the fat controversy. Never once to mince words, Lynn has some pretty strong opinions about cooking fats and I agree with her 😉 :
Fats and cooking can be a bit controversial. What is recommended or popular seems to change from year to year. I am going to leave the "what is healthiest" debate to others. I want to talk about what I think works best for baking.

Let me start by saying that in my opinion, when it comes to baking, you should just throw your margarine out the window. Well, maybe not out the window, but you get the idea.

I know margarine is cheaper than butter, but I do think butter is worth the extra expense when baking. You really will not get as good of results using margarine. If I am going to spend the time and the money to make something, I want it to turn out really well. There have been times that I could not afford to buy butter, so I just did less baking.

Now, I am not saying that I never use anything else. I do. My peanut butter cookies use shortening. I have many cakes that use oil and I have been known to render my own lard. However, when a recipe calls for butter, I use butter.

If you use margarine, in recipes that call for butter, you will get a totally different taste and texture. So, in my opinion you should use the real stuff.

One of my favorite cookies, of course, contains butter. These cookies are similar to the kind you buy at a coffee shop. These are made to be big cookies. The texture is part of what makes these good cookies and making them large helps give them that texture.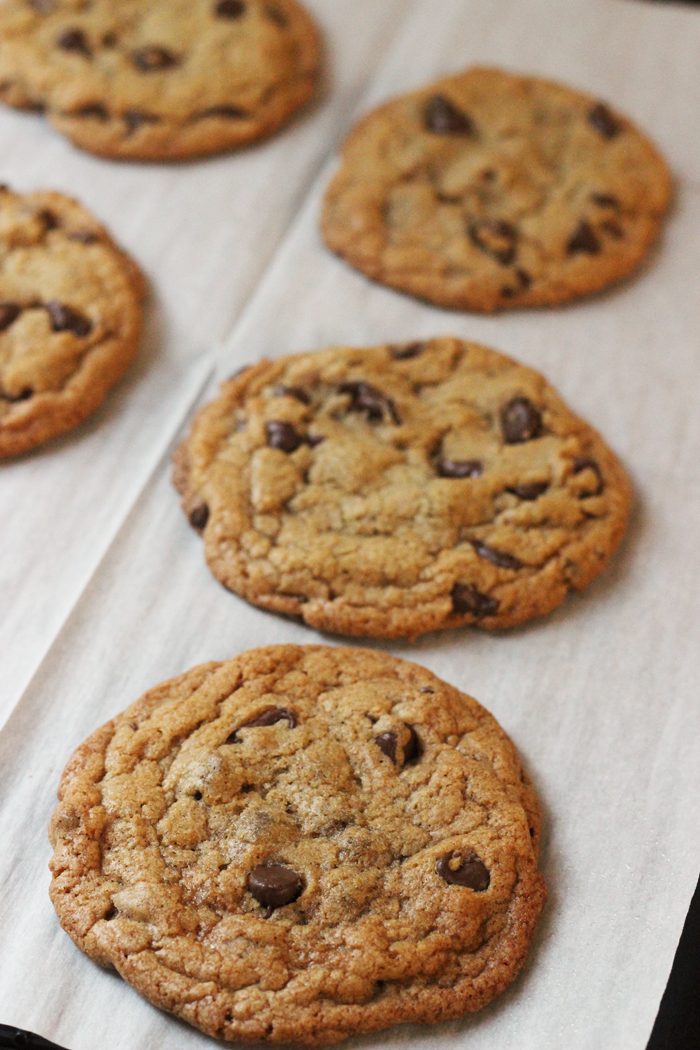 Lynn's Thick and Chewy Chocolate Chip Cookies are, indeed, amazing. Despite their generous size, they don't last more than an afternoon at my house. The texture is exactly what you would expect from a great cookie. Like this kind of cookie.
These Buttery, Thick and Chewy Chocolate Chip Cookies should go top on your list of Christmas baking. No, they aren't fancy, and no, they don't scream, "Happy Holidays!" but seriously? Who doesn't love a Chocolate Chip Cookie?
Point made.
How to make this good and cheap:
Here are some of the strategies you can use to make this recipe more economical:
How I make this recipe easy:
ThisThick and Chewy Chocolate Chip Cookie recipe really couldn't be easier than it is, but having the right kitchen tools can really make your time in the kitchen more enjoyable. Over time, I've honed my collection so that they are perfect for my needs.
This post contains affiliate links which provide a means for me to earn fees linking to Amazon and other affiliate sites.
Here are the tools that I use for this recipe: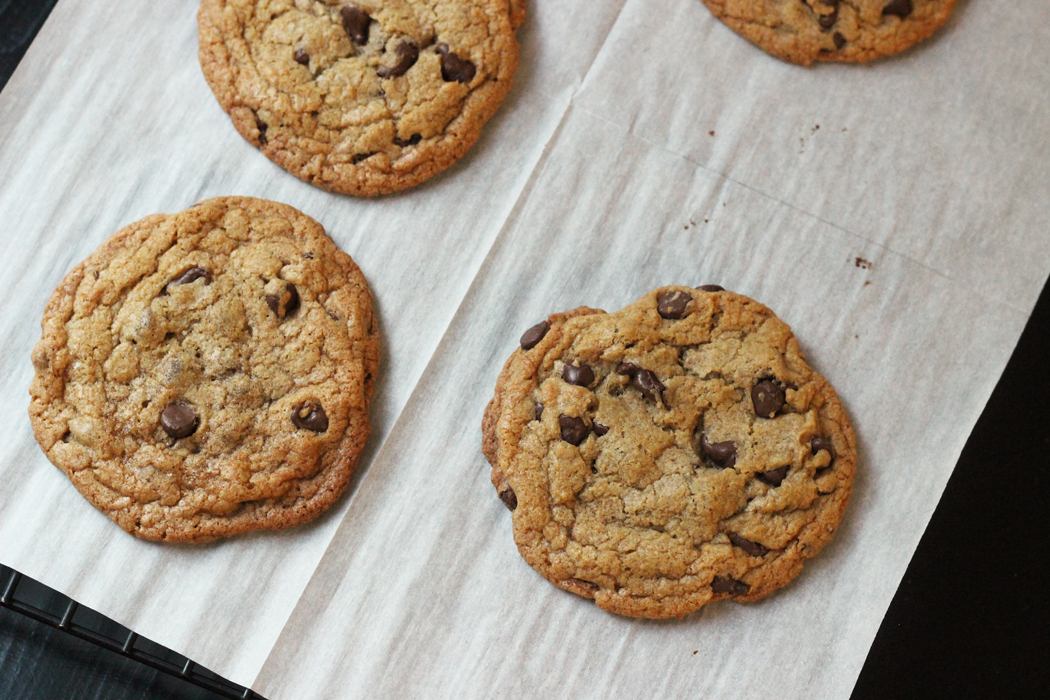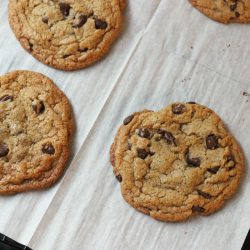 Buttery, Thick and Chewy Chocolate Chip Cookies
Butter makes everything better. At least when it comes to baking these Thick and Chewy Chocolate Chip Cookies. Make a batch and see for yourself!
Keyword:
chocolate chip, chocolate chip cookies, cookie recipe, cookies
Ingredients
2

cups

plus 2 tablespoons unbleached

all-purpose flour

1/2

teaspoon

baking soda

1/2

teaspoon

salt

12

tablespoons

1 1/2 sticks butter, melted

1

cup

brown sugar

1/2

cup

granulated sugar

1

egg

plus 1 egg yolk

2

teaspoons

vanilla extract

1 1/2 to 2

cups

chocolate chips
Instructions
Preheat the oven to 325 degrees. Line two sheet pans with silpat mats or parchment paper.

In a mixing bowl, whisk together the flour, baking soda, and salt. Set aside.

In another mixing bowl, combine the butter and sugars for several minutes or until well blended. Add egg, egg yolk, and vanilla extract. The batter will appear slightly greasy at this point.

Add the dry ingredients, until blended. Stir in the chocolate chips.

Scoop the dough in ¼ cup balls onto the prepared baking sheets. You can use an ice cream scoop to make this quick and easy. Place 6 cookies on each baking sheet. These are large cookies and will spread out. Leave plenty of space.

Bake the cookies for about 15 minutes. Cool for another 4 minutes on the baking sheet before moving them to a cooling rack. Cool completely before storing the cookies in airtight containers.
Recipe Notes
Note: For longterm storage, place the cookies in the freezer, for up to 6 weeks.
Nutrition Facts
Buttery, Thick and Chewy Chocolate Chip Cookies
Amount Per Serving
Calories 388
Calories from Fat 186
% Daily Value*
Total Fat 20.7g 32%
Cholesterol 68mg 23%
Sodium 262mg 11%
Total Carbohydrates 46.9g 16%
Protein 4.3g 9%
* Percent Daily Values are based on a 2000 calorie diet.