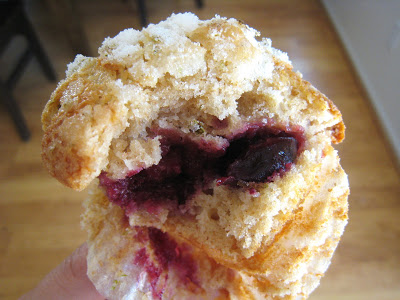 This recipe came about from my desire to use the fresh produce I had on hand. Namely, cherries. I decided to take my favorite raspberry muffin and sub out the raspberries for cherries. Then while I was at it, I thought of the Cherry Limeade Cupcakes that Katie made last weekend, and decided to morph the muffin just a little bit more by adding lime.
Here's the delicious result:
Cherry Limeade Muffins
1 cup whole wheat flour
1 cup unbleached flour
1 cup sugar
1 Tablespoon baking powder
1/2 teaspoon salt
1 cup buttermilk
1/4 cup canola oil
2 eggs
finely grated zest of 1 lime
1 cup fresh cherries, pitted
1/4 cup sugar, mixed with the finely grated zest of a second lime
Preheat oven to 400F. Line muffin pan with papers or spray with non-stick cooking spray.
In large mixing bowl combine flours, sugar, baking powder, and salt. In another mixing bowl combine buttermilk, oil, eggs, and lime zest. Beat well to combine. Pour wet mixture over dry and add cherries. Fold in with a rubber spatula just until combined.
Scoop batter into muffin cups, about 1/3 cup in each. Sprinkle the tops with sugar-lime zest mixture. Bake in preheated oven for about 20 minutes or until tester comes out clean.
To make ahead: Baked and cooled muffins can be stored in an ziptop freezer bag in the freezer.
For ideas on how to make fresh produce work for your budget, read my post at today's Frugal Friday.