Make this easy, flaming dessert: Cherries Jubilee for your next holiday get-together or special occasion. Congrats to the winner of the giveaway: linseyclair@
I am a creature of habit. Or I suppose another way to look at it is that I embrace tradition. Especially when it comes to food.
My family was like that when I was growing up. Certain dishes were always served at the holidays. When we had guests, Mom did it up big, including this amazing flaming dessert called Cherries Jubilee.
It was always so much fun to watch her pour a hot, sweet cherry mixture into her silver chafing dish and then set it on fire!
You know we kids loved that one. The brandy fumes burned off and what was left was this rich warm topping to serve with vanilla ice cream. If Mom was really on her game, she scooped the ice cream before hand so that each glass dish was nice and frosty.
You rock, Mom.
Recently, Eagle Brand invited me to try one of their recipes and pair it with a family favorite. As I looked through their list, my eyes lit on the Vanilla Ice Cream. I didn't know you could make ice cream with sweetened, condensed milk!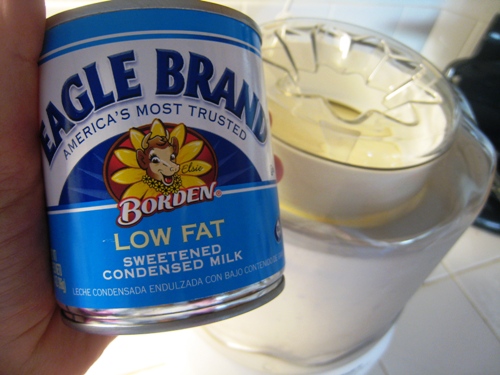 And then my thoughts went to Mom's Cherries Jubilee. Perfect! What a great pairing to assemble. I hadn't had the dish in years, not since we started our own family, and therefore, our own family traditions.
So, I splurged on very expensive canned Bing cherries and texted my mom incessantly until she sent me a photo of her stained yellow cookbook, circa 1971. The kids were uber-impressed by my mad pyrotechnic skills. Once I figured out how to use the long lighter hubby bought me just for the occasion.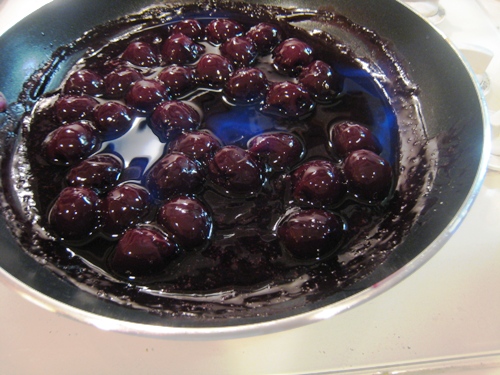 This is the version that I deciphered from her blurry iPhone pic. This is a pretty easy and straightforward recipe. But, the flaming death part of it gives you the wow factor to impress folks, especially on Christmas or New Year's.
I'm going to play with the flavors a little next time. I've got some ideas, so be prepared for Cherries Jubilee II. I might have found a new old tradition.
Recipe: Cherries Jubilee
Summary: adapted from the Pillsbury Family Cookbook, 1971
Ingredients
15-ounce can undrained pitted Bing cherries
1 tablespoon cornstarch
1/4 cup brandy
Instructions
In a medium skillet or chafing dish, pour the juice from the cherries. Add the cornstarch and whisk until well combined. Heat until the mixture begins to boil and thicken, stirring frequently.
Stir in the cherries and heat them through.
Heat brandy in a saucepan until warm. Do not boil.
Pour the brandy over the cherry mixture and light it with a long match or BBQ lighter. Ooh and ahh and pat yourself on the back for being so stinking awesome.
Allow the flame to burn off the alcohol.
Serve the warm cherry mixture over ice cream.
Number of servings (yield): 4
You don't have to do the flaming brandy part of the show, but it will make you a rockstar mom in your kids' eyes.
Win a prize pack from Eagle Brand.
This week, Eagle Brand is offering one Good Cheap Eater a sweet prize. Literally.
Here's what you could win:
Eagle Brand Sweetened Condensed Milk – Regular, Low Fat and Fat Free varieties
$100 Gift Card to Wal-Mart
Bakers Box Packaging Set – perfect for boxing up your new treats!
Spice Measuring Spoons
Baking Scale
Eagle Brand® has been an essential part of many families' favorite holiday baking traditions, whether preparing fudge, pies, cookies or cakes. Make one of their recipes part of your family's traditions.
To Enter:
Simply complete the information on this form. Please know that the information is only being gathered for the purposes of mailing you your prize in the event that you are chosen as the winner. This information will not be sold, traded, or given away.
This promotion is open until Sunday, December 23, 2012 at 8 pm PST and is limited to US residents, 18 years or older. Friends and family of Jessica Fisher and Good Cheap Eats are ineligible for entry. The winners will be chosen randomly. This post will be updated with the beginning of the winner's email address. The prize for this promotion is provided by and shipped by Eagle Brand and/or its representatives. Jessica Fisher and Good Cheap Eats will not be held responsible for unclaimed or undelivered prizes.
Disclosure: I have received the same prize pack the winner will receive. All opinions are my own.