Enchiladas are one of my favorite foods to prepare. Saucy and cheesy, they are a comfort. This cheese enchilada recipe is also a super quick dinner to prepare.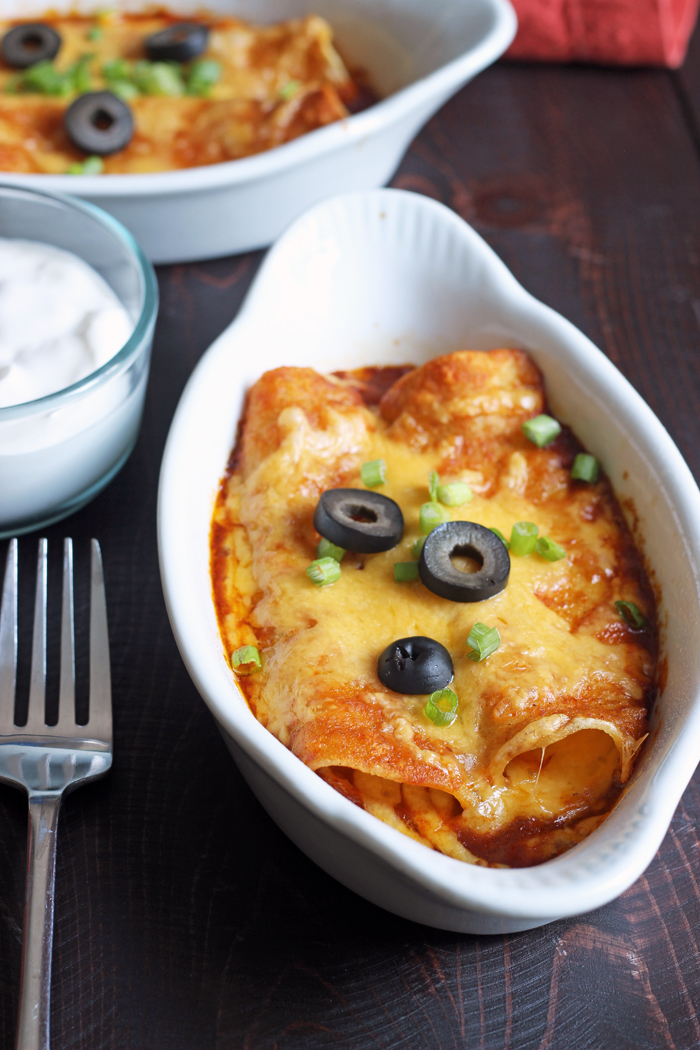 My cousin doesn't think she can make enchiladas. She can grow a crazy good garden and can 50 bajillion salsas and jams in a day, so I'm pretty sure that she's wrong.
Does making enchiladas intimidate you? Don't be afraid! The process of making enchiladas is really quite easy — and quick, too! I can make a batch of these simple cheese enchiladas ready for the oven in 15 minutes — I timed myself — so I know you can do it, too.
Cheese Enchiladas are one of my all-time comfort foods. My landlady brought me a pan of them the day we brought our first baby home from the hospital. A nursing mom who'd subsisted on hospital food, I fell on these quicker than a Binky can pop out of the baby's mouth. They are just so good.
Ingredients for this cheese enchilada recipe
This Cheese Enchilada recipe takes only six ingredients:
corn tortillas
oil for frying
enchilada sauce
cheese
and the optional yet pretty black olive and scallion garnishes.
Tips for Making These Cheese Enchiladas
Keep these tips in mind when you make enchiladas next:
Make sure the oil is hot. Cold oil will just soak into the tortilla.
Fry the tortilla just until leathery, you still want it to roll.
Make your own enchilada sauce if you're feeling it. Otherwise, just open a can. (Las Palmas is the best canned variety I've found.)
Throw in more cheese than the recipe calls for, just for kicks.
Make a double batch so that you can freeze some for another time.
Assemble them in individual gratin dishes if you're feeling fancy.
Serve with sour cream, Mexican rice, and beans.
Don't forget to read the whole series: Quick Dinner Ideas