Earlier this week I shared with you some of our favorite Mexican food recipes. And even though I created a meal plan on Sunday, I decided to veer from it a little tonight, in part thanks to this collection of samples from ConAgra. The fact that the avocados at the store were beautiful and plentiful might have helped a little as well.
So, for Cinco de Mayo, we're going to be feasting on Carnitas Tostadas. I can't wait! It's one of my favorites, but I rarely make it. Thus, no pictures. I have no idea why not. Updated with photo!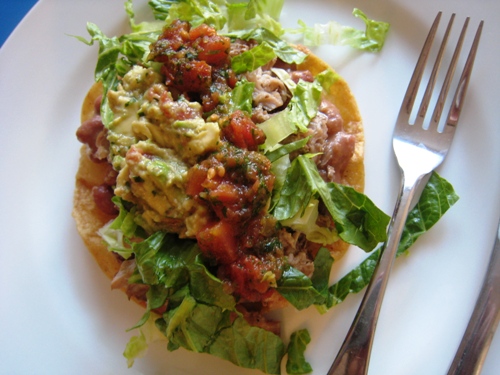 Want to eat along with us?
Groceries you'll need:
2 pounds country-style pork strips for the carnitas
dozen corn tortillas
2 cups refried beans (homemade or canned)
Toppings: shredded lettuce, avocados for the guacamole, cilantro, onion, Rotel tomatoes for the salsa
Time-saving steps
1. Cook the pork in the crockpot so that the carnitas are ready when you are.
2. The salsa and guacamole can be made ahead of time.
3. The lettuce can be shredded in advance.
4. Right before serving, heat the beans in a small sauce pot and heat frying oil in a large pan to fry the tortillas. Drain them on a rack over paper toweling. Rewarm and crisp them in the oven.
5. Assemble tostadas by layering tostada shell, beans, carnitas, lettuce, salsa, and guacamole.
Carnitas Soft Tacos
Win a Cinco de Mayo package from ConAgra
This week two readers will win a package of ConAgra foods, perfect for your next fiesta.
The package includes:
PAM Cooking Spray
Ro*Tel Tomatoes w Chilies
Ro*Tel Tomatoes w Cilantro
Rosarita Beans
Fiesta Chip and Dip Tray
For more cooking inspiration and to spice up your weeknight dinner routine any other day of the week, feel free to visit ReadySetEat.com. Consider ReadySetEat.com as your weeknight dinner destination for recipes that use simple ingredients
and are ready in 30 minutes or less, sponsored by ConAgra.
To Enter:

Simply leave a comment on this post.
This giveaway is open until Sunday, May 8th at 8 pm PST. Winners will be chosen at random and notified via email. Please respond within 48 hours to claim your prize.
Disclosure: I received sample product. I was not compensated to publish positive statements. All opinions are my own.