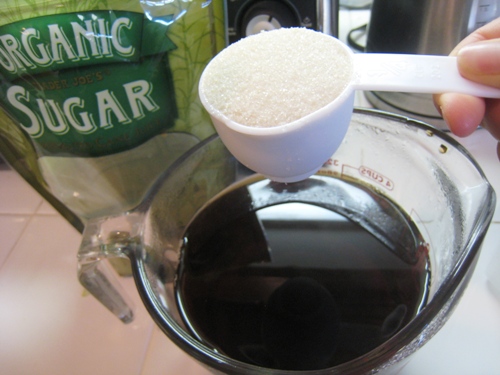 Tea is a regular pantry staple at our house. We aren't big tea drinkers, but it's a beverage that is extremely affordable, especially when you browse the clearance racks. For some reason, teas are always being marked down, despite the fact that they have several months, even years before their "best by" dates.
When we were in debt, scrimping and saving, I cut out all extra beverages. No sodas, no juices, no extras. We made do with milk, water, and cheap(er) coffee. And of course, iced tea.
I was always able to keep boxes of tea on hand to make iced tea for hubs when he came home from work. During hot Kansas City summers, he drank it by the gallon. Nowadays we live in a more moderate climate, but we still enjoy iced tea.
Here's how I make it. I'm sure your way is better, especially if you live in the South, but this works for us. We don't want artificial sweeteners, but we do want a little sweet. You can certainly add more sugar if you like your tea sweeter.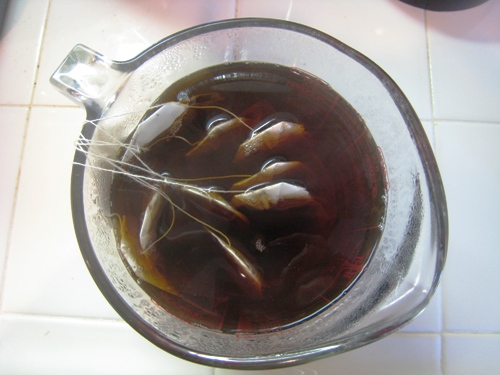 California Girl's Iced Sweet Tea
Ingredients
8

black tea bags

decaf or regular

4

cups

hot water

1/4

cup

granulated sugar

ice cubes

water

chilled
Instructions
In a large glass measuring cup, place the tea bags and pour the hot water over them.

Allow the tea to steep for 3 to 5 minutes.

Remove the tea bags, squeezing them gently to release any extra liquid.

Stir in 1/4 cup sugar, stirring to dissolve.

Pour the hot tea into a 1/2 gallon pitcher.

Add enough ice and cold water to make 1/2 gallon.

Stir to blend.

Serve the tea over ice.
Notes
Nutritional values are approximate and based on 1

 cup.
Nutrition
Calories:
24
kcal
|
Carbohydrates:
6
g
|
Sodium:
1
mg
|
Sugar:
6
g
What's a favorite cheap beverage at YOUR house?