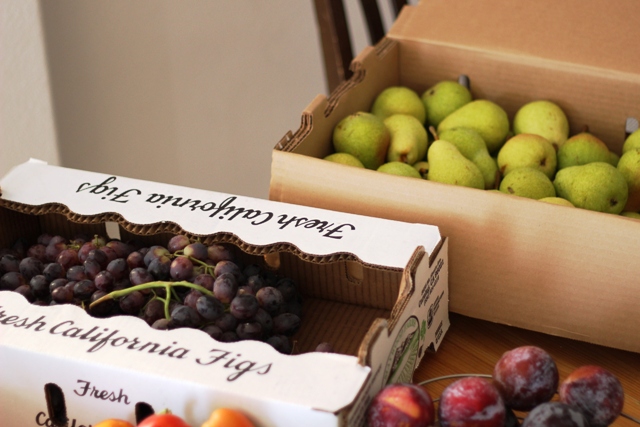 I was reminded afresh today of one of the great benefits of shopping for bargains and operating on a budget: the ability to share. If I didn't look for economical ways to buy things, particularly food, we'd max out our resources. Instead, we're often blessed with an abundance for less money, thanks to savvy shopping.
Today's produce delivery was HUGE. Not only was the box full and fresh looking, a welcome change to some of the recent boxes, but there were extras on the side. There was a replacement melon for the bad one we got a few weeks ago, meaning we had TWO melons, each larger than a small child.
I had also ordered a ten pound box of pears and a fifteen box of grapes. On the same week! I don't know what I was thinking.
There's no room in the fridge thanks to all the recipe testing I need to do. So, what do I do?
I make a huge bundle to share with a friend. Yay! We won't waste food and we get to bless someone with a dozen beautiful organic pears, a gallon of crunchy grapes, and a bag of eggplant.
I confess, the eggplant was because I wanted to be DONE with it! (I checked to make sure they liked eggplant, first) But the grapes and pears, those were "first fruits", if you will.
What have you shared recently?