This month, I'm working to organize my pantry, refrigerator and freezer. Part of doing that is to use up what we have and do a major stock rotation. I've set some goals for the month and am trying to be diligent in how I cook and how I shop.
Each day, I'm recording on my food blog a diary of what we eat and how I'm making the most of what we have in the house already.
But, that doesn't mean I didn't go shopping. I'm also trying to be mindful of good sales and to build a better pantry. I'm not going to pass up screaming deals, but I'm not shopping like normal, either. I'm using up the old stuff and happy to welcome some new sale items.
Out with the old and in with the new, as they say.
Here's my process to build a better pantry while staying under budget.
1. Take the long view.
Rome wasn't built overnight. And if you're just starting out to build a pantry, don't think you're going to go out and stock up in one fell swoop. At least not on a budget.
Instead, realize that this is a process. You will add to your pantry overtime, based on what's on sale.

2. Check the sale ads.
Consult the grocery ads and buy only the items that are a really good deal or those that you truly "can't live without." This week was a perfect week at my local Ralphs (Kroger) to demonstrate what I'm talking about.
Here are a few items that are on really good sale this week.
whole chickens – 59 ¢/pound
bananas – 39 ¢/pound
Special K cereal – $1.99 each when you buy 4 boxes
Yoplait yogurt – 10/$5
Quaker Instant Oatmeal – $1.99
Sargento cheese sticks – $2.99
These are basics in a house with children, and items that I can build a number of meals around. Plus, they fit my definition of a Frugal Pantry.

3. Match with coupons.
Use coupons when you find the item on sale. Redeeming a coupon for an item at full price really doesn't save you a ton, unless you really "can't live without" that item. But, matching the coupon with a sale helps you significantly lower the price of the item, making it a stock up-portunity.
I found coupons in the recent newspaper inserts and online that match many of these items. After coupons, my prices were this:
whole chickens – 59 ¢ (limit 3)
bananas – 39 ¢ less store produce coupon
Special K cereal – 99 ¢ each when you buy 4 boxes, using this coupon
Yoplait yogurt – 10/$4, using an insert coupon, I also got back two catalinas for $1.25 each, making them 32¢ each.
Quaker Instant Oatmeal – 99¢, using an insert coupon
Sargento cheese sticks – $1.99, using an insert coupon
I also had several Ralphs store coupons that further reduced my bill, such as "Save $1 when you buy $4 in fresh fruit." I made sure that I bought enough bananas and markdown produce to make this work.
You don't have to use coupons. The prices I've listed in Step 2 are still good stock-up prices, but coupons make them better.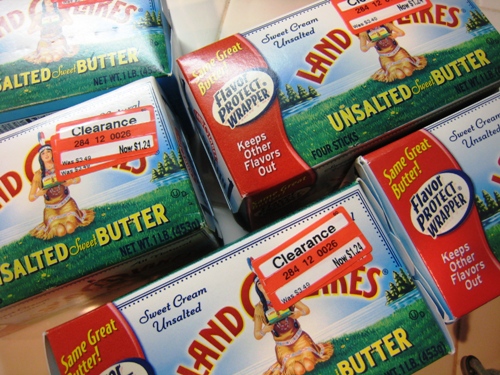 4. Scan the clearance.
The section of your store that holds the marked down items is a storehouse of treasure!
Shortly after Christmas, my Ralphs was selling organic pumpkin for 50¢ a can. I stocked up. At Henry's a few weeks ago, I found oat flour, turbinado sugar, and Bob's Red Mill baking mixes for $1 a bag.
This week I scored major big time on several fronts. At Target this week (not a grocery trip), I cruised down the grocery aisle just in case, looking for clearance items. I found butter for $1.25, the lowest price I think I've ever bought it for. I bought five pounds.
At the above mentioned Ralphs trip, I got the following items on markdown or really good sale:
pumpkin spice instant coffee $1.00 each – $1/2 coupon, making them 50¢ each
frosting for birthday cakes $1.25 each
fresh cranberries 69¢/pound
chocolate covered cranberries $1/bag
apple slices 99¢/box
baby carrots 79¢/bag
10# potatoes $1.98
While I won't use five pounds of butter or six pounds of cranberries this week or this month, I'll have them frozen for later when I will use them, saving a significant amount of money by not paying full pop at that later date.
I can build my pantry easily and economically with items that the store has marked down.
Remember that manager specials are not bad food, just items that the store wants to move quickly because they want the space for something else or they don't want to take a loss if it goes past its sell-by date.
4. Allot some budget toward pantry building.
For many people this is tricky. How do we make ends meet for this week and still buy ahead for the future?
Part of the answer is found in doing a Pantry Challenge. Make do with what you have in order to have extra funds for something else. It's the age old secret of don't spend money you don't have. But spend less on one thing, so you can spend more on another.
So, since I'm mostly using what we have in the freezer, fridge, and pantry for our meals this week, I have wiggle room, even in my reduced Pantry Challenge budget, to buy things for the future at a greatly reduced price.
If you don't have much in the pantry to begin with — though I bet you do with a little creative thinking — then plan some budget meals for a few days each week to allot yourself extra funds to put toward stockpiling.
Beans and Rice and Pasta with Red Sauce are two of my quick budget meals that cost less than $5 to feed my entire family of 8!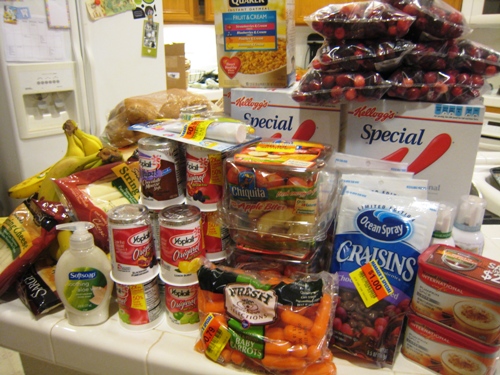 Here's what I spent on groceries this week:
Target (butter) – $6.20
Ralphs (pictured) – $46.79, after catalinas
Henry's (produce, eggs, plain yogurt) – $23.25
CVS (dental items) – $5.27, after ecbs
I spent a total of $81.51 during the first week of January.
Obviously, we're not going to eat all these items in one week, but I spent a total of $81.51 and I've stocked my pantry with items that we can use over the coming weeks. I made sure to check expiration dates before I bought and I'm stashing on a top shelf the items that I don't want the kids to inhale in a mere five seconds.
It makes for an odd looking cart to see bulk purchases of a few mismatched items, but once you do this over the course of a few weeks, you will have a well stocked pantry that you paid less for than if you had bought "a coordinated cartful" every week.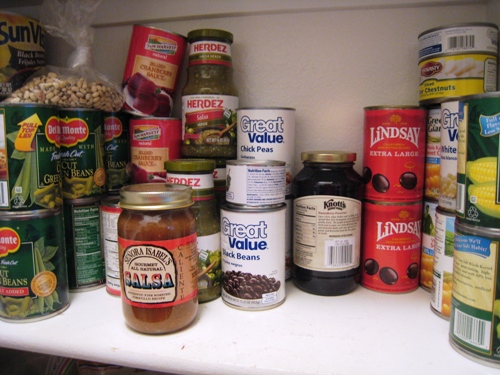 5. Store wisely.
Once you get your purchases home, think about how you will store them to make your investment stretch. Untimely expiration dates, bugs, rodents, and just disuse can kill your investment in short order. Avoid this at all costs!
Some things might need to be repackaged for the freezer or stored in special ways to extend their shelf life. Flour, nuts, and other baking products can be stored in the freezer to keep them fresh. Even cheese and yogurt can be frozen. Keep your stock away from excessive temperatures or moisture.
As for my purchases this week, the butter, cranberries, and the chickens went directly into the freezer while the cereal and dried cranberries went on a top shelf. The cheese and yogurt obviously headed to the refrigerator. The oatmeal went to the pantry and will probably be consumed by the end of the month. Ten pounds of bananas? We'll eat as much as we like before they turn brown, and then I'll freeze the rest or bake a banana chocolate marble cake.
6. Go back to step 2 and repeat.
If you do this every week, soon you will have a well-stocked pantry. Not only does this prevent you from running to the store at a moment's notice for something you "need," but you will see your grocery bill diminish. Or, at worst, your costs will stay the same, but you will have much more to show for it.
Having a well-stocked pantry also allows you to take time off shopping for a season to use what you have and enjoy the fruits of your labor.
How do YOU build your pantry on a budget?
Don't forget to visit Super Savings Saturday! I have learned so much about how to save on groceries from that weekly carnival.