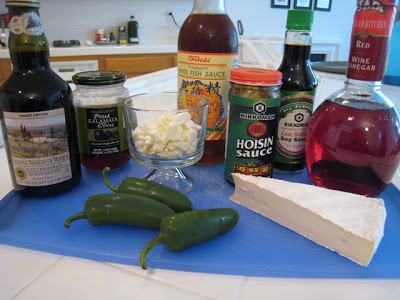 We've been building a frugal pantry with all sorts of staple ingredients. From flour to fats, we've been discussing a lot of basic, common ingredients. This week however to move to the more varied and exotic. I titled this group "flavors" because they are those eclectic items that add punch, zip, and flavor to your foods.
Think about the following:
chile peppers
Asian sauces
vinegars
rich cheeses
olives
These aren't "necessary" to life, but they sure make it a little tastier.
One caveat: some of these items can be rather expensive. But, one usually doesn't use a lot of them in any one dish. Provided it's an ingredient that you will use often, or at least before it spoils, I have no qualms about splurging on these items once in awhile.
However, there are some tricks to making them fit the frugal pantry a little more comfortably.
Watch for sales and markdowns. These are the kinds of items that don't move off the regular grocery store shelves very fast. I often find them for half their regular price on the clearance shelves.
Use coupons. Often manufacturers will send them to you
Find an inexpensive source. Ethnic markets and stores like Trader Joes that specialize in these products will be able to offer them at a lower price than a regular grocery store.
What rich flavors have I forgotten? What do you like to add to your cooking to improve the taste?
Want the dish on delicious ways to act your wage? Subscribe to GCE in a reader or via email.