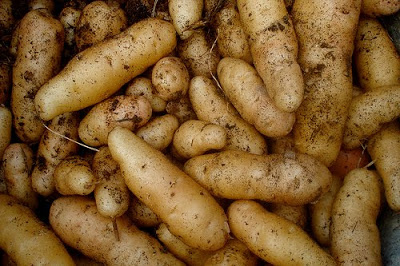 This week we're adding potatoes, onions, carrots, and other root veggies to our frugal pantry. I am sure that I am going to get called out eventually on how I classify ingredients. I'm a little nervous about Fruit Week. There are some finer technicalities of what is a "root vegetable." Onions are a bulb, not a root. However, since they're such good keepers and go so well with the others, we're going to let them stay at the party.
That said, root vegetables are the theme of the week. The most common in my "root cellar" are potatoes, onions, and carrots. These are easily obtained and generally inexpensive. I regularly get a ten-pound bag of potatoes for about a dollar. Onions go for $0.25-$0.50 a pound, and I buy huge, 10# bags of organic carrots for $5, making them $0.50 a pound. Obviously, these are good cheap eats.
Roots and bulbs are the basis for the classic melange, mirepoix. Diced carrots, onions, and potatoes celery, sauteed in a little butter or oil, create the base for any number of soups and sauces. The carmelized flavors that these veggies impart just can't be beat.
(Edited to add: OOPS! I have a child who can't stand celery, so I always substitute potatoes in mirepoix, which is probably why I made that mistake in my sleepy stupor at post writing. Thanks to the reader who pointed out my error.)
And I say root cellar on purpose. It would have been very normal for our grandmothers to store bushels of carrots, potatoes, and onions in the basement, along with turnips, sweet potatoes, and rutabagas. These foods, when kept cool and dry, can last quite some time in deep storage.
There's so many things to use these ingredients for! From carrot cake to home fries, there's great tastes to be had. It's going to be a fun week!
What's YOUR favorite root veggie and how do you use it?
Want the dish on delicious ways to act your wage? Subscribe to GCE in a reader or via email.