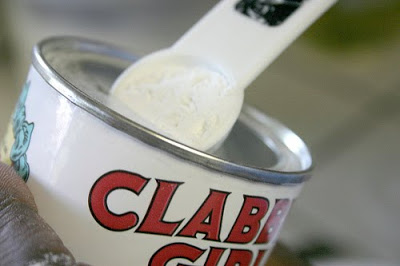 We've already established that baking from scratch is an excellent way for you to save money and eat well. Flour is, obviously, a necessary ingredient, but so is a leavening agent of some kind. Baking soda, baking powder, and yeast are the most commonly used leaveners today. Salt and eggs have traditionally been used as leavening agents as well. Leavening lightens the texture and "puffs up" baked goods.
Many people can be deterred from scratch baking because the ingredients can be quite costly. And that can be the case if you are buying them when they are not on sale. Again, it's time to build the pantry with items sold at the lowest cost.
I buy my "leavening agents" in bulk at Costco. A huge package (several pounds) of high quality yeast sells for a little over $3. I empty the bag into a large canning jar with a plastic lid to store in the freezer and keep a smaller jar in the refrigerator for everyday use. Likewise, I buy baking soda and baking powder in large quantities. We tend to go through both quite quickly since we make most of our pancakes, muffins, and scones from scratch.
But, you don't have to belong to a club warehouse store in order to get great prices. Holiday seasons (such as Easter and Christmas) are times when grocery stores will offer great deals on baking supplies. Keep your eyes open and stock up when you see a low price. Just make sure you check the expiration dates before you load up. Leavening agents can lose their potency over time. Don't buy what will "go bad" before you can use it.
Do you bake from scratch? What tricks do you use to do this economically?
Want the dish on delicious ways to act your wage? Subscribe to GCE in a reader or via email.