Baking from scratch can save a lot of money and tastes great. Learn how and why you should stock a variety of flour in your pantry.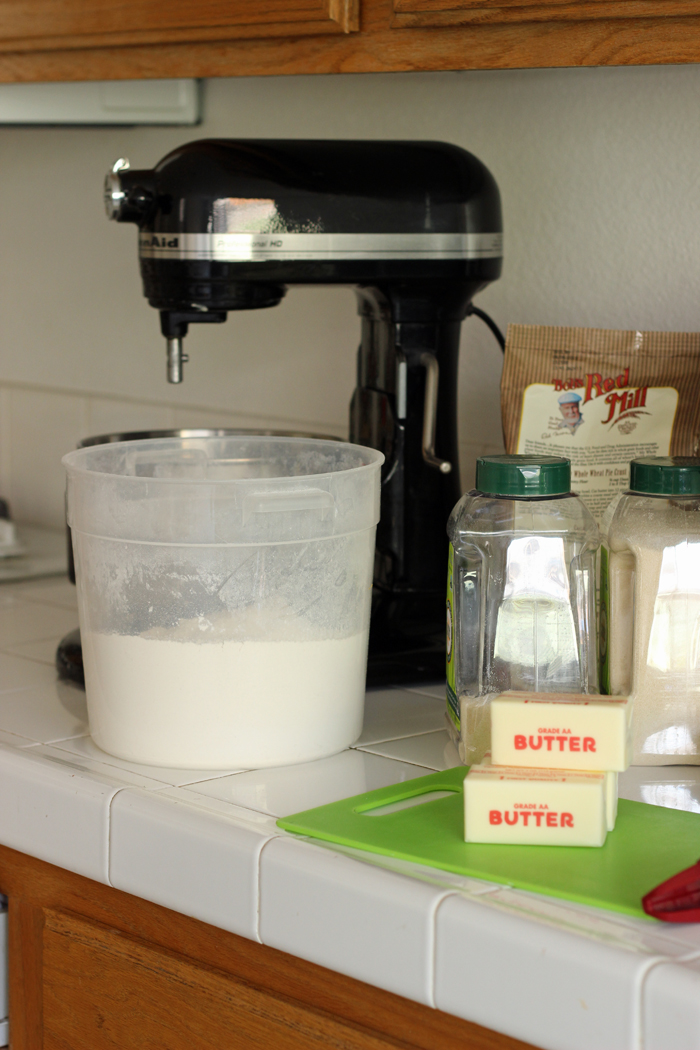 One of the biggest ways that we save money around here is baking from scratch. I've received a fair amount of chiding for that over the years.
Friends would mock my Suzie Homemaker practices. But, honestly? Baked goods made "from scratch" taste better and generally are less expensive than their manufactured counterparts.
Now, I'm not saying that I never buy store bought. Au contraire. There is a time and a place for everything. But, as a general rule, I think homebaking gives the biggest return on the investment in terms of taste, quality, and value.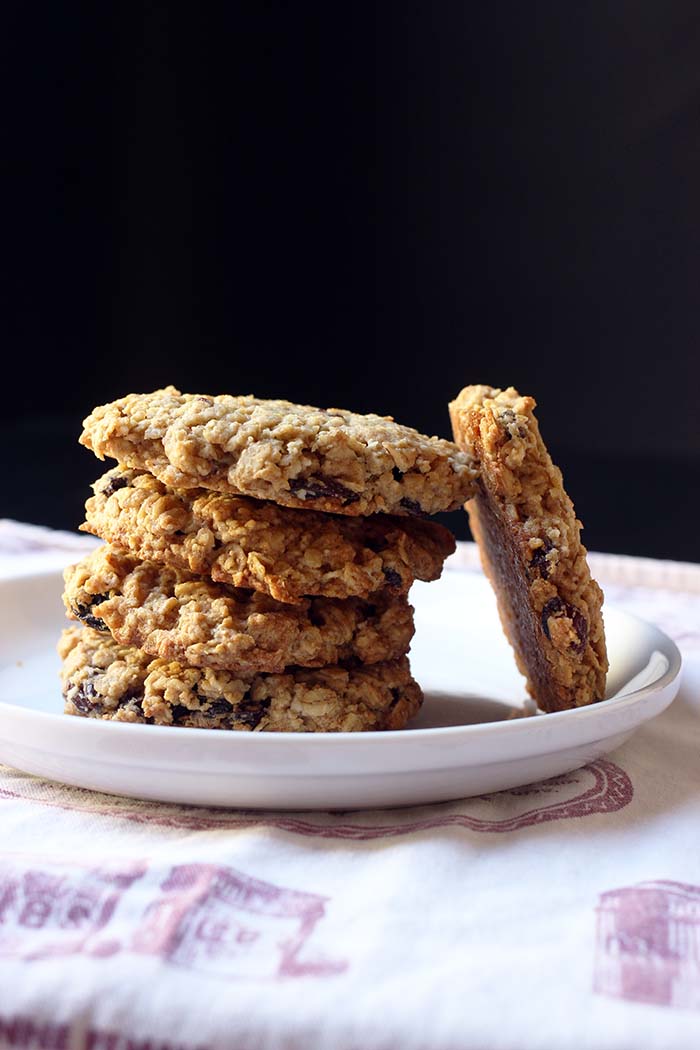 Flour is one of the major building blocks of baking. Essentially, it is a powder ground from cereal grains, seeds, or roots.
Wheat flour is most commonly used in the United States and therefore the most widely available.
I can usually get a 5 pound bag of unbleached flour for as low as two dollars and regularly on sale for about three.
When not on sale, the prices in my neighborhood hover between three and four dollars a bag, depending on the type and variety. It's definitely worth your while to stock up when you see a sale.
Building your pantry with flour
Personally, I would consider what is a decent price for the flour brand and type you prefer and when you find it for less, buy several bags, whether you need.
This past month as stores have clearanced their excess from the holiday baking season, I've added to my stock pile even though it wasn't quite depleted.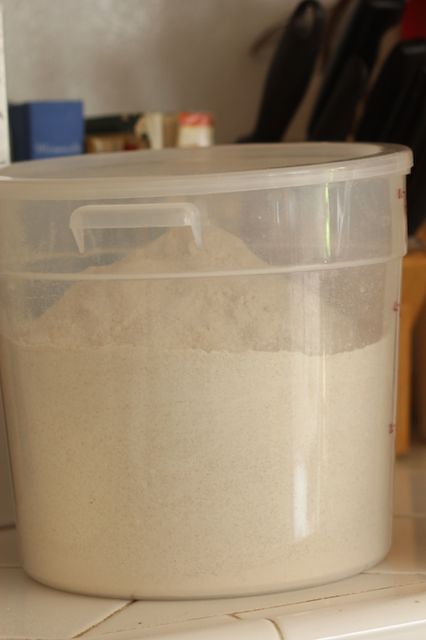 What kind of flours are there?
There is a range of wheat flours available. Bleached and unbleached are interchangeable all-purpose flours, though I prefer unbleached.
Bread flour is higher in gluten and best suited for recipes using yeast.
Pastry flour is high in starch and has a softer texture, making it better for pie crusts and baked goods that call for baking soda or baking powder. Whole wheat pastry flour allows you to enjoy whole grain without the baked good tasting too coarse or wheaty.
Self-rising flour includes the leavening already added in it.
What we use here
As our family has attempted to incorporate more whole grains into our diet, I've added whole wheat and whole wheat pastry flour to my pantry. These cost a little bit more, about $3.50 for a 5# bag — on sale. Whole wheat flours can turn rancid quickly and are best stored in the refrigerator or freezer.
Are there flours that aren't wheat?
Flour is also made from buckwheat, rice, corn, oats, rye, spelt, and barley. As gluten-free diets become more widespread, the variety of flours available is also increasing.
Does the grind of flour matter?
If you have a choice between "steel-ground" and "stone-ground," choose stone ground. Steel rollers or hammers produce heat that destroys valuable nutrients in the flour. True flour aficianados would recomend grinding your own.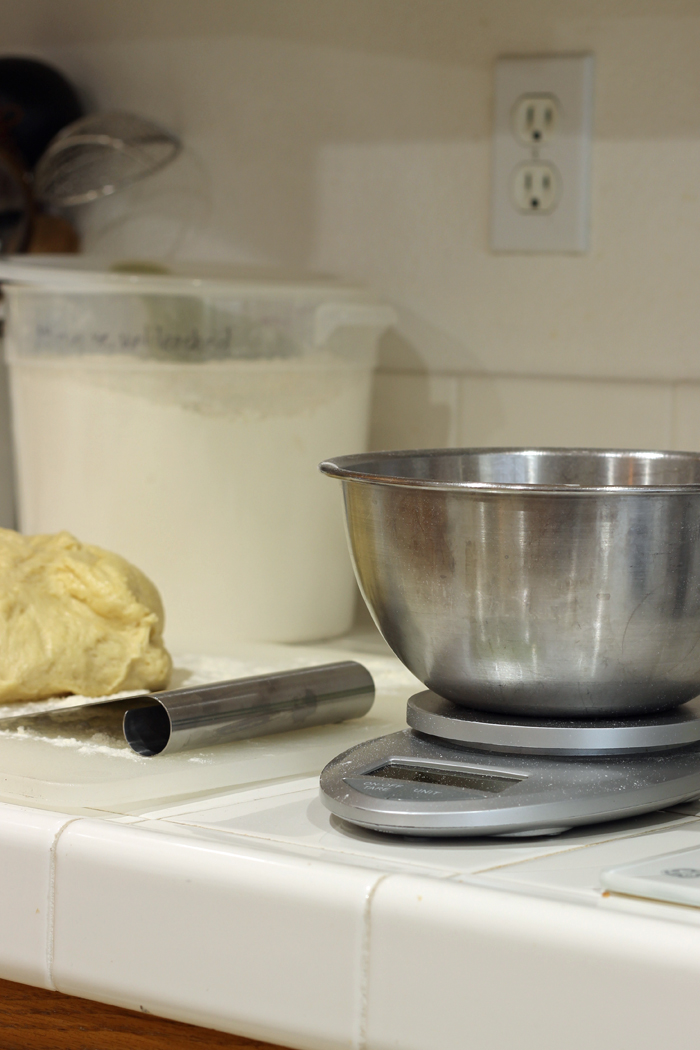 How should you measure flour?
When you're measuring flour, the most accurate method is to use a scale.
Flour manufacturers vary in how they grind it; 1 cup from one company may be substantially heavier than the flour of another company. To account for these differences, measuring by weight is truly the best way.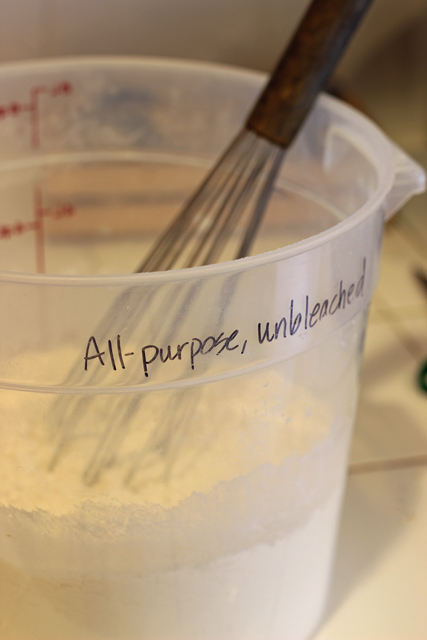 How should you measure flour if you don't have a scale?
If you don't have a scale, stir the flour with a whisk first to aerate it, then spoon it into the measuring cup. Scrape the top level with a knife. Don't tap or pack the flour into the cup.
How should you store flour?
All flour should be stored airtight. Six months at room temperature is a good rule of thumb for all-purpose and bread flours. Temperatures higher than 70°F can encourage the development of mold or attract bugs.
Flour is essential to the frugal pantry. Baking from scratch tastes better than store bought and generally costs less. The fact that you can customize your baked goods means that you can also boost the nutrition of the final product as well as tailor it to your family's preferences.
What's your favorite thing to make with flour?