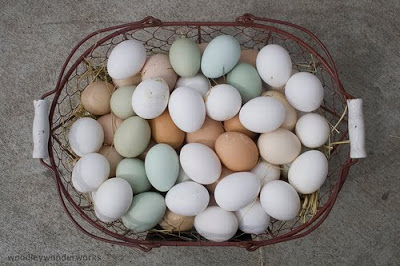 Eggs are a fantastic asset to any pantry. I say, pantry, but, really I mean "food storage" as eggs must always be refrigerated. However, they are a "must have" in the kitchen. Eggs are an incredible source of protein. You can serve them hard boiled in sandwiches, salads, and on their own. Or fry them, scramble them, or bake them. Breakfast sandwiches are a fantastic on-the-go meal. Eggs are an important component of many baked goods as well.
Some Madison Avenue executive summed it up best in calling it, "The Incredible, Edible Egg."
Eggs are also a very frugal option to rely on in the kitchen. I regularly keep at least three dozen on hand, but I stock up when I see them less than a dime an egg. Eggs remain "good" often past their sell by date. One rule of thumb is the float test. Place the uncooked egg (in its shell) in a bowl of water. If the egg lies on its side, it is very fresh. If it stands up, some oxygen has infiltrated the shell's barrier. It is still good for baking and will make easy-peel hard boiled eggs. However, if it floats, the egg is bad and should be discarded.
A few years back, eggs got a bad rap due to its cholesterol content. It's true the yolks are high in cholesterol. However, the whites are almost pure protein. The common rule of thumb is to enjoy eggs in moderation and when possible, offset the cholesterol level by using more whites than yolks.
What role do eggs play in your kitchen?
Want the dish on delicious ways to act your wage? Subscribe to GCE in a reader or via email.