Make your mornings easier by prepping some easy baking mixes, instant oatmeal packets, and granola.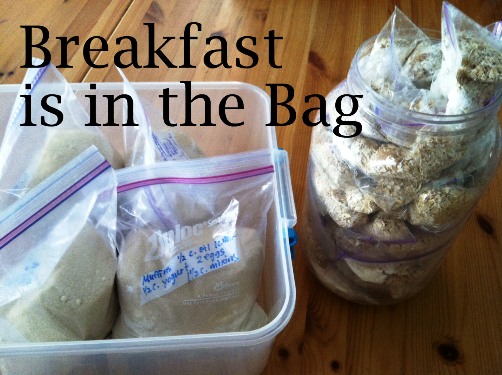 This afternoon my two little girls and I set out to create a bunch of breakfasts for the month. As you may know, I love having a breakfast bar each morning. It's an easy way to serve the whole crew without a lot of work or orchestrating wake-up times.
And of course, making much of that breakfast bar in advance makes the mornings even easier. With a little planning, I can pull a few things from the freezer the night before, add fruit, milk, and yogurt the next day, and we're good to go.
Today I made a round of baking mixes as well as 30-some packets of instant oatmeal. Once you have all the ingredients and bags lined out, it really doesn't take that long at all.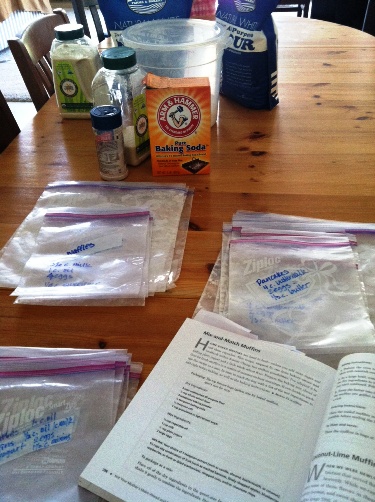 I reuse the freezer bags several times, storing them in the freezer between refills. The same goes for the bags that we use for instant oatmeal packets.
Here are some of the recipes that I drew from this week to make mixes and instant oatmeal packets:
Spiced Waffles (in my cookbook)
How to Assemble Baking Mixes Ahead of Time

You will need:

quart or gallon size freezer bags
the dry ingredients for the recipes you choose to make (You can use any scratch recipe that you enjoy for quick breads or use the ones mentioned above)

Assemble all your bags and ingredients.
With a sharpie, label each bag with the name of the recipe, the wet ingredients that will need to be added later, and the cooking instructions.
Lay out several labeled bags for each recipe you're going to make.
Make sure you have enough of all the ingredients. We ran out of baking powder and cream of tartar midway through which was very problematic.
Measure into each bag the dry ingredients for each recipe.
Remove the air and seal the bags.
Seal the bags in the freezer for longest storage.
I love having homemade baking mixes all ready to go. And even though oatmeal is pretty easy to make by itself, I love the convenience and ease of homemade packets. We get to control the ingredients in both for homemade, yet convenient breakfasts.