When it comes to food, one of the first things I associate with "green living" is salads. Salads bursting with vegetables are a great way for us to nourish our bodies at the same time as allow us to touch, tast, and smell what has truly come out of the earth.
While I love meat and chicken as much as the next carnivore, rising grocery prices have prompted me to reconsider increasing the number of meatless meals we eat in a week. Salads full of proteins like beans and cheese help make it filling all the while keeping the focus on the greens.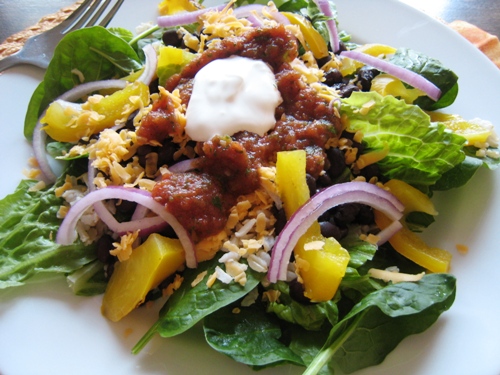 Taco salad is an easy fix, full of protein, and a crowd pleaser. It's also easy to make meatless. This one combines beans, rice, veggies, and sour cream and salsa for a lighter take on "rice and beans."
You don't really need a recipe for this salad. Serving all the fixings buffet style allows your diners to combine the flavors that they want.

Beans & Rice Taco Salad
mixed spinach and romaine lettuce
cooked brown rice
black beans
sliced red onion
roasted bell pepper
grated cheddar cheese
salsa
sour cream
tortilla chips
Layer the ingredients on a dinner plate. Serve with tortilla chips
What's a favorite salad recipe at your house?