Wondering how to work more beans in your diet? You know you can save money eating more beans in place of meat, but how do you make it happen? Check out The Everything Beans Book.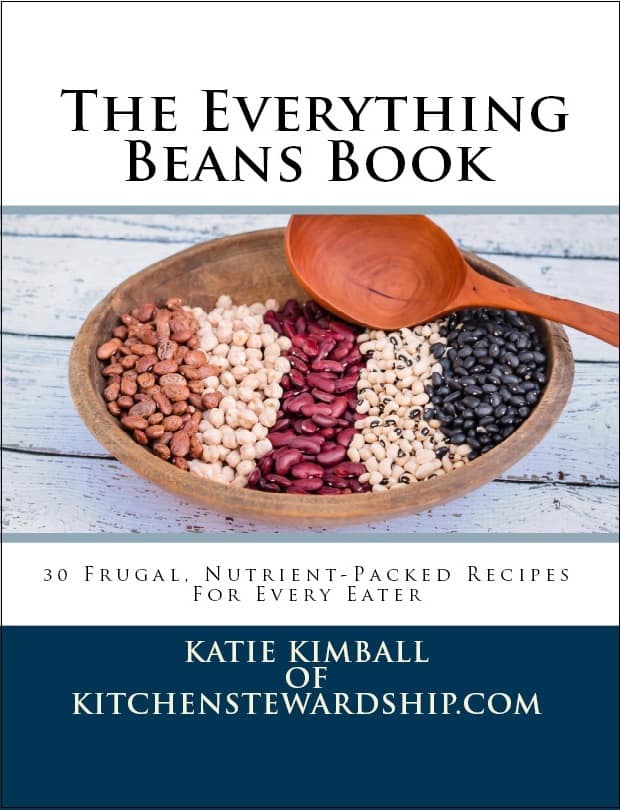 Beans and rice, rice and beans — Beans are one of the means that our family used to get out of debt many years ago. In fact, our dinners were bean-focused at least three nights a week!
Talk about your super-frugal foods! We were able to live within our means, save money, eat well, AND lose some weight during the year or two when beans and rice were served up at that frequency.
But, what if you don't know how to cook beans? Or you've never even heard of beans as anything more than a side dish? Are beans really ALL THAT?
The Everything Beans Book & How to Eat More Beans
My friend Katie from Kitchen Stewardship has put together an ebook, dedicated to this humble, frugal food, in The Everything Beans Book. Katie has done a fantastic job putting together an all-purpose book about beans. She includes a huge variety of recipes from making a broth from scratch to bean-based wraps to bean-y main dish meals. There's even a recipe for bean brownies!
Katie has the heart of a researcher. She is a wealth of information when it comes to nutrition and quite honestly, she's my go-to girl when I want to know the nitty gritty details about food science. Know that you're going to learn a lot from Katie and this beans book — not just how to cook a bean!
For $9.95, the Everything Beans Book is:
exactly what you need – frugal, bean-based recipes to cut your budget and increase your nutrition.
a hefty amount of informative text, all in one place.
Well tested recipes! Over two dozen recipe testers worked hard to make sure all the recipes are not only delicious, but easy enough for a nervous newlywed to understand. You can cook beans!
It's been meticulously edited by a crack team of helpers and the recipe testers.
Easily printable and formatted for your kitchen.
Click here to view more details
Disclosure: I received a review copy of the book and am a Kitchen Stewardship affiliate.