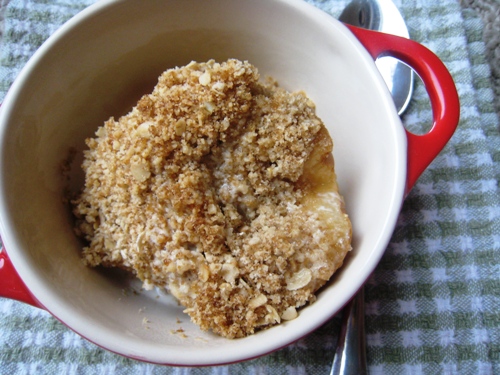 A few weeks ago Joy the Baker shared these beautiful peach cobblers. She rocks when it comes to putting beautiful things on a plate. And she always has such great ideas!
Since I didn't have peaches, and quite honestly, don't like cooked peaches, I decided to make something different.
Baked Pears!
Henry's had organic pears for $0.25 a pound. How could I resist? And while my kids love to eat pears fresh, it was a fun breakfast to doll them all up with a crumb top. Yum!
These are pretty simple. Nothing fancy. Turns out my kids would have preferred that I peel the pears first. I found the evidence in the bottom of the pan. They scooped up the pear and the good stuff and left the peel behind. I don't know how they did that, actually. It was an amazing feat.
Let that be a lesson to you.
I used four pears and gave each a very generous topping of ginger-flavored crumbles. You may want to use more pears for a thinner crumble top.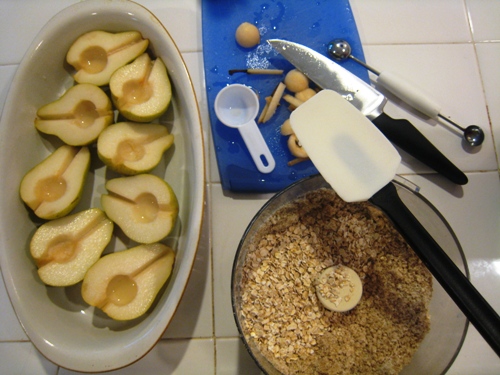 Recipe: Baked Pears with Ginger Crumble
Ingredients
4 to 6 pears, peeled, halved, and cored
1 Tablespoon lemon juice
1/2 cup flour
1/3 cup butter
1 teaspoon ground ginger
1/2 cup dark brown sugar
1/2 cup quick oats
Instructions
Preheat the oven to 375 °.
Grease a large baking dish.
Arrange the pears in the dish, flat sides up, and drizzle the pears with the lemon juice.
In the bowl of a food processor, pulse together the flour, butter, and ginger.
Stir in the sugar and the oats.
Spoon the topping over the pears, dividing the topping evenly.
Preparation time: 15 minute(s)
Cooking time: 45 minute(s)
Number of servings (yield): 8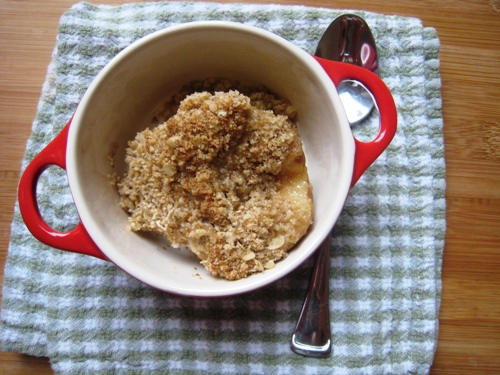 What a sweet fall breakfast or dessert!