For the past few weeks I've been baking up a storm with Artisan Bread in 5 Minutes a Day by Jeff Hertzberg and Zoe Francois.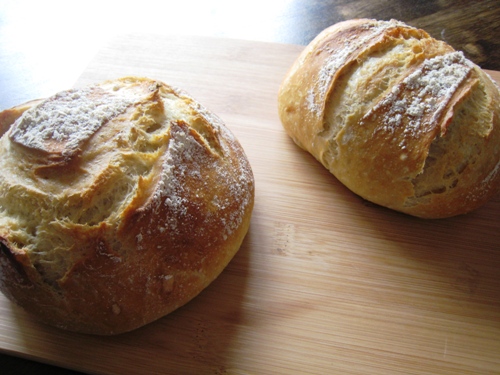 Artisan Bread in 5 Minutes?
I think I first heard about Artisan Bread in 5 Minutes a Day several years ago. My friend Lynn started baking from it when the book was first released. It was during last year's Booking It that I finally though, "I should try this." I waited forever to get the book from the library and then only had time to read the first three pages before it was due back.
Sometimes I'm a little slow. This year seemed like a good time to review it, especially since I was tossing around assigned reading. I could make you read it with me! And a little internet accountability never hurt anyone, eh?
After having read the beginning chapters of the book , tested three recipes, and eaten 9 loaves of bread, I have mixed feelings about the book and the 5 Minute Method.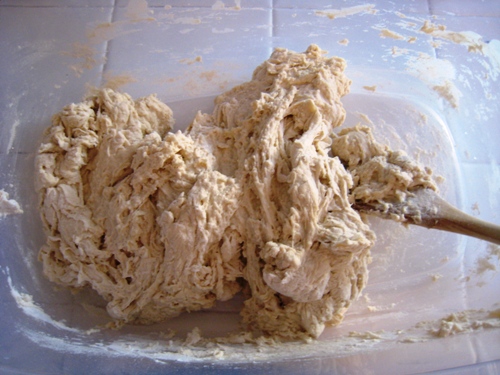 For the unenlightened, the five minutes refers to the time you spend in mixing the dough, storing it in the fridge, and forming the loaves prior to baking. You still need to allot counter-top rising time, refrigerator resting time, pre-baking rising time, as well as baking and cooling. It's still homebaked bread, not abracadabra.
What I loved
There's learning to be had. I'm a firm believer in reading the front sections of a cookbook, especially one that emphasizes a certain method, ingredient, or style of cookery. There's science you need to know in a specialty book like this. And the concepts are explained quickly and simply in this book.
The method is easy to follow. Except for dealing with a hot oven and a boiling water, most of the preparation is easy enough for a child to make this bread. In fact, the method is so easy, it seems too good to be true.
The results are beautiful. I totally wowed my family with the bread I produced. I made the Master Recipe, the Herbed Boule, and the Oatmeal Bread. They all turned out gorgeous.
Some things you should know
You need to get tooled up. If you don't have a large food container with a lid, a baking stone, a pizza peel, cornmeal, and a serrated knife, you aren't ready to make this bread. That can be disappointing if you take the book home and expect to have bread in a short while.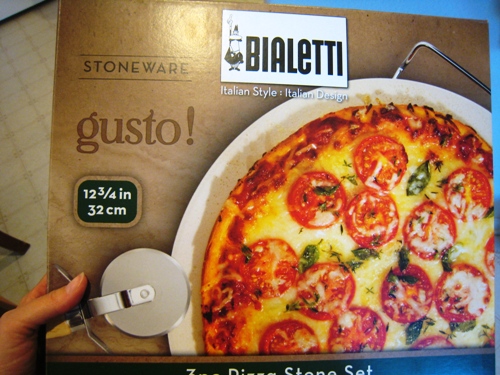 I had to hunt high and low in my local stores for a baking stone and go get a large enough container. The metal pizza peel we have is one that my husband found on the side of the road, so I'm skeptical of using it, which is just as well as my family informed me that the medium grind cornmeal I have tastes like what happens when the lava rocks in your barbeque explode when you use the grill after a rain.
So I fudged a little and used parchment paper. Yes, yes, I did. I let the bread boules rest on the parchment and then slid the parchment onto the hot baking stone. The bread was good and beautiful, but it didn't have the bottom crust that I'm sure develops when you bake it right on the stone.
The bread is good, but not great. Admittedly, I haven't made every recipe in the book. In fact, I plan on trying out some of the peasant loaves in the next few weeks. But, while it is good bread, it's not great bread. It seems to lack a depth of flavor. It tastes a little, well, plain. I'm hoping that as I test recipes with whole wheat or rye flour, that I will get better results.
That said, it is super easy, good bread. I admit, I was hoping for super easy, great bread. But, I also have a French bakery just down the road, so I'm a little spoiled.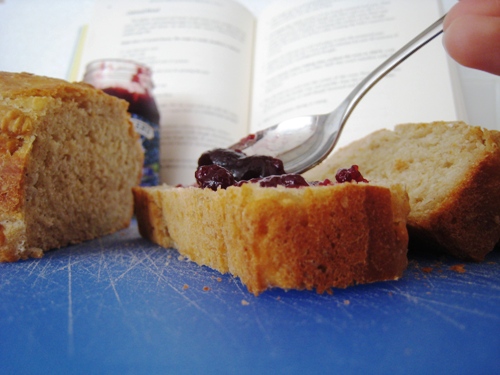 The time savings is debatable. With the Master Recipe and the Herbed Boule, I really did spend only five minutes of my time, and the waiting on all other points was negligible. The bread rests 40 and then bakes in 30. Very doable while I do other things.
But, I found that my time investment on the oatmeal bread was excessive. Long rising time, long baking time does not equal breakfast on time at my house. In that instance, it would have been easier for me to put the ingredients in my bread machine and walk away. So, I think which recipe you use has a huge impact on how you make best use of the method.
It's a good book.
Overall, I think Artisan Bread in 5 Minutes a Day is a good book — and a brilliant method. For ease of use and instilling baking confidence, I give it all A's. On flavor, I'm still undecided. I'll let you know once I explore some of the more complex recipes in the book.
Buying this book and learning the 5 minute method is a worthy investment, especially if you already own the recommended tools. Baking your own bread can save you a lot of money if your family eats a lot of bread. So, following this method could be a great way for you to cut costs.