It can be helpful for your own grocery budget to see what others spend and what kind of tricks they use to save money. Here's what we spend on groceries in April to feed our family of 8 a mostly whole foods diet:
Hey hey hey! It's time for May. I'm coming atcha with a Grocery Geek report.
That there pepper oil is a throw back to our trip to England two springs ago. We ate at Zizzi every chance we got. One kid ordered the exact same thing every single time, pepperoni pizza with chile oil. I'm hoping that this find on clearance will be close to the same experience.
Spoiler: probably not. Several of us are pining away for the UK something fierce!
As we chatted about last month, I wasn't sure where we'd fall with our grocery budget considering this nutrition program of mine. I lost another four pounds in April, bringing the total count to 14 pounds loss! I am thrilled to see the changes in how my clothes fit and how my face doesn't looks so puffy.
After three years of not being able to remove my ring, I was able to twist and turn and wrench it off my finger to clean it! Oy!
Short story: I heard about this program on Instagram, started following the nutritionist who created it, googled a bunch and started implementing the program. It's expensive so I don't feel like I can endorse it completely.
Regardless, it's working! And for what it's worth, everyone's been healthy on this higher veggie diet, too! Thanks for your encouraging words in the comments last month. I appreciate your support.
Our grocery spending didn't end up as bare bones as I planned back in January, but it wasn't super crazy, either. You'll see when you get to the end that we're not tooooooo terribly far off the mark.
The Grocery Geek report
For those of you new here, Grocery Geek is my regular report of how I shopped for groceries, what deals I found, and my running total of how we're sticking to a budget for groceries.
Here's the rundown on my shopping this week. As you read, keep in mind who and how I'm shopping:
My grocery shopping profile
To update you on my grocery geekiness: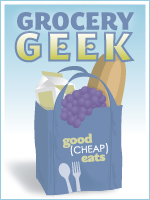 I'm feeding eight people, ages 56, 46, 21, 18, 16, 14, 12, and 10. Five of those people are males. They eat A LOT!
I'm shooting for a budget of $1000 this year, though that might change depending on how a new #veggiesmost diet pans out, either way, trying to beat what the feds think it will cost. Per the most recent USDA food cost reports it should cost our family $1373.30 to eat all meals at home under the "thrifty plan" for people of our demographics.
We live in Southern California where produce is cheap, but meat and dairy are not.
I'm trying to feed us mostly unprocessed foods, with a few "healthier" convenience items thrown in and a junk food splurge* here and there. Currently we're striving for half vegetables at lunch and dinner. (Yikes!)
I work at home and teach four of our kids, so I don't have as much time for fiddling in the kitchen as I would like.
I no longer use coupons on a regular basis, though I do love the coupons that Ralphs offers.
I have at least ten grocery stores within 5.5 miles of my house. It is easy (for better or for worse) to stop at several stores to get the best deals.
We mostly eat at home. My husband and college age sons pack lunch and breakfast to work, but sometimes have lunch out. My husband and I enjoy a date once a week. FishPapa takes one child out to "breakfast with B" once a week. We get take-out for the family on average once a week. That adds up to about 156 individual meals prepped at home. That's a lot!
BEFORE YOU JUDGE ME FOR EXTRAVAGANCE, please read this post.
What I spent on groceries in April
Ralphs
tortillas $1.79
pasta $0.89 after coupons
orzo $1.00
blackberries $0.88
kiwi $3.99
watermelon $2.50
bananas $0.59/lb
mushrooms $1.89
chicken stock $1.49
ground beef $2.99/lb
ground chicken $1.99 manager's special
Italian sausage $3.99
bacon $3.99
Total spent $43
ALDI
bottled water $3.39/case after CRV
hash browns $1.69
milk $1.64
cucumbers $0.19
sugar $1.89
sparkling water $0.65 after CRV
zucchini $0.95/lb
carrots $0.95
eggs $0.99
3-pack peppers $2.95
mushrooms $0.99
grape tomatoes $1.25
mini peppers $1.95
b/s chicken breast $1.89/lb
raspberries $1.49
Total spent $48
Sprouts
strawberries $1.50
grapes $0.98/lb
romas $0.88/lb
Total spent $8
Trader Joe's
almonds $5.99
almond milk $2.69
Total spent $9
Costco
milk $4.50
tomatoes $6.99
salt $2.79
olive oil $13.49
avocado oil $9.69
guacamole minis $13.89
hummus singles $6.59
rotisserie chicken $4.99
bottled water $6.00 after CRV
tortillas $2.99 to $3.79
shredded mozzarella $11.39
feta $6.89
turkey breast $17.68
carrots $4.99
cucumbers $3.99
spring mix $3.99
butter $10.76
peppers $6.49
gorgonzola $7.49
Tillamook $8.99
Greek yogurt $5.89
Total spent $200
Ralphs
triscuits and wheat thins $1.99 digital sale
pasta $0.59
salad kits $1.49 manager specials
clearance mushrooms $0.99
avocado $1.00
Easter candy varies
Total spent $35
ALDI
jalapeños $0.10
cilantro $0.38
canned tomatoes $0.75
black beans $0.89
tortillas $1.99 to 2.85
green onions $0.45
bell peppers $2.95
veggie bites $3.49
taco shells $0.99
cauliflower $1.19
milk $2.25
half and half $1.95
ketchup $1.49
eggs $0.99
riced cauliflower $1.69
bananas $0.29
green beans $1.19
mushrooms $1.95
chili powder $0.95
diced green chiles $0.59
cumin $0.95
pork butt roast $1.49/lb
rice $4.49
cucumbers $0.29
cottage cheese $1.29
spinach $1.49
broccoli $1.45
celery hearts $1.99
baby lettuce $1.99
hot sauce $1.32
pepperoni $2.19
cheddar $6.69
b/s chicken breast $1.89/lb
Total spent $138
Sprouts
baby carrots $1.29
strawberries $1.50
grape tomatoes $2.99
buttermilk $2.99
Greek yogurt $3.49
Total spent $15
Sprouts
lettuce $2.49
baby carrots $0.98
strawberries $1.50
grape tomatoes $1.50
romaine hearts $2.50
snap peas $2.99
red cabbage $1.49
grapes $0.98/lb
shredded carrots $1.99
mushrooms $3.99
Greek yogurt $3.49
grass fed beef $2.99/lb
sausage $2.50
shrimp $6.99/lb
salmon $6.99/lb
Total spent $85
Ralphs
butter $2.99
fresh pasta $1.99 to 2.99
pineapple $1.50
portabella mushrooms $2.49
strawberries $2.49
clearance produce $0.99
Fage $1.99
Total spent $31
Costco
rotisserie chicken $4.99
beef jerky $11.79
potstickers $7.99
Greek yogurt $5.89
hamburger buns $3.59
oreos $5.99
chicken sausage $13.79
tortillas $3.79
ham $12.12
pork tenderloins $13.50
milk $4.50
Total spent $100
ALDI
milk $2.25
eggs $1.19
baby lettuce $1.99
cheddar $2.99
half and half $1.95
garlic $2.99
bell peppers $2.95
broccoli crowns $1.25
sausage $2.89
b/s chicken breast $1.29/lb
Total spent $50
Costco
milk $4.50
Greek yogurt $5.89
power greens $4.99
hamburger buns $2.59
Total spent $24
Walmart
burger buns $2.68
tea $2.98
coffee $15.98
Total spent $24
ALDI
broccoli crowns $1.25
baby lettuce $1.99
cauliflower $1.79
fajita tortillas $1.99
sausage $2.99
pepperoni $2.19
cucumbers $1.99
green beans $1.19
eggs $1.19
canned tomatoes $0.69 to $0.75
garbanzo beans $0.69
tomato paste $0.39
sausage $2.49
Total spent $48
Sprouts
baby carrots $0.98
strawberries $0.88
cucumbers $0.50
grape tomatoes $1.69
blueberries $0.98
opal apples $1.28
bell peppers $0.98
coleslaw mix $1.49
tomatoes $0.98/lb
mushrooms $3.99
bananas $0.59
cayenne olive oil $4.79 on clearance
grass fed beef $2.99
shrimp $6.99/lb
Total spent $110
Ralphs
buttermilk $3.19
vinegar $3.99
flour $2.69
tortillas $2.50
beans $1.79
mushrooms $1.49 to 2.46 clearance
salad kits $1.99 clearance
ground chicken $2.99 clearance
chocolate milk $3.49
tri-tip steaks $3.77/lb
bacon $3.99
sparkling water $3.40
mini peppers $2.99
lemons $2.99
kale on clearance $1.29
bell peppers $1.49
Total spent $100
Imperfect Produce
iceberg lettuce $1.19
zucchini $1.38/4
cara cara oranges $0.89/2
peppers $1.99/3
apples $1.69/3
potatoes $0.79 to $0.89/#
cilantro $1.58/2
jalapeños $0.99/.5#
cucumber $1.59/2
radish $0.69/1
green onions $0.59/1
onions $1.58/4
cauliflower $1.99
navel oranges $0.79
pears $2.18/4
shallots $1.39
blood oranges $1.49/3
minus promotional credit $10.00
Total spent $22
Total spent MTD $1090
January: $634
February: $1147
March: $1264
April: $1090
Total spent YTD: $4135
Average YTD: $1034
Whew! So, our average isn't too crazy above the target. I may end up shooting for $1100 like I did last year. I'm sure if we didn't do as many fresh foods, that I could get it lower, but at this point it's not that much each month to feel better about what we're eating.
How's your grocery shopping going?