Want to make an easy and delicious frozen dessert? Try out this apricot ice cream studded with chocolate.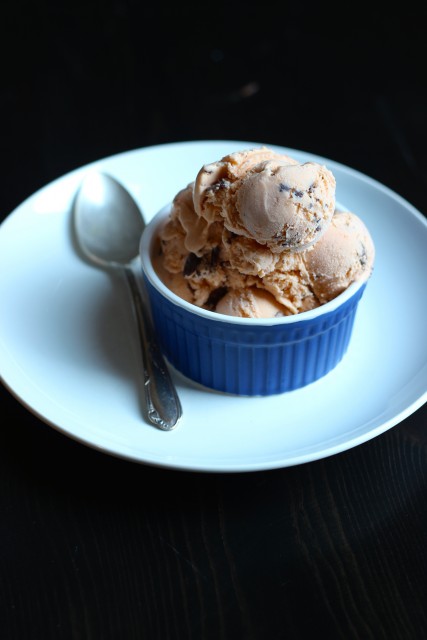 As I've mentioned before, a Pantry Challenge is only as good as the things that you keep on hand in the fridge, freezer, or pantry. If you buy things that you don't really love, you will be stuck eating those things during the challenge. That's bad in the short term; it's good in the long term.
If you've shopped unwisely, a challenge — and forcing yourself to use up whatever those icky things are — will teach you to shop more wisely and in tune with your eating habits and goals.
Having cream, milk, and sugar on hand is a good thing. Also chocolate chips and coconut oil. Then you can feel like a rockstar mom when you whip up a homemade ice cream with little bits of chocolate in it. Yeah, baby.
The apricots or whatever fruit you have on hand are bonus. Just add a cup of fruit puree to the mix and you're good to go. I recommend straining the puree before adding it to the milk mixture. I didn't this week. Instead I was lazy. There were tiny bits of the pit's outer coating (you know the stuff that sometimes sticks to the inside of the stone fruit?) in the ice cream. Tiny bits aside, this is a delicious fruit flavored ice cream.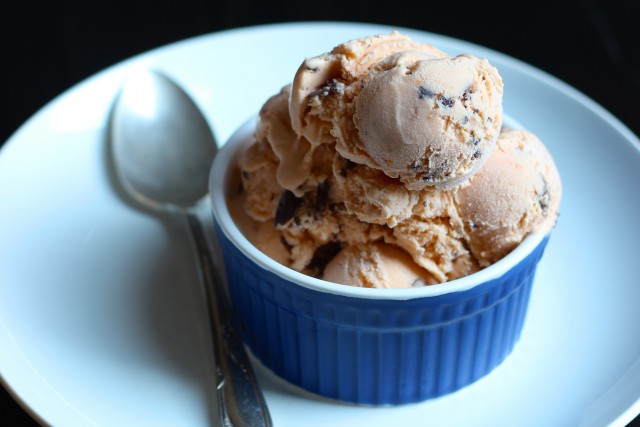 I adapted my regular vanilla ice cream for this recipe. It's much more affordable than storebought, and tastes amazing! Adding the apricot and chocolate is a great variation.
Apricot Chocolate Chip Ice Cream
Want to make an easy and delicious frozen dessert? Try out this apricot ice cream studded with chocolate.
Ingredients
¾

cup

milk

¾

cup

granulated sugar

1 ½

cup

whipping cream

¾

cup

fresh apricot puree

¼

cup

chocolate chips

1

tablespoon

coconut oil
Instructions
In a large mixing bowl, whisk together the milk and sugar until the sugar dissolves.

Stir in the cream and apricot puree. Chill for about an hour.

Meanwhile, combine the chocolate chips and the coconut oil in a microwave-safe bowl. Heat just long enough to melt the chips. Stir until smooth and allow to come to room temperature.

Pour the cream mixture into the ice cream machine and freeze according to the directions provided by the manufacturer of your particular machine. After the ice cream has started to thicken and look like soft serve, drizzle the chocolate mixture into the ice cream. This will harden and break into little "chips" as it churns.

Once the ice cream has thickened, eat immediately as soft serve ice cream or transfer it to an airtight container and store in the freezer for an additional 2 hours or more.
Notes
To make the puree: peel, pit, and chop several apricots (how many will depend on their size). Place in a food processor fitted with a metal blade. Puree until smooth. May also be made in a high-speed blender.
Nutrition
Calories:
337
kcal
|
Carbohydrates:
39
g
|
Protein:
2
g
|
Fat:
20
g
|
Saturated Fat:
13
g
|
Cholesterol:
64
mg
|
Sodium:
40
mg
|
Potassium:
81
mg
|
Fiber:
1
g
|
Sugar:
33
g
|
Vitamin A:
751
IU
|
Vitamin C:
2
mg
|
Calcium:
66
mg
|
Iron:
1
mg