Curious about freezer cooking? Consider purchasing my cookbook, Not Your Mother's Make-Ahead and Freeze Cookbook from Amazon, Barnes and Noble, or your local bookstore. It's chock full with over 200 freezer-friendly recipes, planning pages, shopping lists, cooking plans, and basic and advanced how-to's to making freezer cooking work for any home, family, and lifestyle.
Remember that 60 pounds of apples I bought? Well, as much as we love eating them fresh and dipping them in maple-whipped cream, I needed some space in my refrigerator.
So whenever I have too much of something, I process it for the freezer. First I got out my handy-dandy unitasker, similar to this apple, peeler, corer, slicer. Yes, I have one. And yes, it's only used for one thing: peeling apples. But, that is okay because it saves so much time for bulk apple cooking. Plus, the kids love to watch the apple spin and to eat spiral cut apples.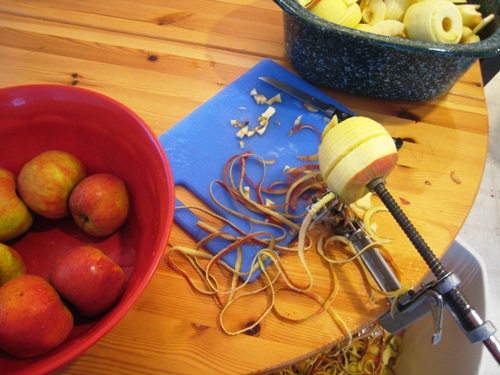 I filled three crockpots full for Crockpot Applesauce and ended up making three Slab Apple Pies. Plus, my helpers snacked on apples and helped me with the peeling. We still have about 20 pounds of apples, but I think we'll be able to eat those fresh in the very near future. Eight people can eat a lot of apples. And we just love tasty snacks.
What do YOU do with apples?