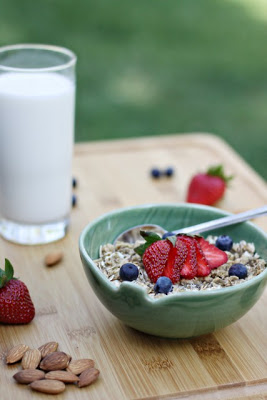 A Guest Post from Shaina of Food For My Family
When I think of flavors in food, I definitely turn to my pantry. It's the flavors in the spices, the oils and the sauces that add complexity to the food we eat every day. Without them, dinner just wouldn't be the same at our house. Baking would lack depth. And my granola? It would lack a kick of ginger and that added level of interest.
While I chose to talk about my recent obsession with ginger, I could have easily told you about my love of red wine vinegar in pasta salads or how pure maple syrup makes an excellent salad dressing. These small additions here aren't necessary, but they do make dinnertime a bit more enjoyable. For example, eating spaghetti every week would be boring, but let's say one week you make herbed meatballs one week and asparagus pesto the next.
So, grab a package of sun-dried tomatoes to throw into your side salad, or top a pizza with a can of artichoke hearts. Try to add a little bit of something to every meal, even if it's just a simple vinaigrette to the side salad at dinner or a chopped jalapeño to the guacamole.
Variety is the spice of life, after all.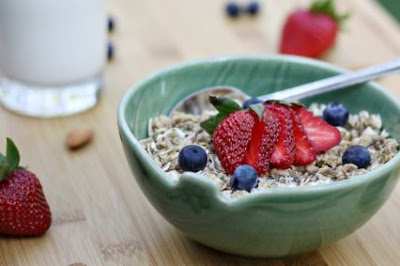 Almond Ginger Granola
2 cups rolled oats
½ cup whole or sliced almonds
¼ cup toasted wheat germ
¼ cup sunflower seeds
¼ cup unsweetened toasted coconut
2 tablespoons ground flax seed
3 tablespoons canola oil
½ cup honey
2 teaspoons fresh grated ginger root or 1 ½ teaspoons ground ginger
½ teaspoon cardamom
½ teaspoon cinnamon
½ teaspoon kosher salt
Preheat oven 300º F. Mix together oats, almonds, wheat germ, sunflower seeds, coconut and flax. Stir in canola oil until mixture is evenly coated. Mix honey together with ginger, cardamom, cinnamon and salt. Pour over the granola mixture and stir until coated. Spread into a thin layer on a parchment-lined sheet pan. You could also use a silicon baking mat like a Silpat.
Bake for 30-40 minutes at 300º F, stirring every ten minutes until granola turns a light golden color. Remove from oven. Allow to cool completely before storing in an airtight container.
Enjoy over yogurt, with milk, on ice cream, with fresh fruit or on its own. This makes a delicious snack on the go as well.
Makes approximately 3 cups of granola.
Possible Variations and Additions:
*Add 3 tablespoons of candied ginger after the granola has cooled.
*Stir in dried pears or golden raisins before baking.
*Omit ginger and add in one scraped vanilla bean and ½ cup dried blueberries.
*Use maple syrup in place of honey.
*Use your imagination. The potential combinations are endless.
— Shaina Olmanson is the home cook and photographer behind Food for My Family, where she shares recipes, tips, opinions and her philosophy on food as she strives to teach her four children how to eat well: seasonally, locally, organically, deliciously and balanced.
Want the dish on delicious ways to act your wage? Subscribe to GCE in a reader or via email.