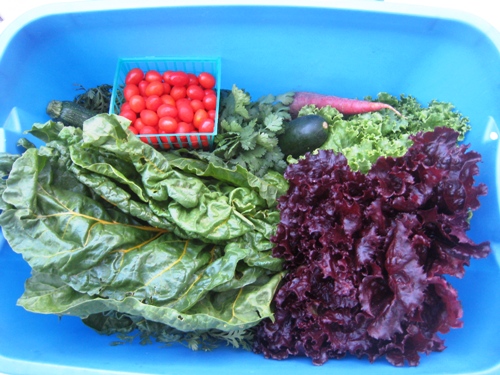 So even though I said I was going to take baby steps on this whole "eating better" thing, I just couldn't resist pushing the envelope a little. If you read LifeasMOM, you already know that we signed up for a CSA trial last week. Four weeks to test out what we think about being "forced" to make good use of fresh, organic produce.
Last week's basket was pretty standard fare, including lettuce, melons, grape tomatoes, zucchini, avocados, carrots, string beans, cilantro, oranges, and apples. The strange bird in the flock was the swiss chard.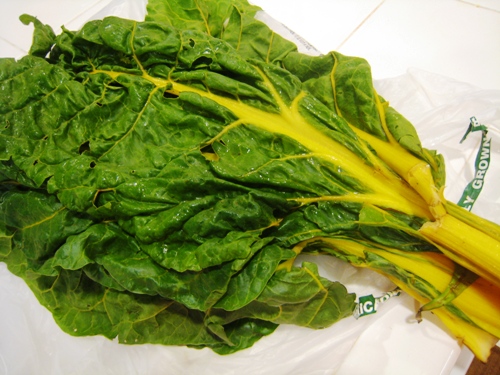 I had never eaten chard, let alone cooked with it before last week. I had asked around on facebook and twitter, looking for fans. And there are plenty of people out there who love chard.
If you're a chard newbie, walk along with me on my adventures with chard. It's kinda weird, two vegetables in one. There's a celery-like stalk and spinach like leaves. Both are edible.
I washed it all well. It's kinda gritty. And then separated the stems from the leaves.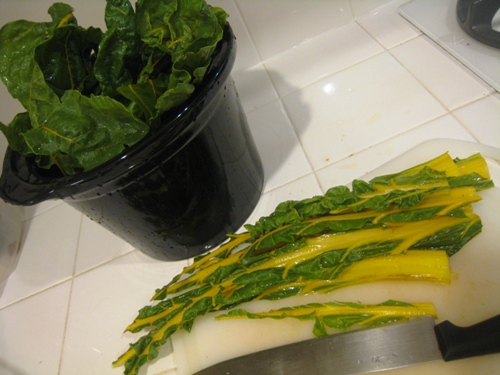 I had done some chard research and found two interesting recipes, one from Martha and one from Bon Appetit. I used Martha's cooking method with Bon Appetit's ingredients list.
That night we had salmon, rice pilaf, sauteed chard, and sweet corn. A very yummy combination.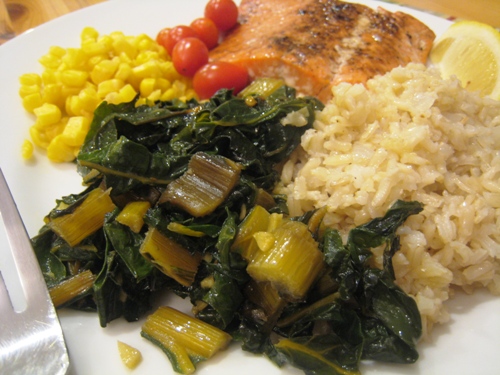 One bunch of chard was a lot for our family. So, I didn't cook all the leaves, but stored them in a paper towel-lined ziploc bag. I used a few handfuls later in this vegetable saute.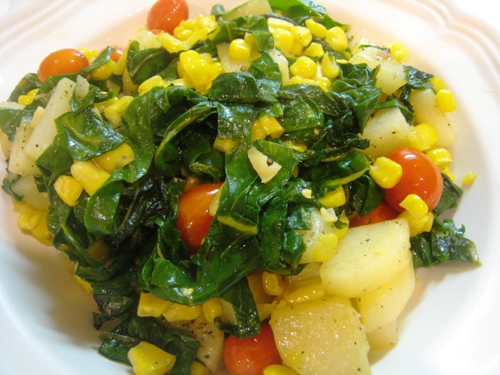 Mixed Vegetable Saute
1 Tablespoon olive oil
1 potato, peeled and chopped
1 clove garlic, chopped
1/2 sweet corn
2 handfuls swiss chard leaves, sliced
1 handful grape tomatoes
In a large skillet heat oil until shimmering. Add potato and garlic. Cook, covered, over medium heat until potatoes are cooked through, about 10 minutes. Stir in corn and chard, tossing to coat. Cook until hot through. Toss in grape tomatoes and cook just until hot.
I still have a few handful of chard leaves left. I'm not quite sure what to do with them.
Any suggestions?