Run out of cream? No problem. Try gelato as a quick and delicious stand-in.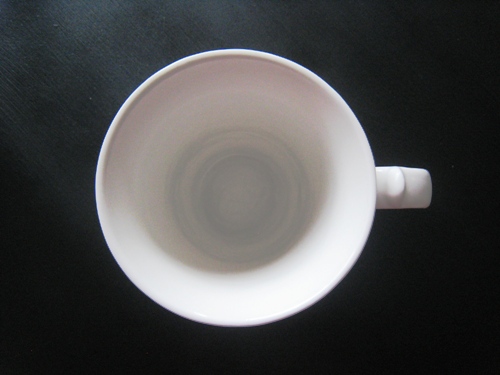 During the Pantry Challenge, we ran out of cream. I had tried to eek through without buying more. But, well, for me, a cup of coffee without cream might as well be an empty coffee cup. I'd rather drink nothing than coffee without cream.
But, necessity is the mother of invention. I checked the freezer. Lo and behold, we had some Talenti Salted Caramel Gelato.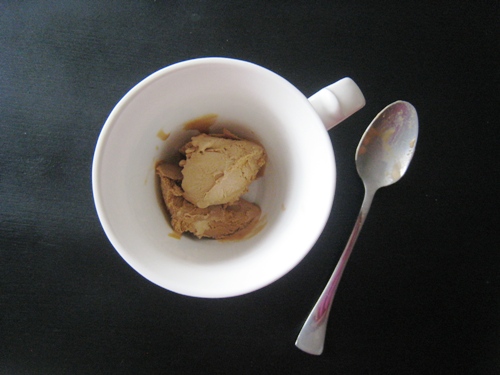 Yes, we're getting closer.
Brew a little coffee…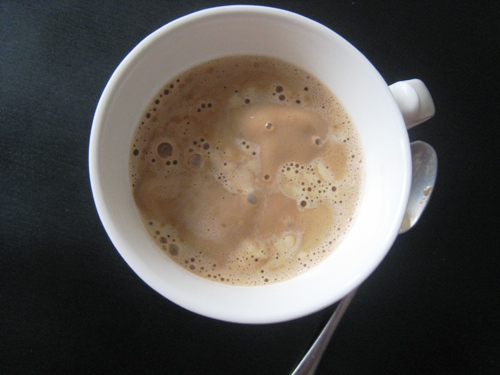 Et voila! Or however they would say it in Italian. A morning affogato.
I didn't invent this, of course. Apparently, someone somewhere in Italy long ago ran out of cream for their morning cuppa also. And history was made. It's typically made with espresso, but my coffee is pretty strong, so it's close.
You can make it with any ice cream or gelato, though I will say that the salted caramel variety is pretty amazing. Talk about your morning pick-me-up!
Recipe: A Morning Affogato
Ingredients
1 scoop gelato
1 serving of your favorite espresso or strong coffee
Instructions
Place the gelato in your coffee cup. Pour the espresso over the top. Enjoy as the sweet and cream melt into your morning cup of joe.
Preparation time: 5 minute(s)
Cooking time:
Number of servings (yield): 1
Try Talenti.
The nice folks at Talenti Gelato e Sorbetto have offered to share this beautiful goodness with Good Cheap Eaters. They have released a variety of new flavors this summer, including Chocolate Peanut Butter Cup, Banana Chocolate Chip, Black Raspberry Chocolate Chip, Simply Strawberry, and Chocolate Chip (Stracciatella).
Talenti is probably our favorite brand around here. Our local sprouts often has it on sale, so we snatch up a few jars whenever we get the chance. I think we've tasted almost everything. I love their ingredients list: hormone-free milk, great-quality chocolate from Belgium, extra-fine pure cane sugar and real fruit.
The quality is so good and rich, we can usually stretch a jar to suit the whole family. Less is more when it's good stuff!
This week 3 Good Cheap Eaters will each win a coupon for a free pint of Talenti.
THIS GIVEAWAY IS NOW CLOSED. CONGRATS TO THE WINNERS: brandyk@, kris933@, dkmiata@
To Enter:
Simply complete the information on this form. Please know that the information is only being gathered for the purposes of mailing you your prize in the event that you are chosen as the winner. This information will not be sold, traded, or given away.
This promotion is open until Sunday, August 12th, at 8 pm PST and is limited to US residents, 18 years or older. Friends and family of Jessica Fisher and Good Cheap Eats are ineligible for entry. The winners will be chosen randomly. This post will be updated with the beginning of the winner's email address. The prize for this promotion is provided by and shipped by Talenti and/or its representatives. Jessica Fisher and Good Cheap Eats will not be held responsible for unclaimed or undelivered prizes.
Disclosure: I received sample product from Talenti. All thoughts and opinions expressed in this post are my own.