A grocery spending audit is a great way to analyze your grocery spending habits and to see if you can reduce expenses to save money.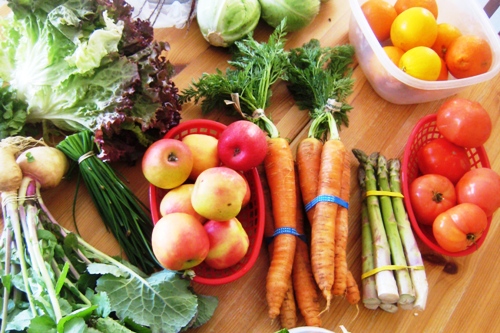 As I mentioned on Saturday, I went over budget this month on groceries. I was frustrated because I didn't feel like I'd been wasteful or extravagant or shopped at expensive stores. Quite the contrary, I had sought the best deals and made my purchases very intentionally.
I loved the exchange of ideas in the comments section of Saturday's Grocery Geek post. You guys rock major big time. If you didn't follow the conversation over the weekend, hop on over and check it out. I was both encouraged and challenged.
Some back story….
Four years ago before I learned about couponing, our monthly budget for food, cleaning products and toiletries was $800. This was well below the national average at that time, but we were desperate to pay off debt and in the ensuing months did all we could to cut it in half.
Yes, in half. Basically, I became a grocery/coupon addict.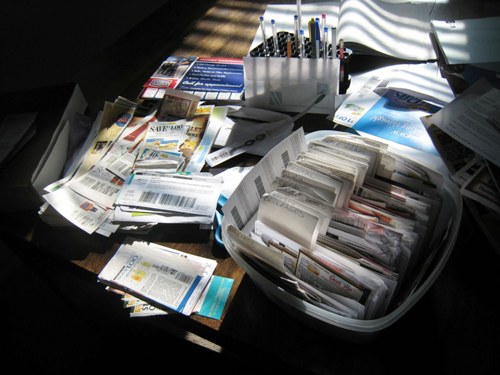 My poor husband. There was no living with me. All I could talk about was the deals that I was getting or the cool coupons I had found. It was a wonderful means to an end. We paid off all our debt by the following spring, in part, thanks to shaving our food budget.
I am so thankful for that season. I learned so much — and not just about couponing. And the coupons themselves were a blessed means to an end. Saving money each time at the store gave me confidence that we could beat back our debt. If you think you can do something, usually you can. That adrenaline rush accomplished much.
Within the two years that followed, however, my life became busier. I had six kids instead of five. I was working part-time from home. And the grocery stores in California weren't offering as good of deals as the grocery stores in Kansas had done. My coupon clipping slowed down a bit.
After we paid off our debt, we had more wiggle room in the budget and were able to spend more on food costs. Fun food, finally! And then, because we weren't desperate to pinch pennies, I started reading nutrition books.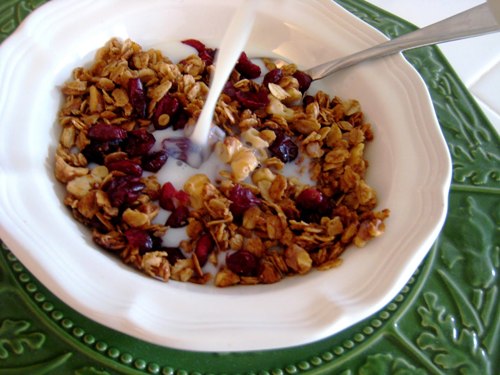 Now, I'm on a new journey to adjust some of my purchasing in order to feed my family better foods.
Until the American growers, manufacturers and FDA change some of their practices, I realize that it's an uphill battle. I realize that it will cost more money to feed my family more nutritious fare. But, hell hath no fury like a mother scorned.
OK, that sounds dramatic, doesn't it?
But, once upon a time we were $16,000 in debt and the future looked bleak. We survived that so I have confidence we can, Lord willing, figure this out, too. While I don't want to go all Rambo about our food, I do want to make wise choices about the food I eat and feed to my family. The more I read, the more I realize that using "plain ingredients" may not be enough. I know, there's great debate. And I could be wrong about some of my conclusions. But, something's amiss. The pink slime debacle has taught me that.
It matters how those ingredients are farmed and produced. And I'm trying to figure that out at the same time as stay in the black.
Because we will stay in the black.
So, without a lot of political rhetoric or scientific explanations, just know that my struggle is not to spend less money on food. I know how to do that. Instead my challenge is to feed my family better food without spending a LOT more money than we would for conventional products with coupons.
Sounds daring, huh? (I am such a geek….)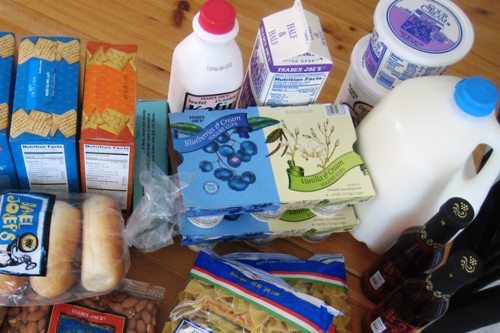 The Grocery Spending Audit
I mentioned on Saturday that it must be time for an audit. If I spent more than I intended to, bringing our year-to-date monthly average over goal by at least $100, then it's time to see what's going on.
An audit on your grocery spending would entail looking at
who you feed
what you like to eat
how much you spend
what you buy
what you have stored for future meals
if you can lower any of those costs without paying more in some other way
With the price of gas these days, I think fuel costs need to factor in this discussion as well.
So, here's my grocery audit.
Who I feed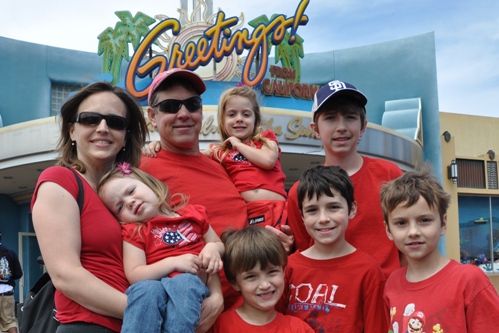 Our family includes one dad, one mom, four boys (14, 11, 9, 7) and two girls (5, 3). Everyone is fairly active and healthy. This picture is almost a year old, so imagine everyone a head taller, except for me and the hubs.
We went out to breakfast the other day to innaugurate Spring Break. We feasted at a local restaurant, not a chain. Turns out their unadvertised special is the same price as the "kid's meals". The boys all gladly gave up having a drink in order to get two eggs, two pancakes or French toast, and two sausage or bacon. You should have seen the platters full of food! The pancakes were large and the french toast was actually four large "halves" which easily could have each counted for a "piece." I figured we'd surely be wasting food.
But, no. They scarfed down every last bit!
So, now, I understand a little why I went over budget this month on groceries! LOL. Everyone can eat a lot. And as some of you intimated on Saturday, this is only the beginning.
What we like to eat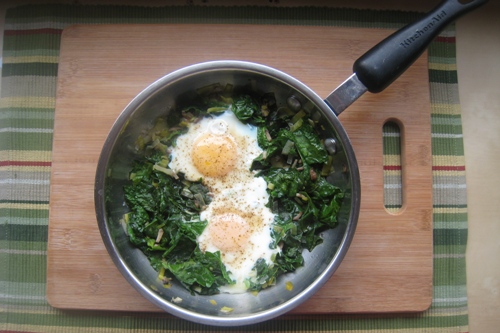 We tend to favor "gourmet" meals, including French cheeses, good coffee, and great bread. And we're willing to "splurge" on those luxury items just for taste alone. Hubs would say that his wife is a big fan of froofy food.
I also prefer to limit our processed sugars, serve whole grains (like brown rice instead of white), and, as of late, buy organic produce and hormone-free dairy products. We have one child with allergies to nuts and eggs, so those proteins are kind of off-limits for family-wide meals. We still eat them, but if I make them for a main dish, I still need to feed her something else.
How much I spend
Last year, my monthly average hovered between $600  and $700/month. This year, I'm averaging around $914, a little higher than I would like. I feel comfortable at $800.
What I buy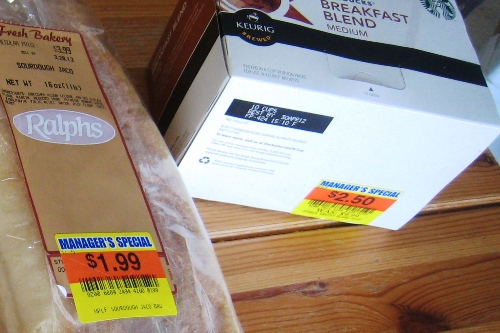 Since I'm a total grocery geek, I have pictorial documentation of almost every shopping trip. Hehe. I scrolled through this month's posts to review. I bought a lot of fresh produce, boxed cereal, crackers, rice cakes, bagels, breads, cheese, dairy, and sugar. I didn't buy a lot of meat as we were using the meat from the freezer that I had bought in Feburary.
We didn't waste much food this month, so I know that we ate almost all of that produce. I have a small stockpile of cabbage that I need to deal with. But, the pineapples, the cuties, the potatoes, the pea tendrils (sigh) are all gone. So are the bread, cereal, and snack foods, except for what I bought over the weekend.
I shop at stores based on their convenience to home, their prices, or the fact that I feel good about the ingredients in their products. For example, Trader Joe's promises that their store brand products contain no artificial flavors, colors or preservatives, msg, genetically modified ingredients, or transfats. This saves me the time and hassle of reading every stinking label.
I shop at Ralphs because it's close to home, on a regular route that I drive, and offers great manager's specials. Twenty-five cents for a K-cup? Yes! Sprouts is also close to home and a good place for "all natural" or specialty ingredients that I might want for a recipe.
We go to Costco for their great prices on dairy, produce, and bread. They also have the best price on non-sale meats. So, if there isn't a store sale on chicken, I know I can get a decent price there.
I subscribe to a weekly produce box from Abundant Harvest Organics. It provides an abundance of organic produce at prices that are very comparable to conventional produce on sale. The only catch is that I don't get to choose. This is a double-edged sword. I don't like parsnips, but I've discovered a wealth of other items that I might not ever have tried otherwise.
What I have stored for future meals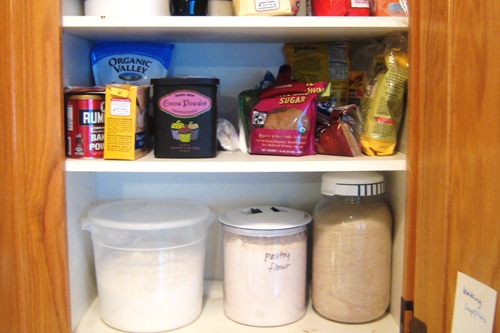 I like to practice stockpiling, where I buy a lot of something at a great price and then use it slowly over time. In this way, I avoid paying a high price for something when I "need" it because I already have it on hand. Unfortunately, I don't have a huge stockpile right now.
The freezer holds butternut squash and applesauce that I processed from the produce box awhile back. But, there aren't too many freezer meals to speak of. Maybe a small handful. My last big freezer cooking session was in February and we've been enjoying that ever since. I don't have a lot of meals left from it, so we're due for another round of cooking this week.
The pantry is not bursting either. I have lots of evaporated sugarcane juice (25 pounds) as well as a few big bags of quinoa, rice and beans, some pasta and jars of condiments. We're running low on oats and flour. I buy very few canned goods, though there's currently a good selection of tomato products and canned beans.
What I can do to lower expenses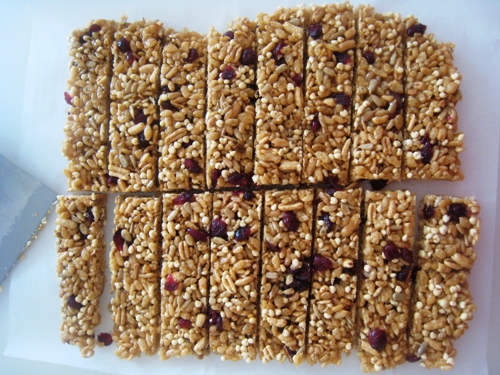 Considering the above situations, here's my plan of attack:
1. Make more snacks.
Since the snack foods have the highest ticket price (about $2 each at Trader Joe's) and I bought a lot of them last month, those are the items that I'm going to need to cut back on and fill them with cheaper, but just as tasty alternatives. My plan is to do a lot of baking in the coming week and freeze those items. I also want to make fruit and veggie dippers more readily available for the kids to snack on. I've been experimenting with a chewy cereal bar. A few more tweaks and I think we'll be there.
2. Bake more bread.
It used to be that I baked a lot more of our bread. Not for nutrition reasons, but for taste and cost. While I love the convenience of sandwich bread, I guess it's time to explore baking my own again. I know that it should save us money.
3. Do a mega freezer cooking session.
It's time. Our school year has been so busy, I haven't been able to do a full-day session of freezer cooking. But, I think we're due. The time spent would probably be earned back in full bellies and a few more pennies in my purse. This week I've be making double (or maybe even triple) batches of granola, enchiladas, chicken pot pie, taco meat, pasta sauce, and baking mixes. It takes a lot of food to feed this crew and it's time to get a little ahead of the game.
4. Consider once-a-month-shopping.
This idea was suggested by several readers over the weekend. It's something that I used to do when I had to cart all the kids with me on shopping trips. Now that the older ones can babysit, I can usually shop by myself. However, the point of spending less gas and less time — and presumably less money — by shopping less often does sound like a good one. I'm not sure how this will work itself out, but I'm thinking about how to make it work for me.
We live in an area where there are five stores within five miles of home and probably a dozen between here and hubby's work, so it seems unnecessary to buy milk to freeze. That's an easy quick stop if we need it. But, I am thinking about making one stop per month at my stores of choice. There are certain things that I buy at certain stores. If I were a little more proactive in my list making and bought enough to last us until the next trip, I might be able to pull it off. We'll see….
I do very little shopping for clothes or housewares, so I confess groceries are my retail therapy.
5. Shop the pantry.
While I think that I'm pretty good at building meals from what we already have, I am sure that I could practice my chops a little more. So, I'm going to try to keep the pantry and refrigerator organized on a more consistent basis as this really helps me know what we have and what we could use up instead of buying more.
6. Strike a balance.
Cooking for eight is a challenge in itself. Add into that mix an at-home job and a full day of homeschooling, and there's just so many hours in my day. So, I can't reasonably cook everything from scratch for every meal. I might go insane. Yes, I have a husband and children who help. But, they are busy, too. I don't want to freak out over nutrition or pinching pennies.
I want a balanced budget as well as a balanced diet. And a sane mind wouldn't be too bad, either.
Going into April and in an effort to bring my monthly average back down to $800, I'm going to try to spend less this month and offset previous spending. I don't want to name a number, but I do have one in my head. I think that if I can work on one or two of the above solutions, that should really help.
We'll see!
Have you done a grocery spending audit?
I'd love to hear your experience and what works for you to eat better but not break the bank.