Eat your way to happiness in San Diego.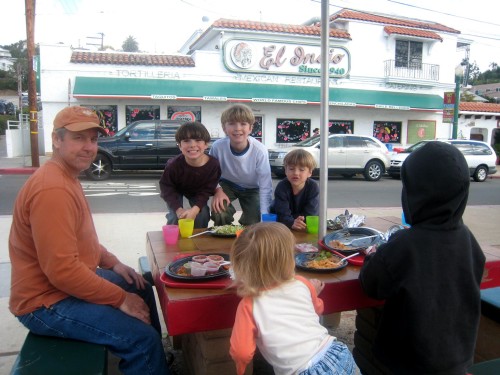 You know me. I love to eat. And eat to live. Not always in that order. But always with relish. (Not of the sweet pickle variety.)
Sharing great meals is a big part of our family's culture. Eating out is an adventure. And so is cooking together. Children hum when a good meal is served. And when the whole table is humming? Oh, it makes this mama proud. My kids plan the next meal while they're eating the current one. In a word, we are: foodies.
Good eating on vacation is an absolute necessity for us. It isn't really a vacation for us unless the food is tasty — and reasonably affordable.
Even when we have a staycation, food plays a big part of the action. Since we're saving money on transportation and accommodations, it's easier to budget for meals out and "fun food."
Make your staycation a tasty one.
San Diego, our home for the last four years, is a great spot to live. We are so thankful for all the interesting adventures just waiting to be had here. It's the perfect place for a staycation — or vacation, if you don't happen to live here already.
A Culinary Staycation is a term that may or may not already be in existence. I may have just made it up. I was looking for the right words to describe my favorite kind of vacation. The one where you eat well and don't have to do any dishes.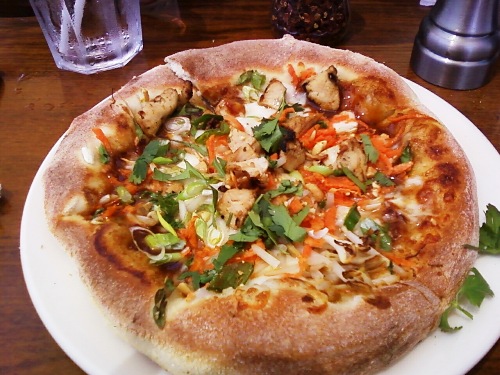 That's what this is about: An Eating Tour of San Diego
Keep in mind that I'm a mother of six young children, living on a budget. Our family loves to eat out, but we're also focused on getting our biggest bang for the buck — while trying to include as many real foods as possible.
That means I do not include five star restaurants in this round-up. Think of this as an eating tour of San Diego — for normal people.
And whether you're a local or an out-of-town visitor, it's good to have a collection of good cheap eats to draw from. The following are some of our family's top picks for good eats throughout San Diego County. Many of them are independent establishments, though there are some chains thrown in for good measure.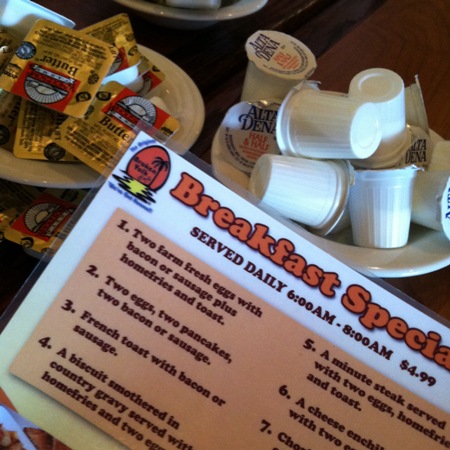 Breakfast
The Broken Yolk Cafe is our family's choice for good, filling breakfasts out. The portions are so large, you could easily skip lunch and have an early dinner in order to economize. There are locations in Pacific Beach, La Costa, the Gaslamp Downtown area, Chula Vista, San Marcos, Oceanside, and Point Loma.
Pipes Cafe is a surfer breakfast place that is always crowded. There are locations in San Clemente and Cardiff.
Some of my kids still prefer IHOP. There are locations throughout the county.
Pizza
Pizza Nova is a favorite date-night place. We've never taken the kids, so I can't speak to the kids' fare. Read my review here. Locations are in Point Loma, Solana Beach, and San Marcos.
Dominick's at the Harbor is a place we discovered via a Groupon deal. It's turned out to be a favorite place for pizza, reminiscent of my very favorite ChiChi's, the gold standard of pizza.
We've also enjoyed Shakeys, a blast from my past. There are locations in Chula Vista, La Mesa, and Oceanside.
Next on my list of places to try, though, is Pizza Port. Saw it on TV, and it looks yummy!
Most often, though, if I don't make pizza at home, we pick up a couple from Costco's food court.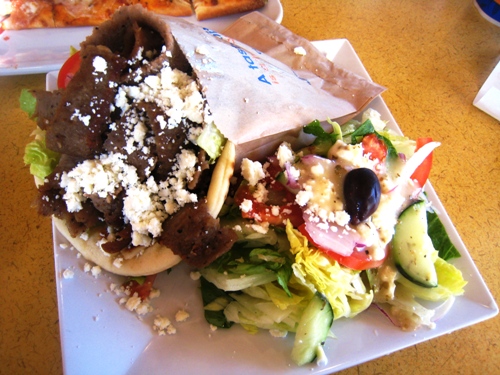 Mediterranean
Mediterranean is one of my favorite food profiles, so I'm always happy to find a great place for a gyro. Luna Grill is a great place with locations in Carmel Valley, Carlsbad, Mission Valley, and Hillcrest.
Downtown in Seaport Village, Greek Islands Cafe is really yummy, right on the waterfront. Be sure to get a table outside.
And Daphne's California Greek is a chain that offers good food for a great value. Locations are in Mission Valley, Hillcrest, Santee, Chula Vista, La Jolla, Mira Mesa, Torrey Hills, Poway, 4S Ranch, Carlsbad, and San Marcos. (Stay tuned next week for a review and giveaway.)
Mexican
There is no shortage of good Mexican in San Diego county. We are so close to the border! El Indio, famed home of the taquito, is a great tasting place offering quality food. Outdoor seating is available out front, a nice touch for families.
Independently owned Mexican restaurants are ubiquitous in San Diego. One of our favorite fish taco meals was at a little house in La Jolla that had been transformed into a restaurant. Alas, I don't know the name of it, so I can't tell you where to go!
If in doubt, I always stand by Chipotle for healthy fare, generous portions, and reasonable pricing.
Burgers and Fries
There are some great burger places in these here parts. So many that I can't list them all.
The Counter offers you the opportunity to build your own burger from a vast array of topping choices. Locations are in Del Mar and Carlsbad.
Elevation Burger presents a menu of grass-fed beef burgers and, again, a variety of toppings. Locations are in Carlsbad and San Diego.
In-N-Out is a western US chain that offers great burgers made from their own ground chucks. No pink slime there. I asked.
Pub Fare
San Diego is gaining a reputation for excellent micro-breweries. If you have a chance to take a tour or dine in one of the local brewery's restaurants, it will be worth it. These may be a little pricier, but general good.
Karl Strauss is a favorite of ours. They have outgrown the micro-size, but still offer a vast menu of choices. Locations are Downtown, La Jolla, Sorrento Mesa, and Carlsbad.
The Fox Sports Grill downtown is right on the water. I've only been there once for lunch, but I loved the Chicken Cobb Salad. And the outdoor seating is quite pleasant.
Make it a delicious staycation!
I love to cook. You know that. But, I'm also happy to let someone else do the cooking — or even buy a few convenience items to make meal prep easier. I call that fun food.
Whatever you do, make your staycation tasty!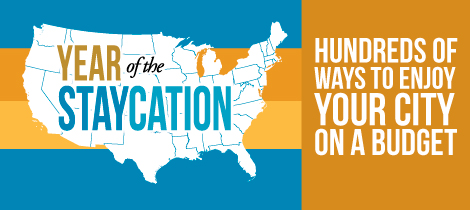 This post is part of Year of the Staycation. Around the web today you'll find staycation ideas for dozens of cities represented throughout the country. Check out my recommendations for things to do in San Diego.
Tomorrow, I'll be sharing the links to all of them. You're sure to find great things to do in a city near you.