Want to make meal times easier this week? Check out these easy meal prep tasks you can do right now for good eating in the coming days.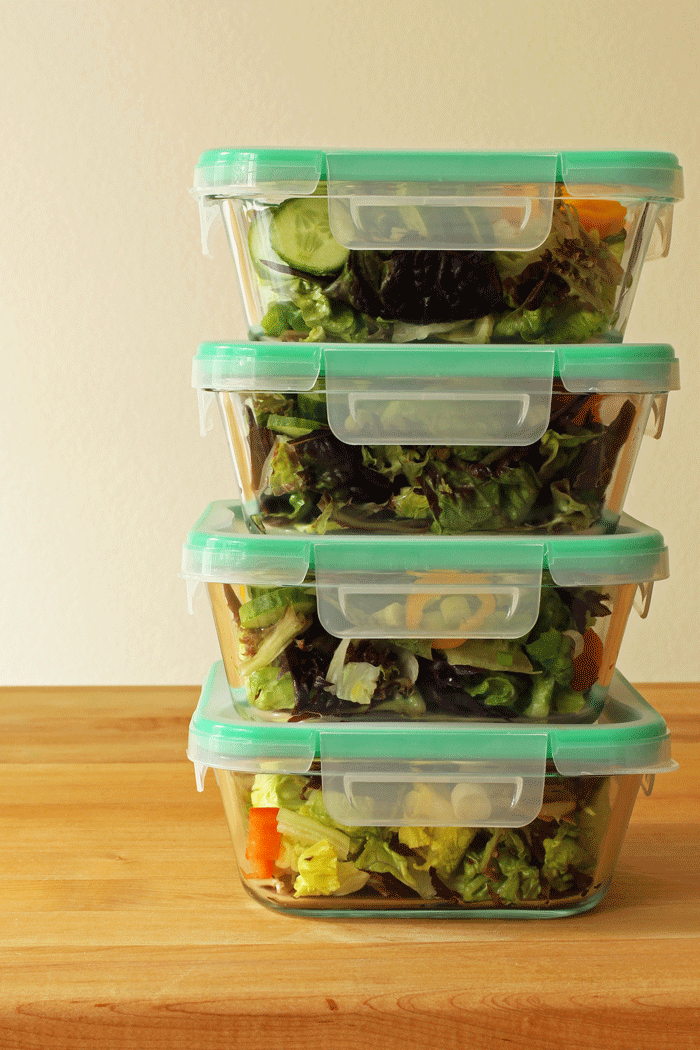 It's Sunday afternoon. You know that you have a busy week ahead. What can you do now to make the rest of the week easier?
You can spend an hour in the kitchen.
Say what?
Yes, really. You'll be amazed at what an hour of meal prep in the kitchen can do for the rest of the week. Consider this list of easy meal prep tasks you can do right now for better eating in the coming days.
Easy Meal Prep Tasks You Can Do Right Now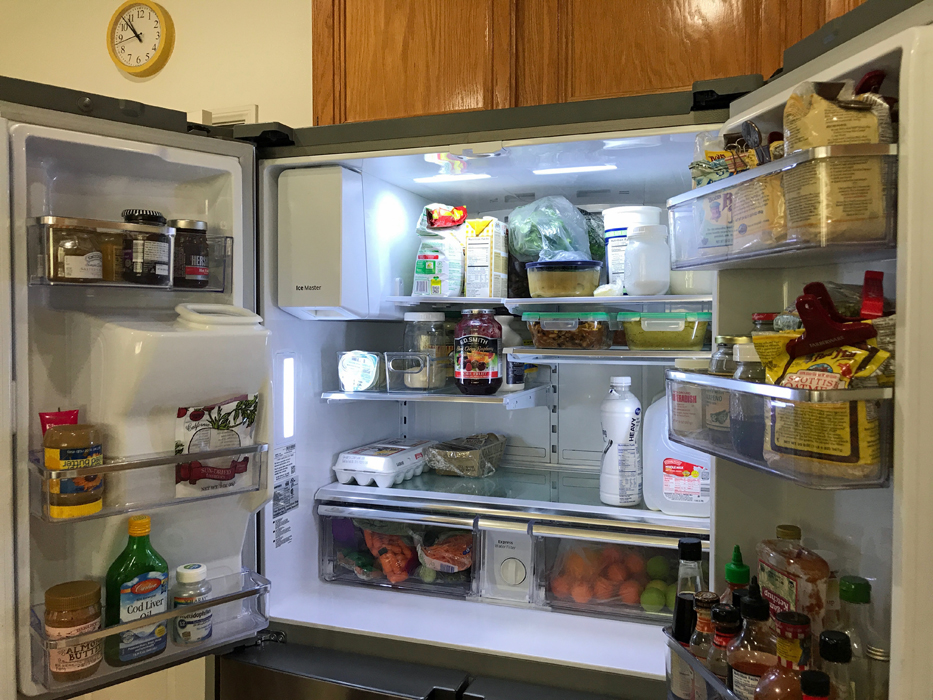 1. Clean out the fridge.
You have to know what you have before you plan meals or shop for the week, so spend some time cleaning the refrigerator.
Spend ten minutes dumping the science projects, wiping down shelves and reorganizing what's in there. Start out the week with a clean fridge and you will be so much happier to cook! You'll save some money, too.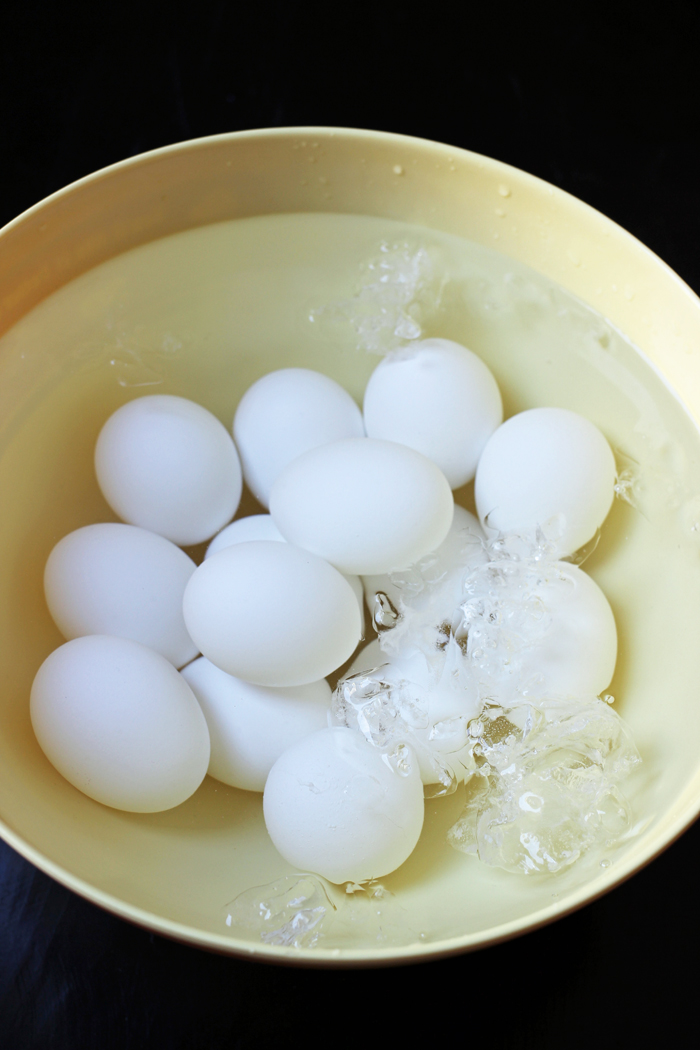 2. Boil some eggs.
When you have hardcooked eggs on hand, you have the building blocks of great snacks and lunches to enjoy during the week. Pack them in lunches, toss them on salads, fold them into sandwiches or wraps for an easy, on-the-go protein.
From start to finish, the process takes about 15 minutes, so why not?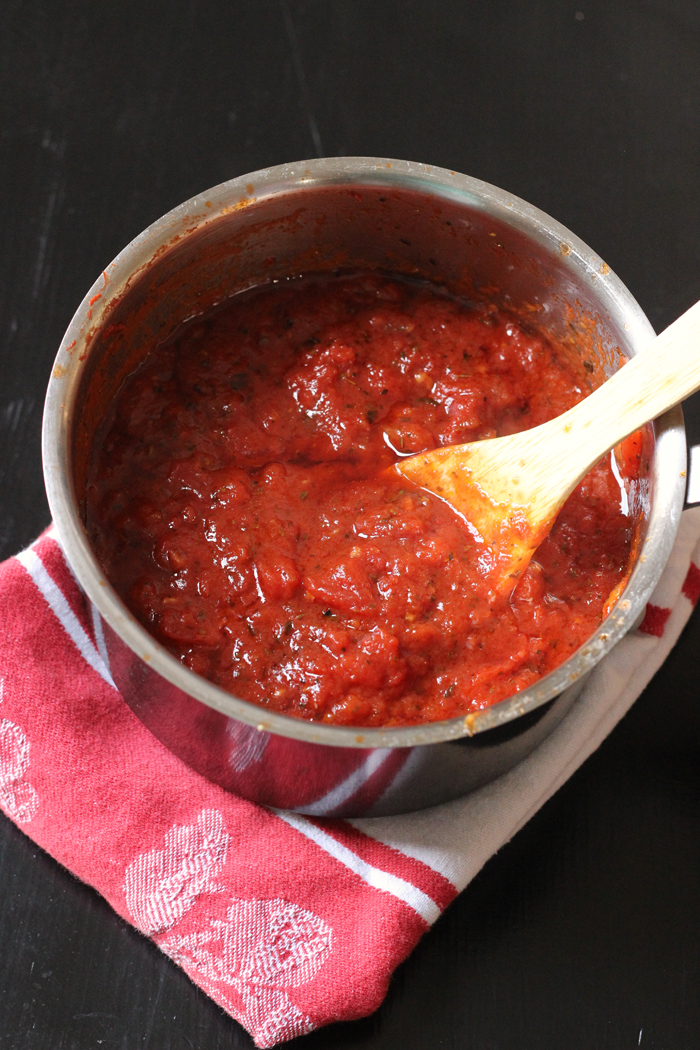 3. Simmer a pot of sauce.
If pasta, lasagna, or pizza are on your regular menu rotation, then you're going to need some sauce. It won't take long, as little as five minutes for this Last-Minute Pizza Sauce or a little longer for this Marinara Sauce Simple Enough for Everyday.
Your time investment will pay off big time when you've got fresh, homemade sauce to enjoy in the week's dinners.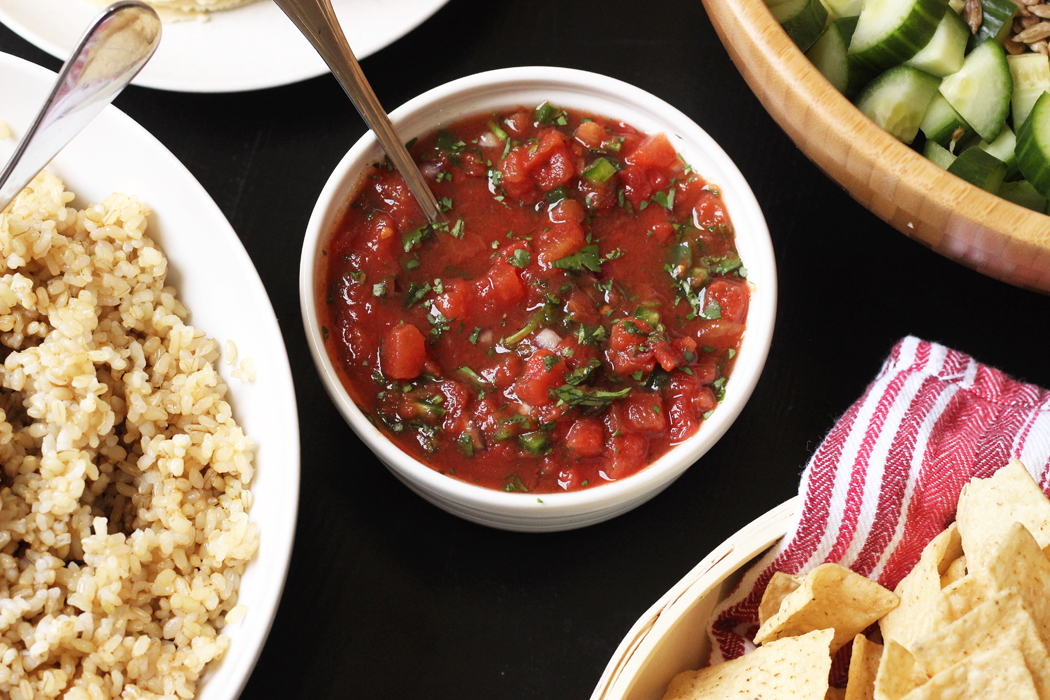 4. Make some salsa.
Homemade salsa truly can make a great meal. Beans and rice taste like something out of this world with homemade salsa — and it only takes about five or ten minutes.
If you have garden tomatoes, make this recipe. If not, go this route for homemade salsa with canned tomatoes.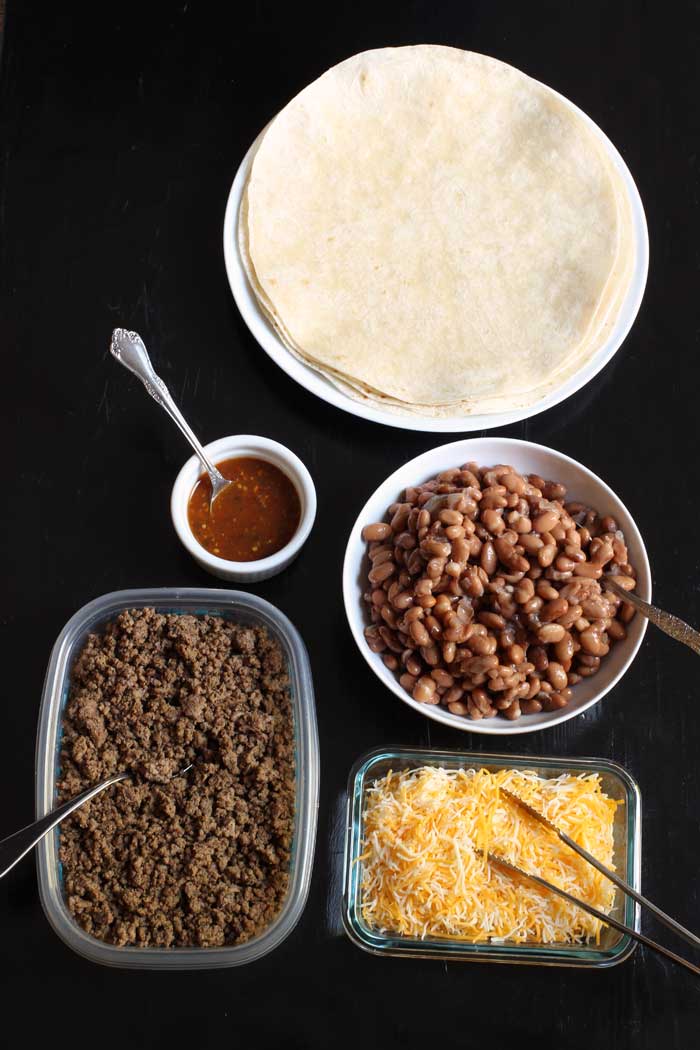 5. Cut, shred, or slice cheese.
If you buy block cheese, now is a great time to cut, shred, or slice it for the week's recipes. Cutting up a large block of cheese takes less than five minutes. Package it in an airtight container and you're good to go.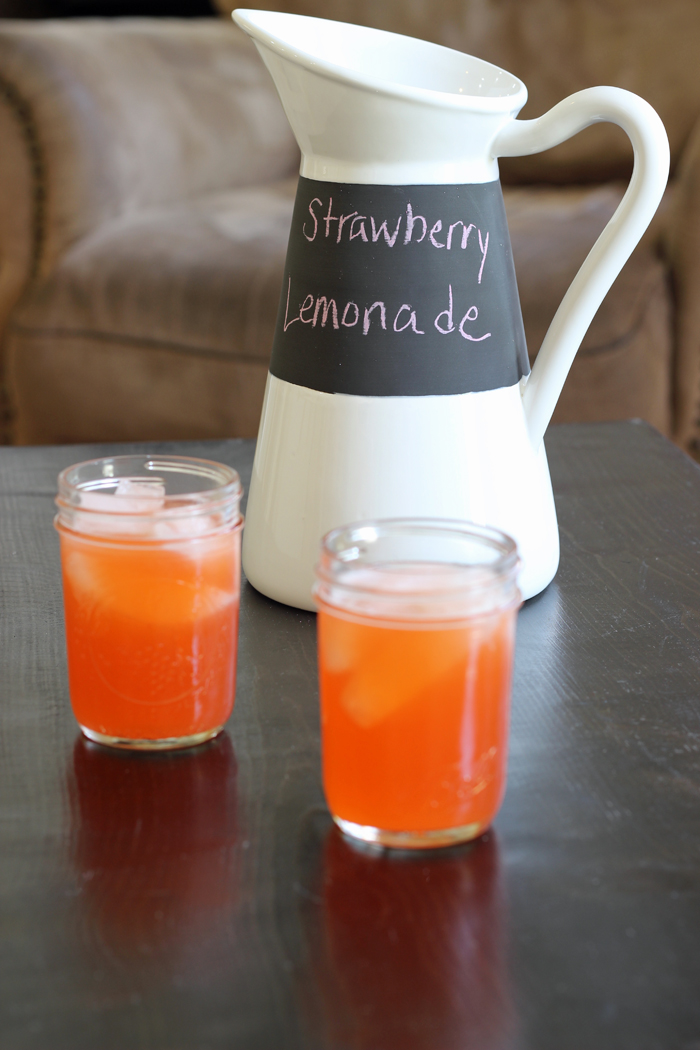 6. Make a pitcher of lemonade or iced tea.
It's so nice to have a cool drink waiting in the fridge. Often I do it only for a special occasion. But, if you do it at the beginning of the week, any day can be a special occasion.
My guess is that it takes about five minutes to make homemade lemonade, sweet tea, or iced coffee. You'll be all set for packing lunches for the week with something sweet to drink.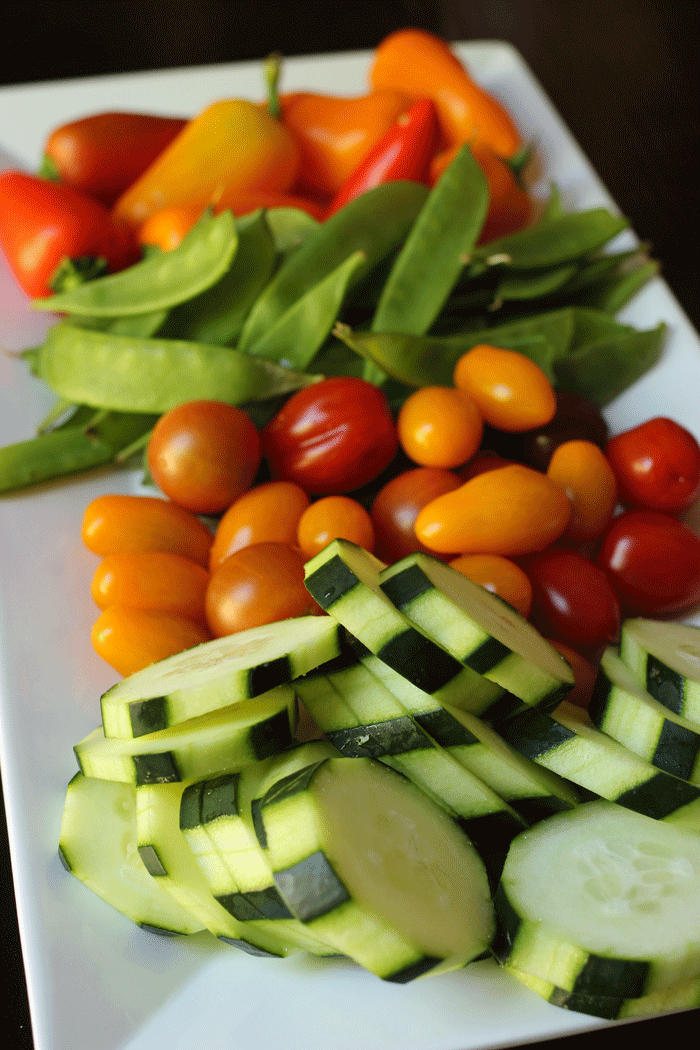 7. Prep a veggie tray or salad bar.
We all want to eat more healthfully. I know few people who don't. It's just a matter of making it easy to do.
You'll do things that are easy.
Spend twenty minutes washing and chopping vegetables for salads and for veggie trays. Store them in the fridge so that they're ready when you are.
Bonus points for making hummus or homemade ranch dip.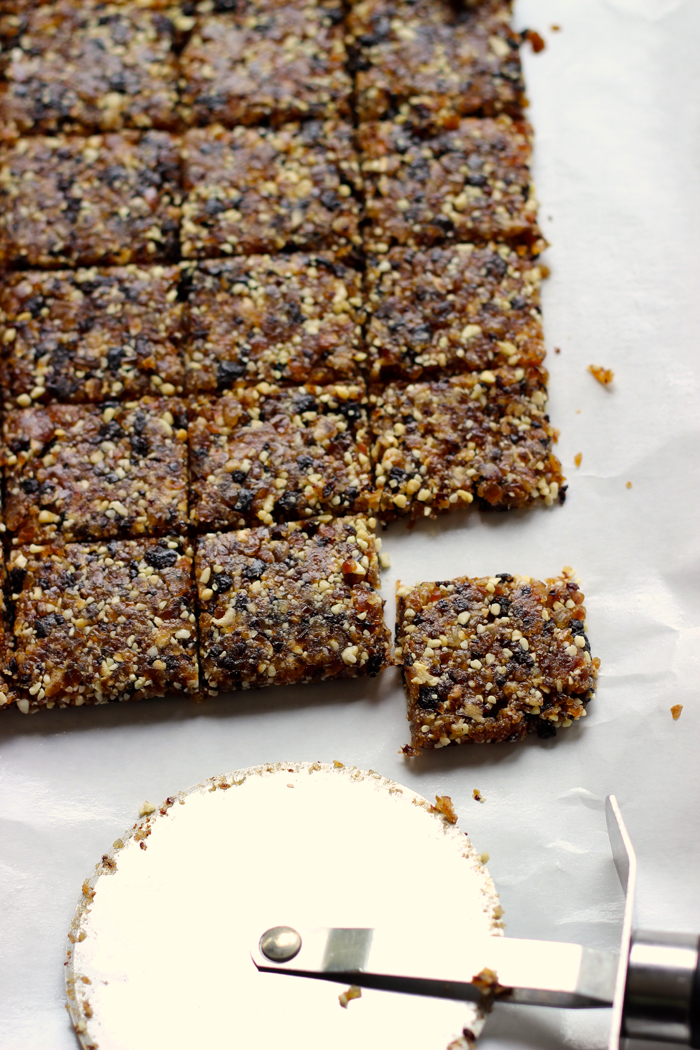 8. Make some Mamabars or other sweet treat.
If you've got ten minutes left in your hour, whip up some Mamabars. If you don't have the time, enlist an older child to do it. That's what I did. My 12yo and the food processor got a batch of these healthy snacks into the freezer lickety-split.
Now you are ready to take on the week, knowing that healthy and delicious, pre-prepped ingredients are just waiting for you in the fridge.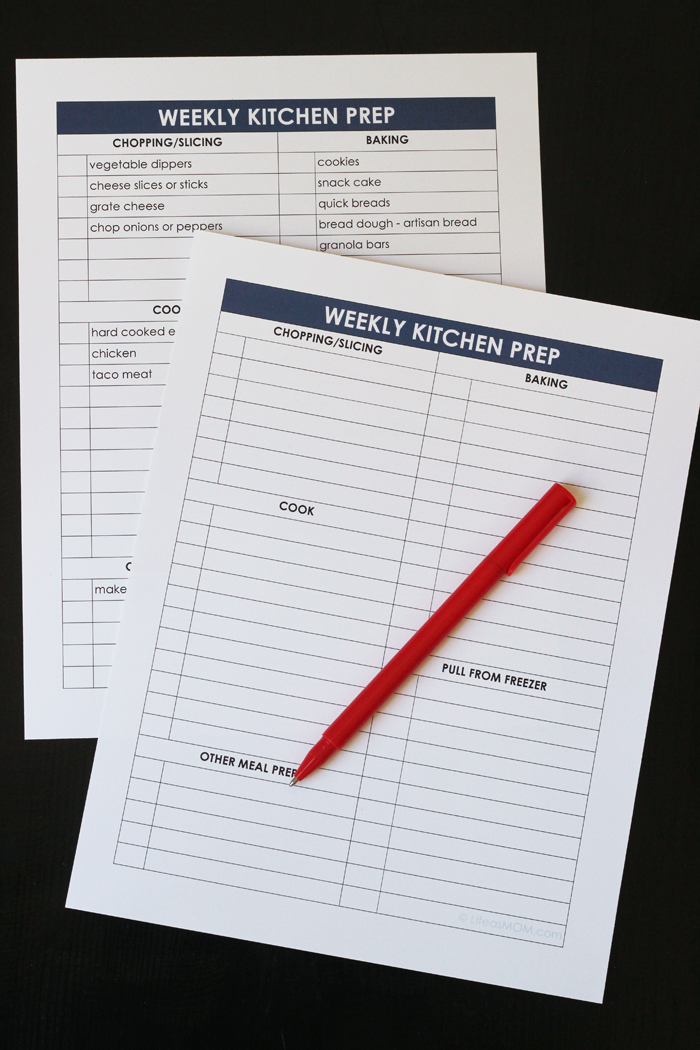 I'm sold on meal prep, and you should be, too. I put together a printable meal prep checklist to make your weekly meal prep much easier. You can laminate it and reuse it each week, using a sharpie or a wet-erase marker or just print a new one each time.
Bonus: I've included a sample meal prep checklist so that you can see
When you subscribe to the free weekly newsletter, I'll send you access to the printable straight away.
Meal prep is, by far, a major sanity saver in my week. Grocery shopping and meal planning are essential. Putting together a meal prep list and following it is the next natural step. You will be so glad you did it. I promise.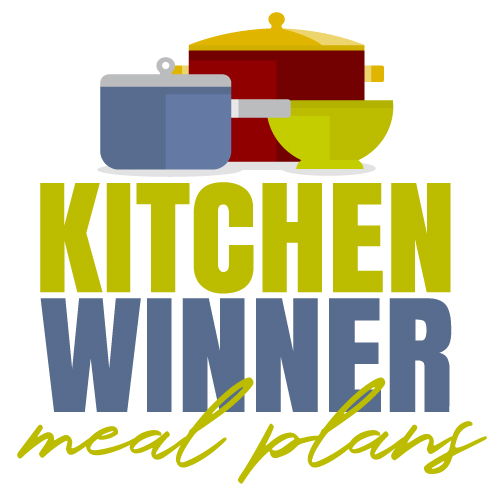 I believe whole heartedly that everyone can (and should!) enjoy delicious meals, regardless of their budget or schedule. I've developed my Kitchen Winner Meal Plans around the concept of meal prep and efficient shopping.
Each weekly plan includes a full week's menus, a coded grocery list in case you want to swap out a recipe here and there, and a complete list of things to prep at the beginning of the week to make the meals super duper simple.
It's like having a subscription to those fancy pants services that bring you a recipe and a box of ingredients — only a whole lot cheaper!
You can subscribe for the Kitchen Winner Meal Plans for a month or a whole year, just depends on what you want to do and how much you want to save.
Check out all the good stuff here: https://fishmama.com/kitchen-winner-meal-plans/