An organized workspace is not only nice to look at, but it's also easier to work in. Try these tips for organizing the kitchen so that your meal prep tasks go more smoothly.

Kitchen work is inevitable. Unless you've got a personal chef or can handle eating out every night, the kitchen is a regular workspace for you.
Having that space be clean and tidy can be a chore, but it makes things so pleasant and inviting. A clean kitchen invites you to get cooking!
Organizing your kitchen in ways that work for you is a way to help you keep it cleaner. Believe it or not, it's easier to put away dishes and keep things tidy if the kitchen is organized.
Shoving stuff in a drawer to deal with later doesn't do you any favors. You know the mess is just hiding. Being able to find your utensils and ingredients makes cooking so much easier!
Tips for Organizing the Kitchen
What is the best way to organize your kitchen?
The best way to organize your kitchen is not to be found in a book. There isn't one right way to do it because the best way to organize YOUR kitchen is to place things in the spaces where they best suit YOU and the others who cook there.
If you move house every few years you may have the opportunity to try new configurations and change things up on a regular basis. I've found that when I'm hunkered down for awhile — we've been in this house for ten years now — it's nice to do a reset every once in awhile.
That's what I did last summer. I emptied everything out of all the cupboards and drawers as if we were moving, wiped down all the surfaces, and then made some adjustments to where I stored things so that they were easier to access as well as put away.
I am so much happier with my kitchen; meal prep and kitchen clean up are so much easier!
Store things in close proximity to where you use them.
I learned this four houses ago and the concept has served me well. I have established work stations in my kitchen: a space where I usually do my baking, where I prep dinner, where I make coffee and other hot drinks, and where we serve meals buffet-style.
It helps to keep the baking supplies over the counter where I store my mixer, the cutting boards and knives where I chop veggies for dinner, and the coffee mugs, espresso pods, and tea where I make my morning cuppa.
Whenever I find myself walking halfway across the kitchen for something, I'm reminded that whatever item I am fetching probably needs to move location.
Be sure to read: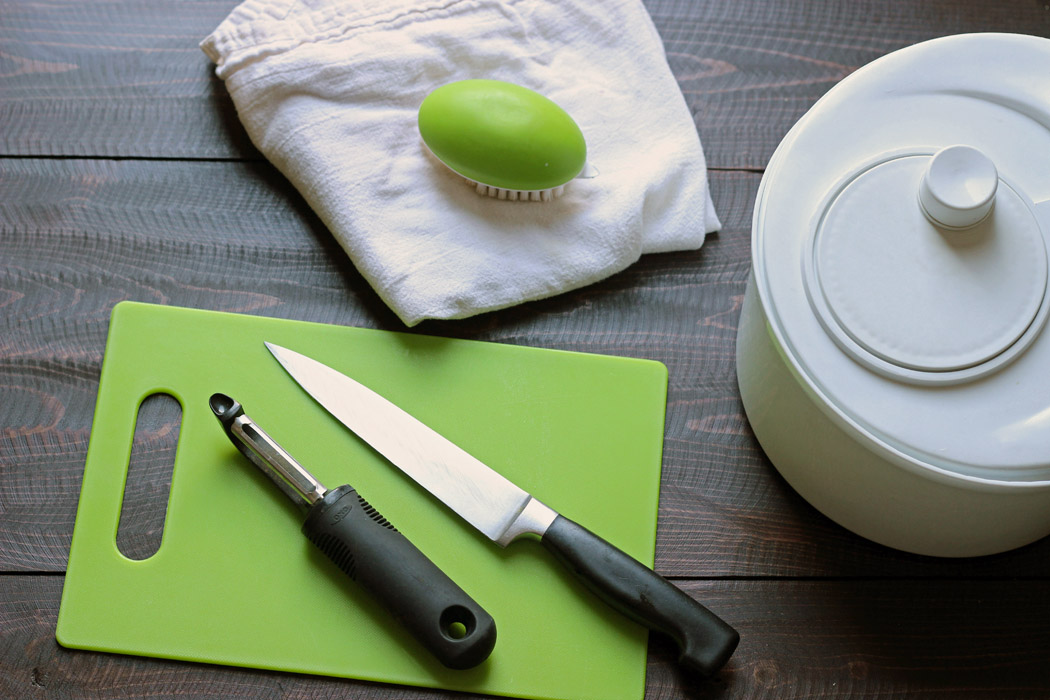 Arrange like with like.
When you store similar items together, you have a better chance of finding them when you need them. Most of us sort our clothes, storing all the socks in one place and all the shirts in another.
The same concept is helpful in your kitchen. Keep baking pans together in one space and canned goods in another.
Arrange like with like so you know where everything is and how many you actually have.
Label shelves or canisters as needed.
Labeling is a great way to keep track of where things go. Not only does it free up space in your head, but it also makes it easier for others in the family to cook or to know where to return certain items when they're putting dishes or ingredients away.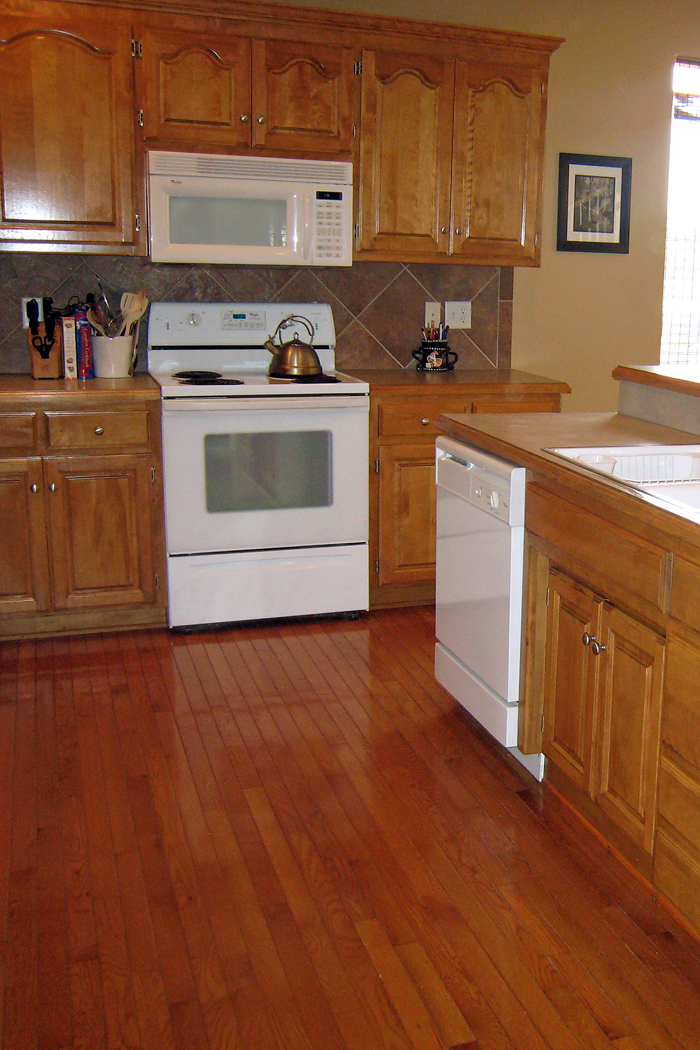 How can I reduce my kitchen clutter?
Keeping kitchen clutter at bay can be troublesome. Since the room is such an active space in many homes, it seems to attract all the paperwork, mail, and random items as well as the regular kitchen tools you use there.
To make matters worse, our belongings tend to expand beyond the storage space we have.
Professional organizers recommend that for every new item you bring into your home, you should give or sell an old one. This holds true for the kitchen. If you buy a new slow cooker, retire another small appliance that you no longer use. Buy a new set of dishes? Gift the old ones to a friend just starting out in on her own.
A place for everything and everything in its place.
Most of our problems with disorder set from not having a regular place to store things, so consider how you can make regular "homes" for you kitchen tools and appliances. If each item has an assigned place to go to, it will be much easier for your and others in your home to return things where they belong.
And since our storage space is finite, again, we have to limit ourselves in how much we keep.
When we get organized, life is so much more peaceful!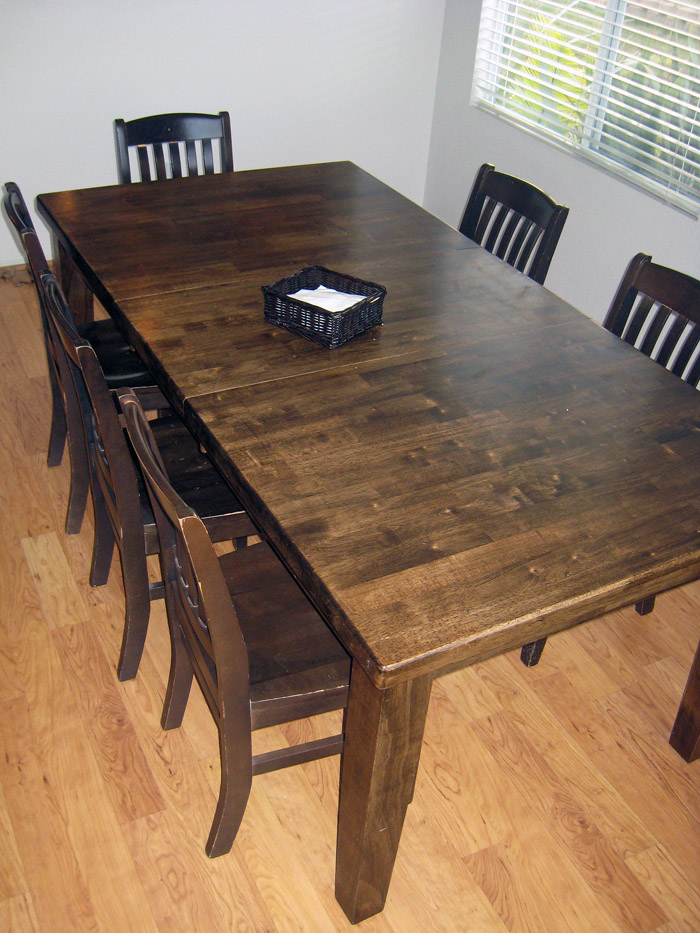 How do I keep my kitchen table clutter free?
The kitchen table can certainly be a clutter magnet. School papers, homework, bills to pay, your keys, your purse! You may have to clear the table just to sit down to eat. No fun!
Start keeping track of what items seem to gravitate to your kitchen table. Can you assign them a "home" someplace else in the house? Maybe you can put a small table or shelf by the door to hold keys, purse, and other miscellaneous items.
If those items really have no other home, can you make a habit of collecting them in a basket or bin so it's easier to move it all come dinnertime?
Think outside the box and you'll find some ways to reduce your table clutter and organize your kitchen at the same time.