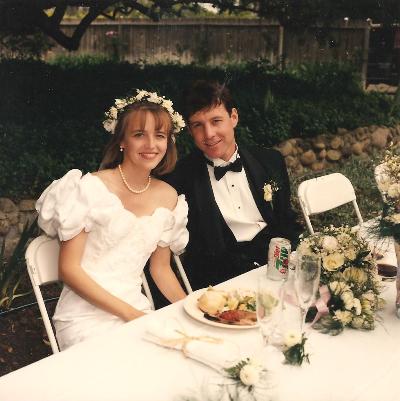 This past weekend hubs and I celebrated our 17th wedding anniversary. Seventeen years?! It's been a good ride, and I've learned a ton along the way about how to love my husband even though we are so very different.
But, one thing we have in common is our love for good food. Cooking and eating together was a big part of our dating years — and we haven't stopped yet. Cooking and eating, that is.
We've shared wonderful meals and tried lots of new things. We traveled France together twice and tasted some of the best and worst meals of our lives. We've eaten extravagantly at almost $500/month for just the two of us. And we've eaten frugally, at one point spending $400/month to feed a family of seven. Richer and poorer, in sickness and in health. That's us.
The way to a man's heart….
I have never met a man who didn't appreciate good food and drink. So, it makes sense that as Father's Day approaches, to consider some good eats and drinks for the fathers in your life.
I propose a veritable cornucopia of foodie-inspired gifts! Not only do these gifts support one of our most basic human needs (eating), but they also show love and respect if they fit the man they're destined for. If the father you're thinking of is like the ones I know, he will definitely appreciate these gifts.
A Great Cookbook
Alton Brown's I'm Just Here for the Food: Version 2.0 is a great asset for anyone who wants to improve his cooking chops. AB is humorous, yet informative. And he knows all about "man food." The guys at my house love to watch his show.

A Favorite Dinner
If my husband is hungry, crabbiness most likely follows. And thankful, the reverse effect also occurs. When well-fed, he's in a good humor. Preparing his favorite meal, like Poblano Chile Enchiladas, takes the evening over the top. Make your dad or husband his favorite food to best love on him.
A Fun Grill Gadget
Yes, really. I gave this talking grill thermometer to Hubs about 3 years ago and it has been well worth every penny. He doesn't need to stand guard over the grill, but neither do we need to eat burnt meat. The thermometer's voice nags him to go get it off the grill, so I don't have to!
A Ginormous Coffee Mug
We love big mugs at our house. They are big and bold and emblazoned with witty sayings. No dainty tea cup for my guy! If your man starts the day with a big cup of joe, he'll definitely appreciate one of these bad boys.

Thoughtful Meal Planning
Dare I say it? Don't fix food you know he doesn't like. There's nothing worse than having to suffer through a meal that you don't care for. And if the cook knows in advance that you don't like it and could have served something different, well, that's just not love and respect.
And sometimes when you enjoy different foods, thoughtful meal planning takes a little sacrifice. I prefer steak; my husband prefers fish. Fish – that is his dream dinner. So, as Father's Day approaches, I will plan accordingly.
But, all throughout the year, I can love and respect him by not purposely serving foods I know he doesn't care for.
What food gifts would that father in your life appreciate?