Disclosure: This post does include Amazon affiliate links. If you make a purchase through those links, I am paid a small amount in way of advertising fees.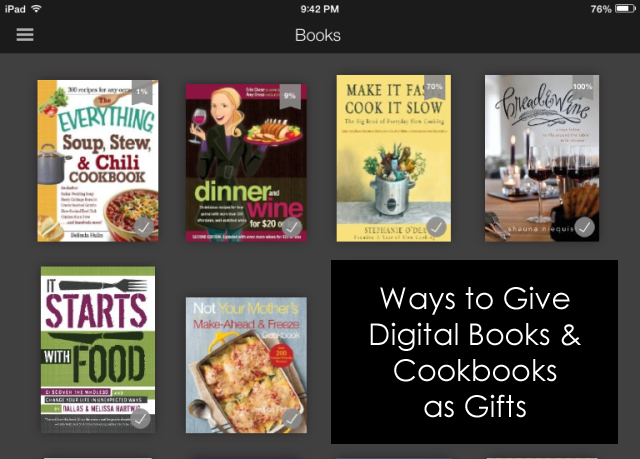 Ebooks have become more and more common place as folks strive to centralize their book collection, minimize their storage needs, and increase their accessibility. Every day I hear about folks going paperless. While I love, love, LOVE real books, I understand the need to consolidate.
Over the coming months I'll be sharing cookbook and gift pairings, particular books that I know and love and little gifts or small appliances to give with them. But before I do that, I wanted to address the idea of giving digital cooking books as gifts.
As a cookbook author, I'm getting a little more versed on the traditional publishing field and learning how things work. You can buy a hardcover or paperback book from your bookstore or you can download the digital edition. Until last year, I thought that if you were going to give a gift, then you had to buy the physical copy. But no!
You can gift an ebook!
Last year, my first cookbook, Not Your Mother's Make-Ahead and Freeze Cookbook, was released both on kindle and in paperback. As the holiday season approached, the Kindle version was marked down to $4.99. I was stunned. It was such a great deal. What I found out was that there was an easy and legal means of gifting a digital cookbook or other book.
Here are some ways that you can give digital books as gifts:
1. Have Amazon send the Kindle to your friend.
Yep, Amazon will give you the option to gift a Kindle copy of the book. Once you click "give as a gift", Amazon will let you email it directly to the recipient OR let you print a gift certificate with a redemption code to give in a card. Easy peasy.
2. Print a pdf copy of the ebook purchased from a website that allows you to print.
IF — and only if — you are not going to use the book purchase yourself, you can print the pdf copy of the book (not Kindle), have it neatly bound, and wrap it like a normal book. I don't know that Amazon Kindle allows this function, but many independent sellers will allow this, provided you respect their copyright and do not make multiple copies without making multiple purchases.
This is the case for Ultimate Bundle ebooks as well as the ebooks I have written.
Years ago, my sister printed a copy of one of my ebooks and assembled a gift basket around its topic. She used it as a silent auction entry as a fund raiser for her daughters' school. There are lots of creative ways to share ebooks.
3. Email the pdf copy to your friend or burn it to disk and wrap it.
Likewise, if — and only IF– you are paying for every copy you share with others, it's perfectly acceptable to forward a pdf purchase via email or to burn it to CD and gift it that way. In the case of the Homemaking Bundle, please contact customer service and they will transfer ownership of the bundle to the person you want to gift it to.
Please be honest and don't rob a writer of her living. It's stealing to make one purchase and send several copies to friends. Don't do that. That's not cool
4. Keep in mind the preferences of your friend.
Now, in the end, it's not really a great gift if your friend can't or won't use it. While I might be fine with using a digital cookbook, not everyone is. Keep the recipient in mind, and choose the cookbook format that will most bless them.
Have you ever gifted a digital book?
Disclosure: This post does include Amazon affiliate links. If you make a purchase through those links, I am paid a small amount in way of advertising fees.