Is yogurt a regular part of your meal plan? I'm infatuated with the stuff.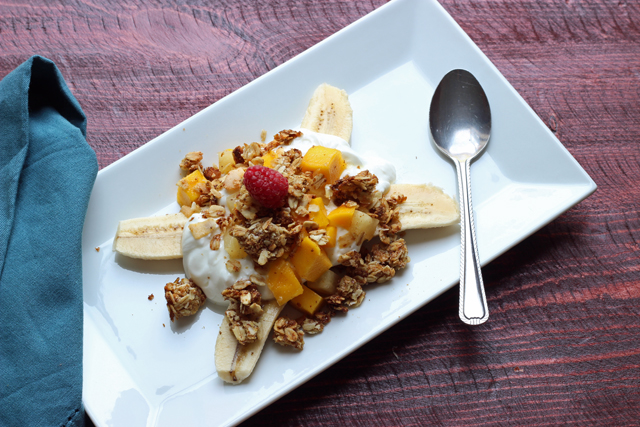 I'm a foodie girl. I love to eat.
When I'm not eating, I'm thinking about eating. Or watching movies about eating. Or reading books about eating. I haven't quite decided if that's a good thing or not.
Please tell me that I'm not the only one who does this? Who lists meal planning as an all-time favorite pastime? Who can recount all the great places to eat in any town she visited? Who can tell you what store sells the best baguette?
I'm currently reading French Women Don't Get Facelifts. Yes, really. It's by the same author who wrote the French Women Don't Get Fat series. I've always enjoyed Mireille Guiliano's writing even if I don't always believe her widespread assumptions about an entire culture.
She makes me think. And I like that.
While this newest book was a little slow for me to warm to, I'm loving it now that I'm about halfway through. These French lady books always do a good job in reminding me about food and my priorities. This one is no different. In fact, already she's validated a couple conclusions that I've come to in my forties:
Sugar is not my friend, neither is too much alcohol. I'm not getting tipsy on either of them, but they do seem to add some pounds.
Secondly, once those pounds get on, they are really hard to shake. I don't remember that Ms. Guiliano had scientific references to back it up, but it's sure been the case for me. During the last few years, it's been super easy to gain a few pounds and remarkably hard to lose them.
One of her food recommendations that has also proven true for me is the merits of yogurt. A few years ago I weaned myself off sweetened yogurt and have grown to love the taste of plain yogurt. I feel better when I make yogurt a regular part of my meal plan. It's a great breakfast, lunch, or snack that I really look forward to. Even for dessert!
If you want to make yogurt a bigger part of your days, consider these ways: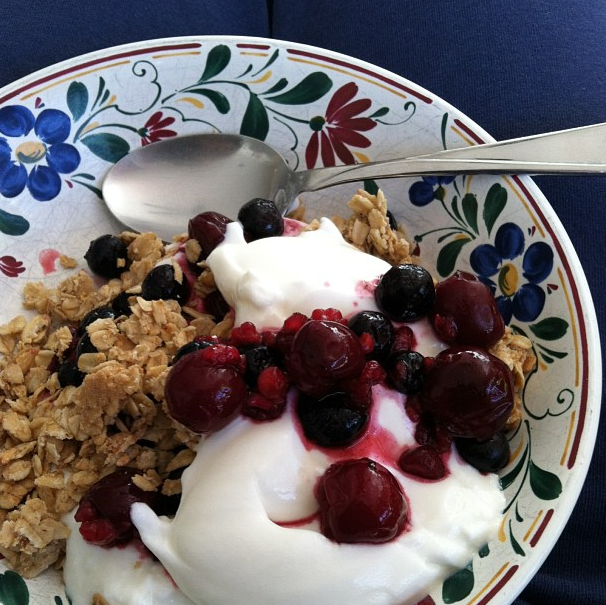 Since our family is currently on a sugar fast, sweetened yogurts are out, whether the kids like it or not. I was disappointed to see that all the Trader Joe's yogurts now contain sugar. It seems to me that they used to have a fruit-sweetened yogurt. Instead we're enjoying yogurt in these other sweet ways:
By itself
Yogurt drizzled with honey or maple syrup is pretty good. Have you tried that? Super yum.
With granola and fruit
We love yogurt piled high with granola and fresh fruit. Our current favorite granola recipes are these:
If we have fresh berries on hand, we throw those into the mix, else we thaw frozen berries or cherries. We also like it in a type of Breakfast Banana Split. Top a split banana with yogurt, granola, and chopped fruit.
While it's not exactly granola and fruit, I do enjoy this smashup of the French lady's Miracle Breakfast Cream.
In a smoothie or popsicle
Plain yogurt can be on the tart side, even in smoothies. I've found that including a banana and sweeter fruit helps it, as does a bit of Honey Syrup. Strawberry Mango Smoothie with Banana is a favorite since I typically have frozen berries and frozen mango on hand.
If there's any left, I freeze the mixture into popsicle molds. I recently bought these ice pop molds that make cute little yogurt push-up pops.
These are pretty simple ways to make plain yogurt tasty and sweet without the addition of sugar. Buy a bulk container and make some yummy yogurt treats this week.
How do YOU like yogurt?