Want to learn how to make real buttermilk? It's incredibly easy and so much cheaper than buying it at the store. Learn this quick and easy method to culture buttermilk at home.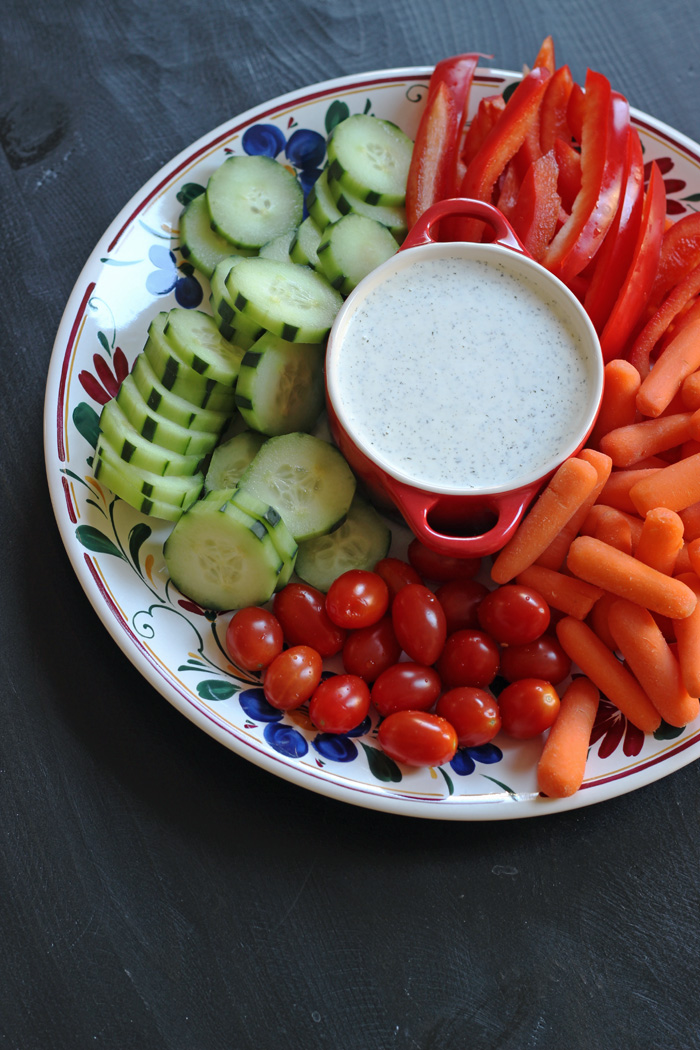 So, buttermilk. It's delicious in baking. It's awesome in dressings. It's works magic as a marinade.
It's also incredibly expensive to buy at the store. And incredibly inconvenient if you do most of your shopping at stores that don't carry buttermilk.
Lucky for you and me, it's incredibly EASY to make real buttermilk at home.
A few months back, I decided that I needed to remedy the situation. I want to do the bulk of my shopping at ALDI and Costco, but neither carry buttermilk. And we go through a lot of buttermilk. At least a quart a week, sometimes a half-gallon.
I'll confess at the outset. I'm a buttermilk snob. I think buttermilk does amazing things for baked goods, marinades, and dressings. But I don't believe that buttermilk substitutes are always up to snuff.
That lemon juice and milk nonsense doesn't really produce light and flaky biscuits. And it certainly doesn't do your salad dressing any favors.
While I will concede that a combination of milk and yogurt makes a fair substitute in baked goods, the resulting dressing is still left wanting. You need real buttermilk.
And by "real buttermilk", I mean cultured. It is just not in our best interests (financially or otherwise) to churn enough butter to get that kind of buttermilk. Who in the world does that anymore? Let's be real — in the 21st century.
For further clarification, see what the Food Lover's Companion says:
Buttermilk of times past was the liquid left after butter was churned. Today it is made commercially by adding special bacteria to nonfat or low fat milk, giving it a slightly thickened texture and tangy flavor. Some manufacturers add flecks of butter to give it an authentic look.
Those who may get caught up on semantics, I'm talking about how to make cultured buttermilk at home.
Thankfully for you and for me, it's super easy to make real buttermilk, this kind of "real buttermilk" by adding that special bacteria to milk, at home.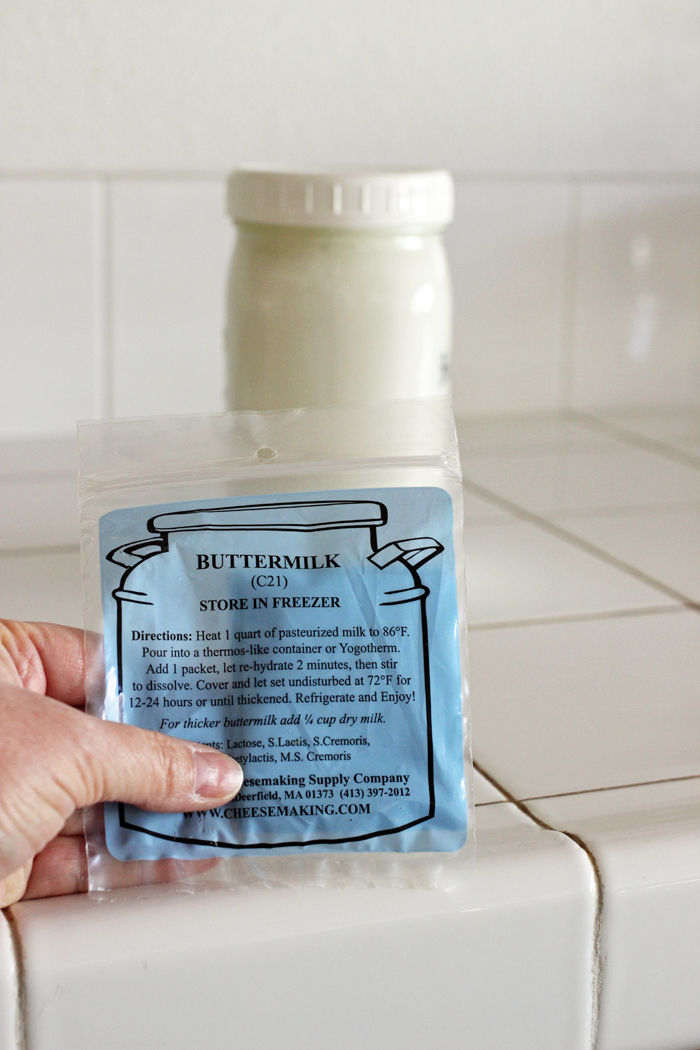 A few months ago I started experimenting making real buttermilk at home. I've been culturing buttermilk for a few months now and finding it to be a super easy process to work into my weekly kitchen tasks.
How to Make Real Buttermilk at Home
Initially, I used this buttermilk starter to create a fresh batch of buttermilk.
If you buy this starter, simply follow the directions on the package. Since I was keeping my costs as low as possible, I did not invest in a thermos-like container or Yogotherm. Instead I mixed my milk and starter in a quart-size canning jar. I capped it with a plastic lid, wrapped it in a couple beach towels, and let it sit atop my refrigerator overnight. Voila! Buttermilk!
After crunching the numbers, however, I realized that it wouldn't save me any money unless I could make several batches from this original starter. So, I started experimenting. Here are some observations:
I use whole milk because I like a thicker buttermilk.
I don't have to heat the milk when culturing buttermilk using the previous batch. I've tried it both ways and since overheating it once, realized it's a step that can be skipped. I simply add 1/2 cup buttermilk (I just eye-ball it actually) to the quart jar and fill the jar with regular milk.
Culturing 12 hours seems to do the trick. Any longer may cause some curdling. Overheating the milk can do the same. This curdling goes away with whisking, however, so it's not a big deal.
As long as the milk is thick and smells like buttermilk, you're good to go.
I have not tried this process with grocery store buttermilk, but my research says it works.
Reculture your buttermilk within 7 days for best results.
I can't tell you how incredibly easy this is to do! Sometimes, I make a few batches right in a row so that we always have some on hand.
Make real buttermilk and use it in these great recipes:
Real Buttermilk
Want to learn how to make real buttermilk? It's incredibly easy and so much cheaper than buying it at the store. Learn this quick and easy method to culture buttermilk at home.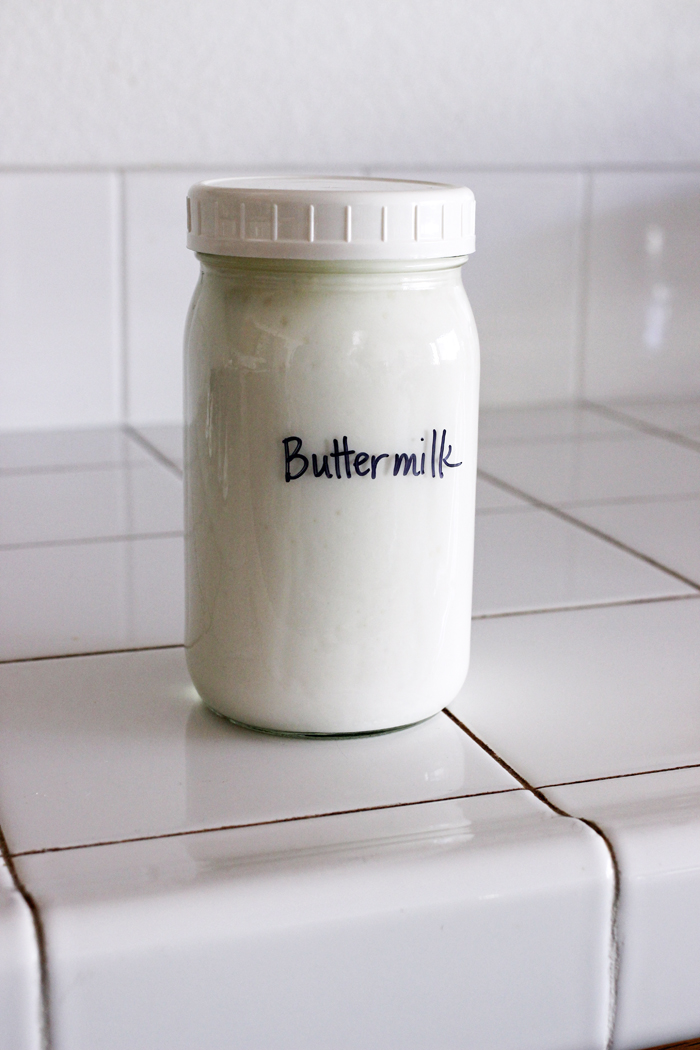 Preparation Time: 10 minutes
Cook time: 0 minutes
Total time: 12 hours 10 minutes
1 quart
Ingredients:
1/2 cup buttermilk

3 1/2 cups milk
Instructions:

In a quart size canning jar, combine the buttermilk and milk. Secure the cap.
Place the jar in a warm, dark place for 12-24 hours. I wrap mine in beach towels and place it above the refrigerator.
Refrigerate until ready to use.