Want a peek into our grocery cart? Here's how I'm grocery shopping and feeding eight people on the cheap: the Grocery Geek report for December.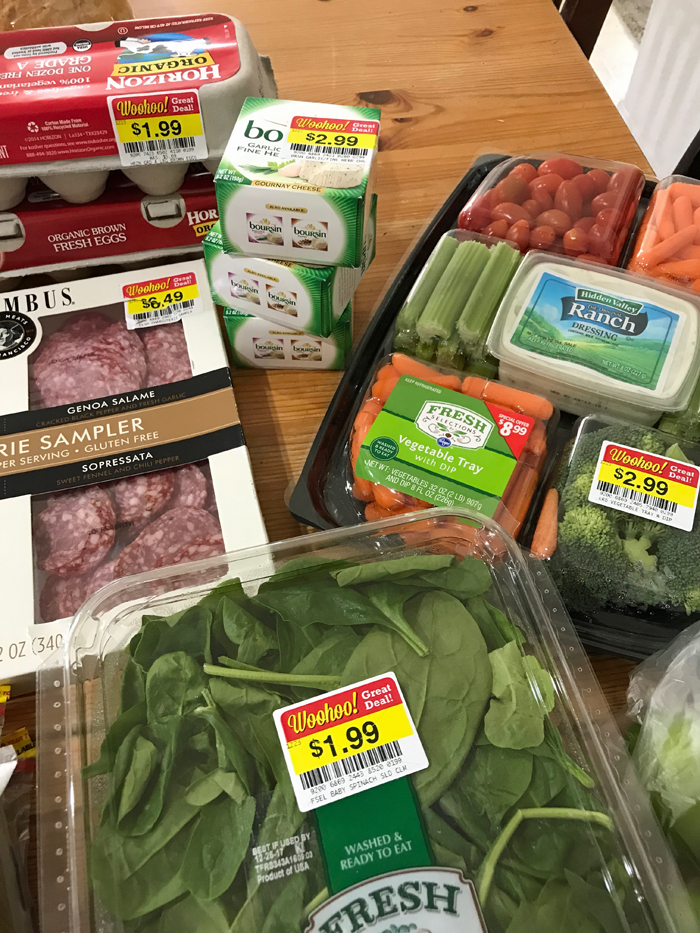 Can I just say that December was a weird month? I planned and shopped for holiday meals that didn't happen. I planned and shopped for wildfires that did. I got some amazing sales and marked downs while grocery shopping. And I got amazingly ripped off when I didn't read the fine print of a sale and was charged $40 extra for a roast that wasn't all that great.
Ugh.
I went grossly over budget for the month, but at the same time, because I'd shopped wisely the rest of the year, our average over the course of the year is under budget! Also, on the plus side, I was able to do some freezer cooking for a friend and gift her the meals during a rough time.
I guess we could say that you win some and you lose some. We're still winning in the big picture, so I'll be content. Plus, since I did get some incredible deals, I've got a good stockpile of proteins to last us into the new month and the new year.
And you know what that means…. PANTRY CHALLENGE! I'll have more details later today/early tomorrow so stay tuned. In the meantime, here's
The Grocery Geek report
For those of you new here, Grocery Geek is my regular report of how I shopped for groceries, what deals I found, and my running total of how we're sticking to a budget for groceries.
Here's the rundown on my shopping this week. As you read, keep in mind who and how I'm shopping:
My grocery shopping profile
To update you on my grocery geekiness: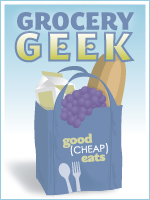 I'm feeding

 

eight people, ages 53, 45, 20, 17, 15, 13, 11, and 9. Five of those people are males. They eat A LOT!
I'm shooting for a budget of

 

$1200, per the

 

USDA food cost reports the last time I added up for people of our demographics. I live in Southern California where produce is cheap, but meat and dairy are not.
I'm trying to feed us

 

mostly unprocessed foods, with a few "healthier" convenience items thrown in and

 

a junk food splurge* here and there.
I

 

work at home and teach five of our kids, so I don't have as much time for fiddling in the kitchen as I would like.
I

 

no longer use coupons on a regular basis, though I do love

 

the coupons that Ralphs offers.
I have at least

 

ten grocery stores within 5.5 miles of my house. It is easy (for better or for worse) to stop at several stores to get the best deals.
We

 

mostly eat at home. My husband and college age son often pack lunch and breakfast to work, but sometime have lunch out. My husband and I enjoy a date once a week. FishPapa takes one child out to "dinner with dad" once a week. We eat out as a family on average once a week.
BEFORE YOU JUDGE ME FOR EXTRAVAGANCE,

 

please read this post.
What we spent in December:
Albertsons
lettuce $1.49
jalapenos $0.17
cilantro $0.89
Total: $3
Costco
milk $4.59
olives $9.99
heavy cream $9.59
organic brown mushrooms $5.99
shredded mozzarella $12.49
olive oil $16.99
Greek yogurt $5.49
broccoli florets $4.99
organic red bell peppers $6.99
Tillamook cheddar $8.99
organic romaine $3.99
uncured bacon $11.99 (2 pounds)
grape tomatoes $5.99
sourdough bread $3.69
organic whole grain bread $7.59
organic pasta $8.49
pork tenderloins $16.12
organic eggs $6.49
organic ground beef $19.99
chicken apple sausage $13.89
Total spent: $194
Sprouts
I purchased gift cards at a recent sale for Sprouts $100 for $89, so you'll see adjustments to my final price to account for this savings.
asparagus $2.84
mushrooms $3.49
berries $0.98
apples $0.98/lb
organic baby spinach $4.99
organic broccoli $0.98/lb
raspberries $2.50
pears $0.50/lb
romaine $1.29
bananas $0.59/lb
bulk sausage $2.99/lb
salmon $6.99/lb
Total $67, $60 after discount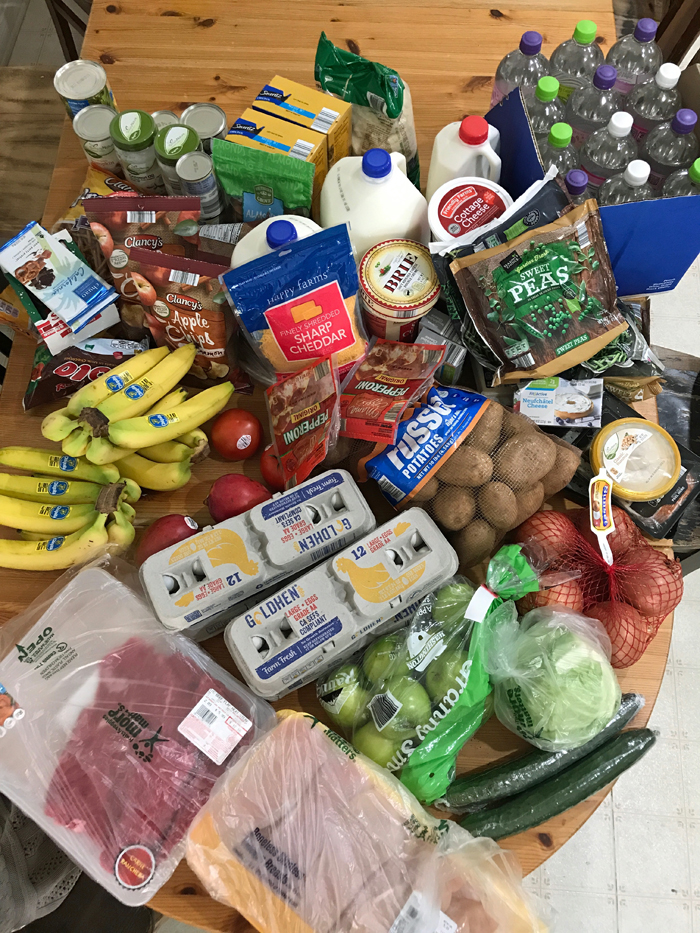 ALDI
eggs $0.54/dozen
bananas $0.29/lb
rollos $2.95
canned pineapple $0.95
organic pumpkin $1.39
onions $1.38/3#
mangoes $0.59 each
cabbage $0.29/lb
tomatoes $0.98/lb
10# potatoes $2.39
3 # apples $3.35
pretzels $1.29
cucumbers $1.39
milk $2.45
whole milk $1.72
crackers $1.69
sparkling water +crv $0.69 each
sugar $1.89
shredded cheese $2.59
tomato paste $0.69
deli meats $2.99
whole almonds $5.19
frozen green beans $1.39
organic hummus $2.29
frozen peas $0.95
steel cut oats $2.29
cottage cheese $1.29
jam $1.99
coconut oil $3.99
boneless, skinless chicken breast $1.89/lb
neufchatel cheese $1.29
sliced pepperoni $2.19
brie $2.99
fancy cheeses $3.49 to $4.99
carne asada $3.99/lb
Total spent $143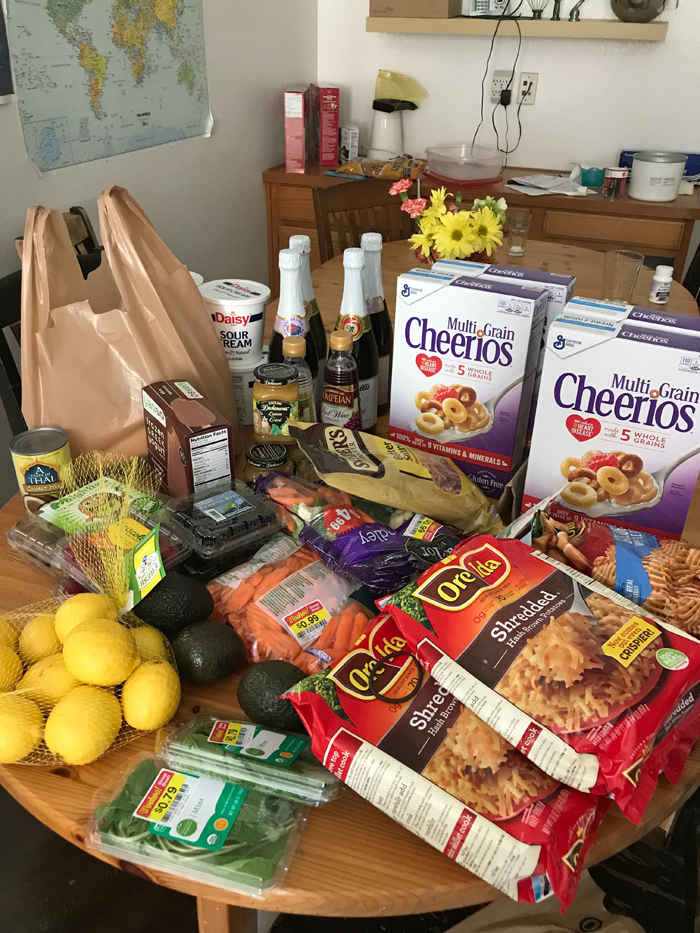 Ralphs
Cheerios $1.49 after sales and coupons
yogurt bars FREE after coupons
jello FREE after coupons
frozen potatoes $1.59 to $1.99 after sales and coupons
ginger ale FREE after coupons
mountain dew FREE after coupons
sour cream $1.99 after sales and coupons
lemon curd after sales and coupons
cottage cheese $1.49 after sales and coupons
vinegar $3.69
pretzels $3.00
baby carrots FREE after coupons
fresh vegetable medley $0.99 mgr's special
sliced carrots $0.99 mgr's special
fresh mint $0.79 mgr's special
avocados $.69 each
bag of lemons $3.99
fresh berries $0.99 to $1.50
kiwi $2.99
Martinelli's $1.59
power bar FREE after coupons
pork shoulder $1.99/lb
Italian sausage $2.99/lb
minus $5 meat coupon
Total $81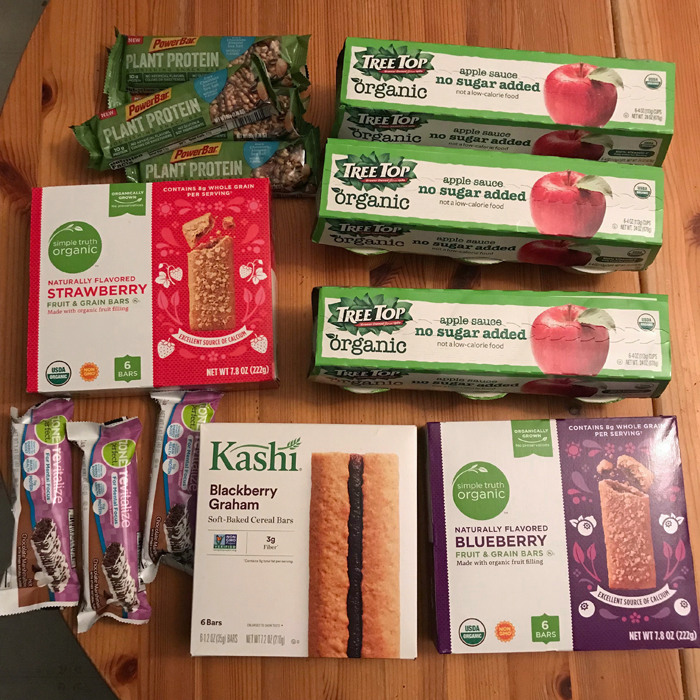 Ralphs (fire/emergency prep)
bottled water $2.99
applesauce $2.39
protein bars $0.33 to $.90 each
cereal bars $2.00 to $3.49
Total: $29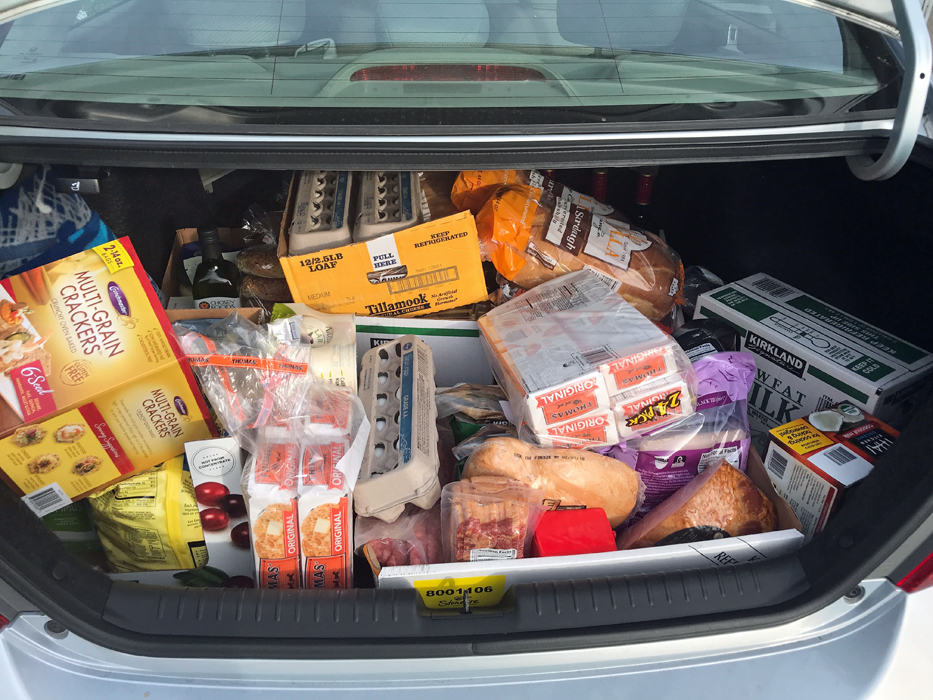 Costco (a lot of freezer cooking)
*for the bodybuilding son
canned tuna $12.99
avocado mayo $6.99 *
avocado oil $8.99
mushrooms $5.99
dates $7.99
bagels $5.99
butter $10.99
potstickers $10.89
cocoa $6.99
fruit strips $11.99
cucumbers $3.99
tortillas $3.69
milk $4.59
coconut milk $8.99*
olives $9.99
sockeye salmon $32.99
ono $19.89
ham $12.05
crackers $6.89
shredded mozzarella $12.49
Tillamook $8.99
uncured bacon $11.69
turkey breast $15.92
breakfast sausage $13.99
pickles $6.89
mayonnaise $6.99
hamburger buns $2.19
English muffins $6.79
sourdough bread $3.69
shredded cheese $12.69
organic bell peppers $6.99
broccoli $4.99
ground beef $22.48
ground beef $21.7
country strips $16.92
hummus singles $6.49
kiwi $6.99
Total: $393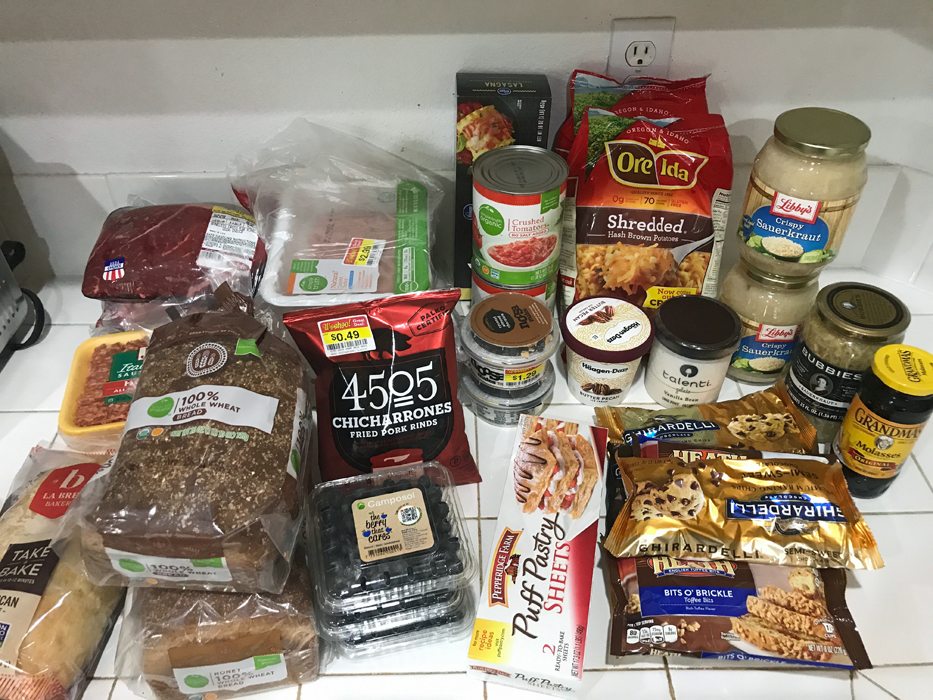 Ralphs
lasagna noodles $1.49 to $1.69
frozen potatoes $2.99
puff pastry $2.24
ice cream $3.49
sauerkraut $2.79
eggs $0.99
heath toffee bits $0.99
chocolate chips $2.99
molasses $3.59
blueberries $1.48
sandwich bread $3.49
bubbies sauerkraut $6.99*
noosa yoghurt $1.29 mgr's special
canned tomatoes $1.69
ground turkey $2.99 mgr's special
chuck roast $2.99/lb
Italian sausage $2.99
chicharrones $0.49 mgr's special
bakery breads $0.99 mgr's special
Total $115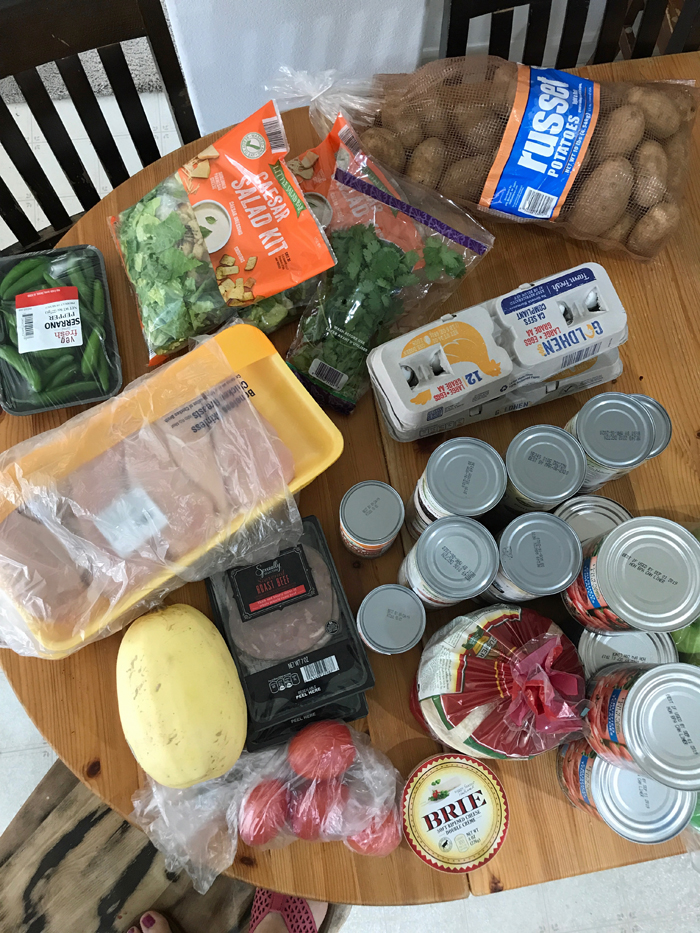 ALDI
spaghetti squash $2.99
cookies $2.99
serrano $1.49
canned beans $0.89
salad kits $1.69
cilantro $0.48
crushed tomatoes $0.99
frozen oj $1.19
bottom round roast $2.89/lb
deli meats $2.99
boneless skinless chicken breasts $1.89/lb
3# apples $2.98
brie $2.99
romats $0.49/lb
corn tortillas $2.19
10# potatoes $2.39
eggs $0.54
Total: $85
Sprouts
carrots $0.77
berries $0.98
cilantro $0.50
garlic 3/$1
ginger root $2.99/lb
green onions $0.50
oranges $0.98/lb
organic baby spinach $2.50
organic broccolette $0.98
organic apples $0.98/lb
organic celery $1.99
pink grapefruit $1.49
mangoes $0.25
sugar $2.50
bacon $5.75
salmon $9.79
Total $42, $37 after discount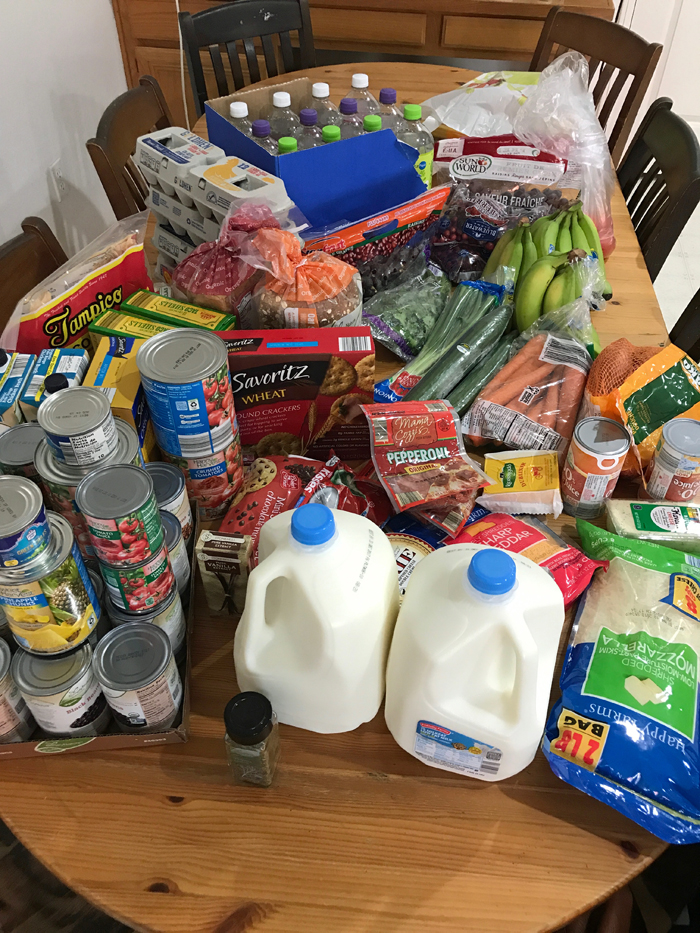 ALDI
Hershey's kisses $2.95
pepperoni $2.19
grapes $0.79/lb
fruit cups $1.69
frozen oj $1.19
organic thyme $1.99
sparkling water + crv $0.69/each
shredded cheese $2.59
vanilla extract $3.99
eggs $0.54/dozen
2# shredded cheese $5.89
cranberries $0.79
taco shells $0.99
kerrygold $3.45
neufchatel $1.29
havarti $2.99
brie $2.99
bread $3.99
cilantro $0.48
boneless chicken breast $1.49/lb
milk $2.29
crackers $1.69
romas $0.95/lb
green onions $0.99
seedless cucumber $1.48
tortillas $1.99
crushed tomatoes $0.99
organic chicken broth $1.49
tomato sauce $0.29
diced green chiles $0.59
mini chocolate chips $1.79
bananas $0.29/lb
canned beans $0.89
pineapple chunks $0.95
carrots $0.94
sweet potatoes $1.47/bag
corn husks $2.89
Total: $120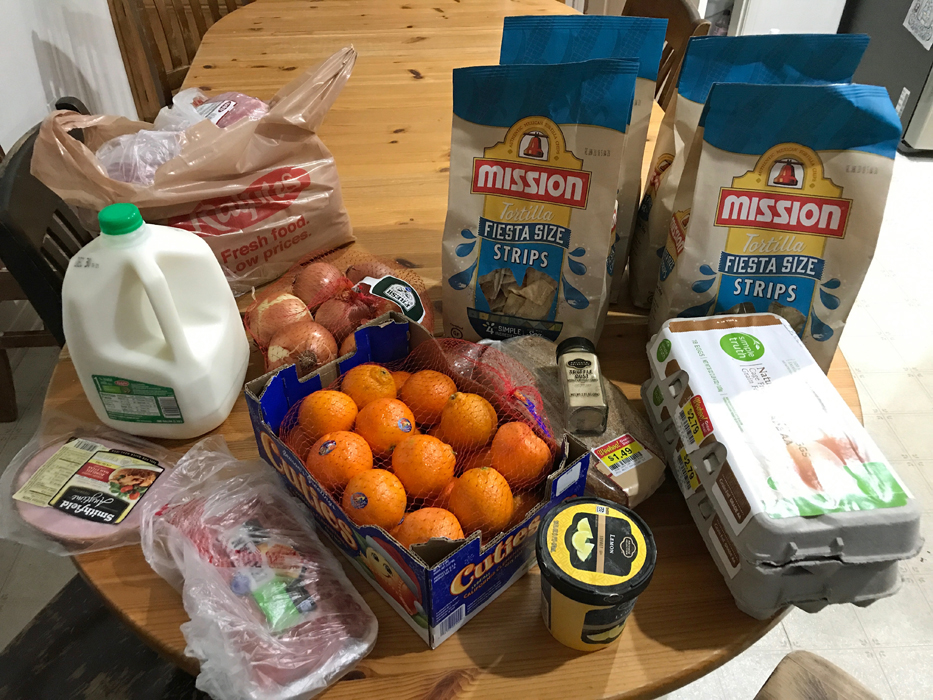 Ralphs
Mission chips $1.77
sorbet $1.99
milk $2.59
truffle dust $1.99 mgr's special
onions $2.49
5# clementine $3.99
eggs $2.79
ham steak $2.00
pork loin $0.99/lb
sausage $2.99
bakery bread $1.49 mgr's special
minus $2 ecoupon
Total $53
Trader Joe's
Ak-mak $1.99
rice crackers $2.79
string cheese $2.99
whipping cream $1.29
raw almonds $5.99
cereal bars $1.99
tea $1.99 to 2.49
baking powder $1.49
sunflower butter $4.99
almond butter $5.99
Total $51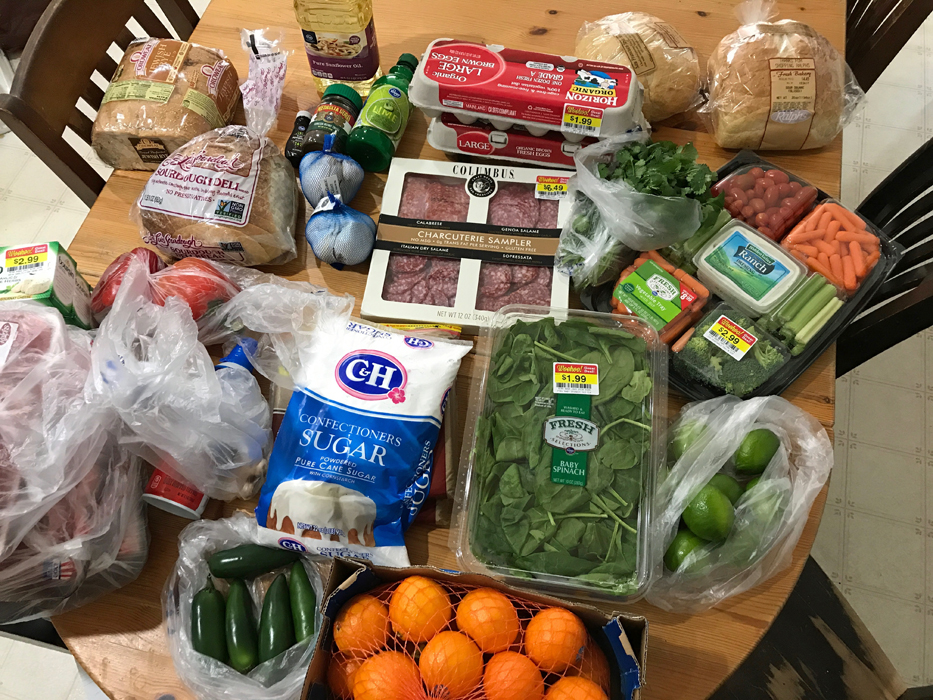 Ralphs
lime juice $1.99
deli bread $3.99 to $4.49
ice cream $2.50
sunflower oil $4.19
whipped cream $2.50
espresso powder $3.79
peppermint extract $2.99
sugar $2.16
ginger root $2.99/lb
cilantro $0.69
jalapenos $0.45
elephant garlic $1.99
bell peppers $1.49
limes $0.39
spinach $1.99 mgr's special
veggie tray $2.99 mgr's special
clementines $3.99
organic eggs $1.99 mgr's special
NY strip roast $4.77/lb
NY strip roast NOT $4.77/lb, but this wasn't clearly marked in the ads and I didn't notice until we already ate it 🙁
pork shoulder $2.99/lb
Boursin $2.99 mgr's special
sourdough round $4.49
Total spent $178
Ralphs
milk $1.89 mgr's special
eggs $2.50
bagels $1.09 mgr's special
salad kits $0.99 mgr's special
berries $0.98
Total spent $17
ALDI
sparkling water + crv $0.69/each
10# russet potatoes $0.99
cabbage $0.58/lb
organic cumin $1.99
whole almonds $5.19
grapes $0.79/lb
brie $2.99
pepperoni $2.19
crescent rolls $0.99
cocktail sausages $1.99
red onions $0.68/lb
sweet onions $1.99
limes $0.10
tomatoes $0.95/lb
boneless chicken breast $0.99/lb (I bought a lot)
Italian sausage $2.49/lb
seedless cucumbers $0.98
tea $0.99
eggs $2.49
frozen shrimp $4.59
carrots $0.94
Total $95
Sprouts
mushrooms $3.49
lettuce $1.29
XL avocados $2 to 2.50
whipping cream $3.69
ground beef $2.99
dinner rolls $2.99
cilantro $0.50
spaghetti squash $0.99/lb
yellow chili peppers $1.99/lb
Total: $34, $30 after discount
Costco
shredded mozzarella $11.99
Tillamook $8.99
bagels $5.99
sliced sourdough $3.69
romaine 6-pack $3.49
salami $13.89
bacon $12.99
cauliflower rice $3.99
greek yogurt $5.49
milk $4.59
organic red peppers $6.99
olive oil $15.49
avocado oil $9.69
minus executive member rebate -153.20
Total: $28
Total spent in December: $1712
Spent in 2017:
January $356
February $1015
March $1336
April $1347
May $390
June $1200
July $1354
August $1405
September $774
October $970
November $1065
December $1712
Total: $12,924