I love me a good After Christmas sale. For years my second son has woken at the crack of dawn to do a little post-Christmas shopping with me. We grab coffee drinks and have a little mother-son time. It's super sweet, despite the cold.
If you'd like to do a little shopping from home this year, I've got just the thing for you!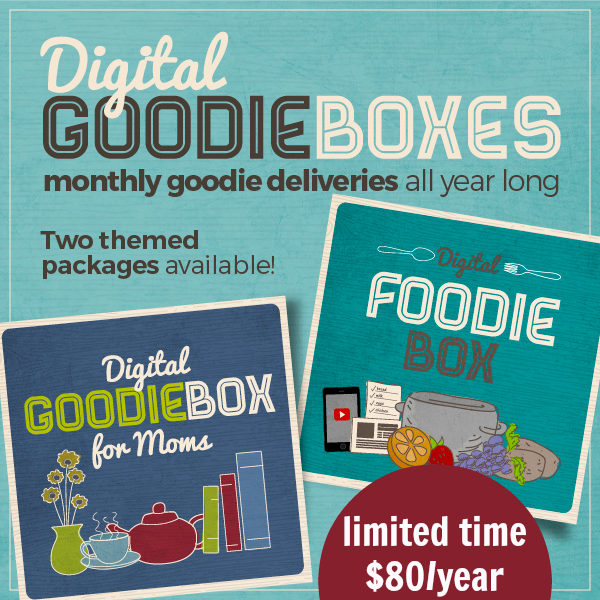 Two-Day Sale! Get Your Goodie Box for Only $80
For two days only I'm offering my Goodie Box Memberships for just $80 each. That means that your 2018 monthly deliveries will cost a mere $6.67 — for an average of $30 of digital goodies. That's an 78% discount!
Something else to keep in mind: The pre-order pricing for the Goodie Boxes ends on January 1st. After that point a goodie box membership will be $120/year or $15/monthly for a monthly subscription. This sale is your best price possible at this point, so don't delay.
Read more about each goodie box here:
Click here to learn about the Digital Goodie Box for Moms.
Click here to learn about the Digital Foodie Box.
Give a goodie box as a gift here. I'll apply the sale pricing to gift orders placed before the sale ends.
This sale will end at 11:59 pm EST on Wednesday, December 27, 2017.

Already got your goodie box membership? There's still a way to make good on this sale. Join my affiliate program and earn money back when your friends sign up!