With its sweet crumb top, tart cranberries, and rich chocolate, this Cranberry Chocolate Snack Cake is perfect with coffee or milk. Warning: there will be no leftovers.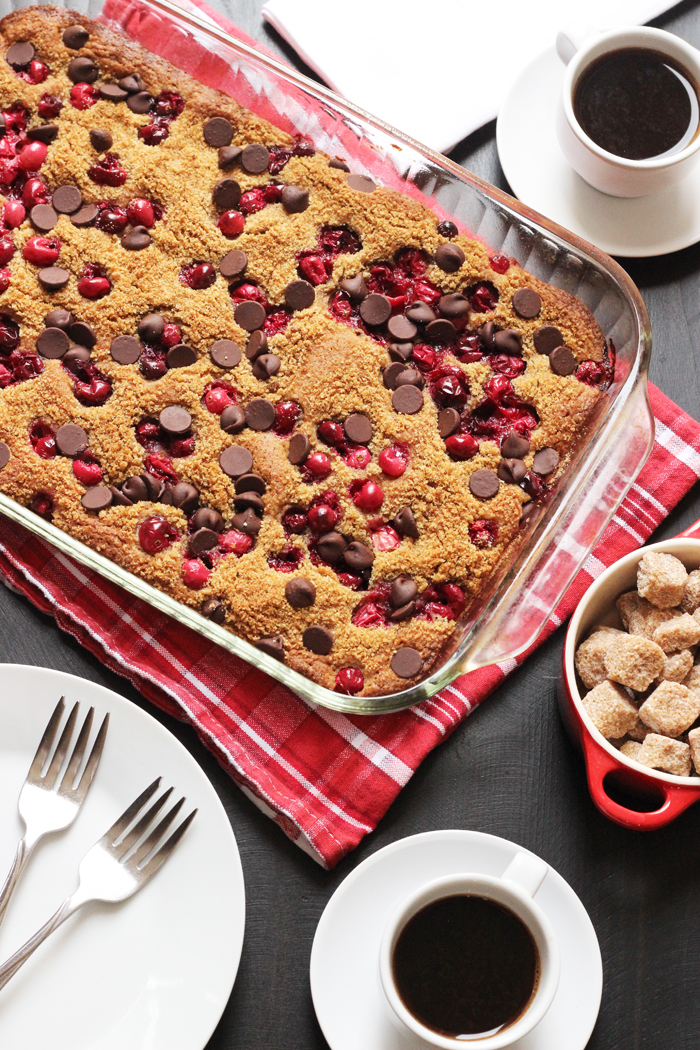 My family loves cake. More than pie. Yeah, they're weird. I'd much rather have pie.
But, this cake could sway me. A sweet crumb top forms a bed for fresh cranberries and chocolate chips. Delicious! It's perfect for an afterschool snack, dessert with coffee, or a decadent addition to breakfast or brunch.
This cake has its beginnings in a basic cake recipe a friend shared with me years ago, only it was called Toffee Topped Bars. It's basically addictive. If you sit me by a pan of this stuff, it won't last long.
I've adapted the method over time in lots of different ways, with different fruits and nuts, with chocolate and without. It's pretty much foolproof, so feel free to adjust the flavor profile to suit your fancy. Here I combined vanilla, orange, chocolate, and cranberry – a perfect team for this snack cake.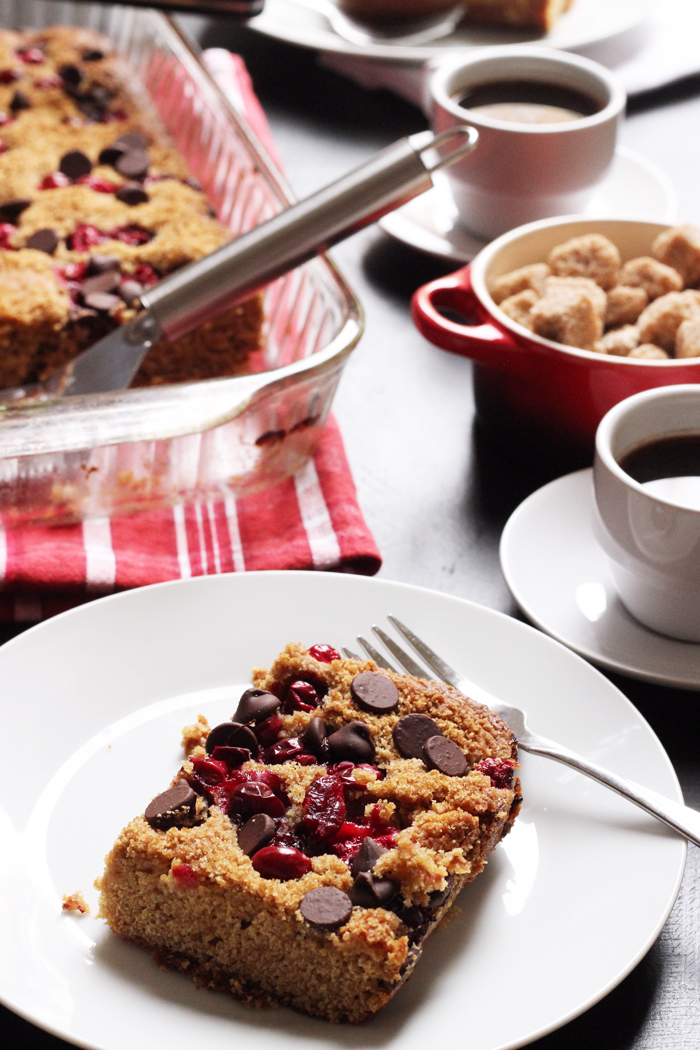 How to make this good and cheap:
To make this recipe more economical:
Stock up on ingredients when they are on sale. The holidays are a great time to stock up on baking ingredients. Cranberries will also be more readily available around Thanksgiving and Christmas. Watch for them to be marked down right after the holidays so don't hesitate to stock up and fill your freezer with them.
If you need to make some substitutions or omissions, you can skip the orange zest. It's not critical and if you don't have any oranges or they aren't on sale, it's not a huge deal. You can reduce the amount of chocolate by half if you prefer to save there as well. I've made it with as little as 1/4th of a cup and it's been great.
How I make this recipe easy:
Having the right kitchen tools can really make your time in the kitchen more enjoyable. Over time, I've honed my collection so that they are perfect for my needs. Here are the tools that I use for this recipe:
food processor – I have had a food processor for 23 years and use it several times a week. I currently use this Cuisinart model and am coming to appreciate the three separate bowls. Good news for this recipe, it's a one-bowl deal.
Pyrex 9×13 with lid – I love, Love, LOVE this pan.
silicone spatula – I love this two-sided spatula/spoon. It's great for stirring and scraping. I bought it originally to flip crepes, but I've since bought more since it's so handy!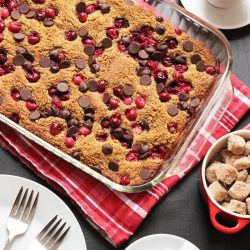 Cranberry Chocolate Snack Cake
With its sweet crumb top, tart cranberries, and rich chocolate, this snack cake is perfect with coffee or milk. Warning: no leftovers.
Course:
Breakfast, Dessert, Snack
Keyword:
cranberry cake, cranberry chocolate snack cake, cranberry snack cake
Ingredients
2

cups

unbleached

all-purpose flour (or whole wheat pastry flour or white whole wheat flour)

2

cups

brown sugar

1/2

cup

butter

softened

3/4

cup

milk

1

egg

beaten

1

teaspoon

vanilla extract

1

teaspoon

orange zest

1

teaspoon

baking powder

1/2

teaspoon

salt

1

cup

fresh cranberries

1/2

cup

chocolate chips
Instructions
Preheat the oven to 350°. Grease a 9×13-inch baking dish.

In the bowl of a food processor fitted with a metal blade, combine the flours, brown sugar, and butter. Pulse until coarse crumbs form.

Remove 1 cup of the mixture and set it aside.

Add the milk, egg, vanilla, orange zest, baking powder, and salt to the remaining flour mixture. Blend until smooth.

Pour the batter into the prepared pan. Sprinkle the reserved crumb mixture over the batter. Sprinkle the cranberries and chocolate chips over the crumb mixture. Bake the coffeecake for 35 to 40 minutes or until a tester comes out clean.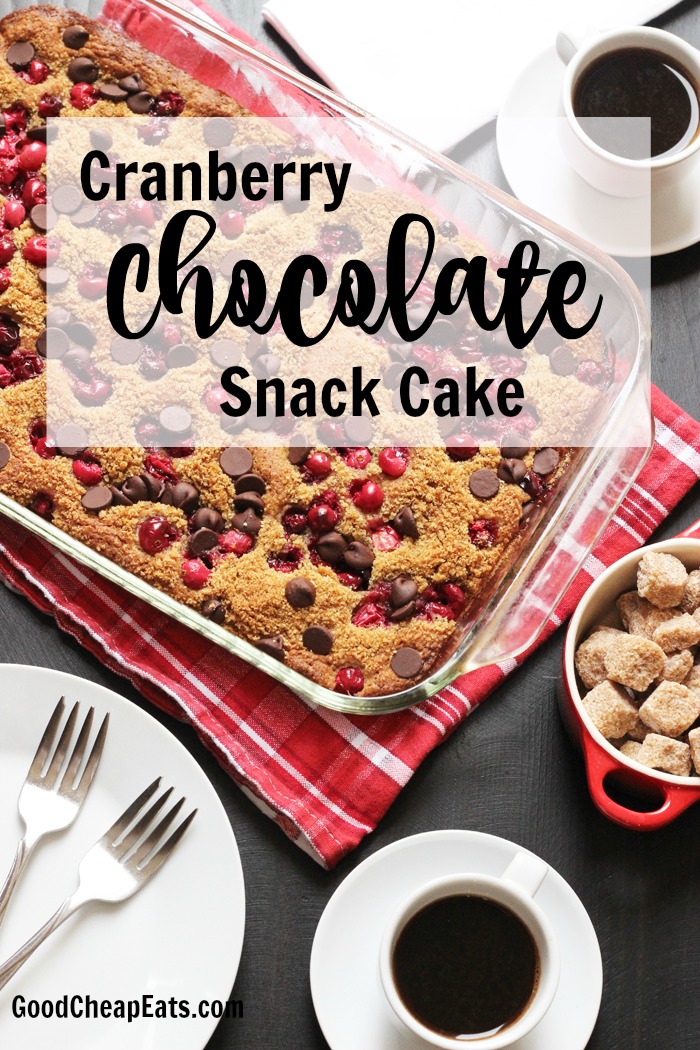 Originally published February 13, 2012.