This recipe for Cheddar Cheese Soup is creamy and comforting. Filled with bits of zucchini, broccoli, and carrots, it's healthy comfort food.
This post contains affiliate links which provide a means for me to earn fees linking to Amazon and other affiliate sites.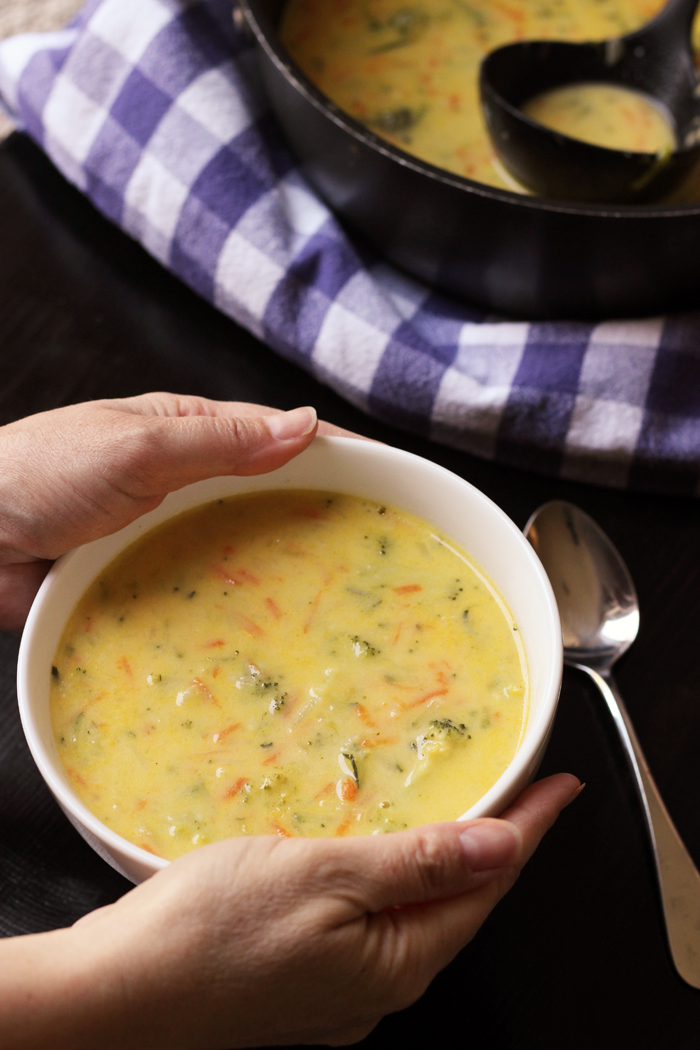 Soup is one of my favorite things for a go-to lunch. And this Cheddar Cheese Soup is one of my favorite soups, an all-time comfort food for me. When we were newlyweds our landlady made a soup like this often. Since my husband doesn't like creamy soups, I loved it when Karen made it. Then I could enjoy it without feeling bad that I was making something he didn't like.
Over the years I learned that I can have my soup and make it the way I want it, too. Once after a bout with the flu, I whipped up a batch and froze the extra.
Lo and behold! Cheddar Cheese Soup reheats really well in the microwave, making it a real keeper for freezer cooking. Ta-da! I can make a big batch of this soup and eat all I want!
If I have small containers of soup in the freezer, I can easily have soup any day of the week — all year long. And any kind I like. 😉
This Cheddar Cheese Soup recipe is an adaptation of my dear landlady, Karen's recipe. She's also responsible for my deep and abiding love for Poblano Chiles and Cheese Enchiladas. Thank you, Karen!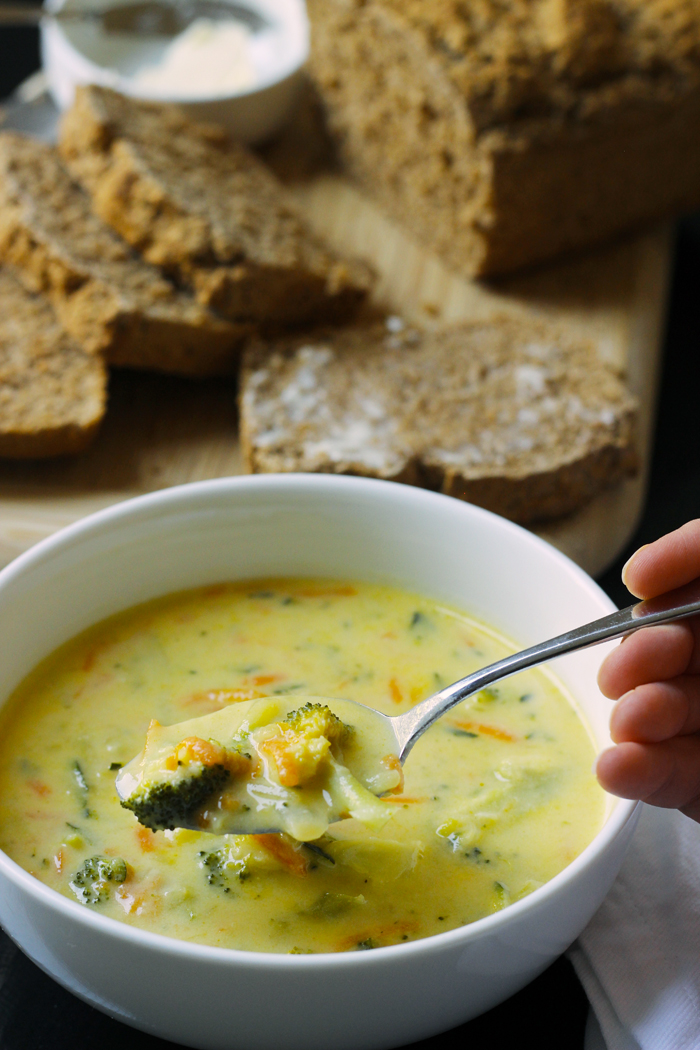 How to make this good and cheap:
Here are some of the strategies you can use to make this recipe more economical:
Stock up on ingredients when they are on sale. When I find regular kitchen staples on sale, I buy a lot. I'm currently using a price book to track prices and that's saving me money. For this recipe, keeping an eye on the prices of cheese and butter can help keep the price down. When I see a good deal on those produce items, I buy a lot.
Freezer cooking – by cooking in bulk I save time and effort. I don't need to get take out when I can heat up a small dish of soup that I made my very own self!
How I make this recipe easy:
This recipe really couldn't be easier than it is, but having the right kitchen tools can really make your time in the kitchen more enjoyable. Over time, I've honed my collection so that they are perfect for my needs.
Here are the tools that I use for this recipe:
Cheddar Cheese Soup with Zucchini, Broccoli, and Carrots
This recipe for Cheddar Cheese Soup is creamy and comforting. Filled with bits of zucchini, broccoli, and carrots, it's healthy comfort food.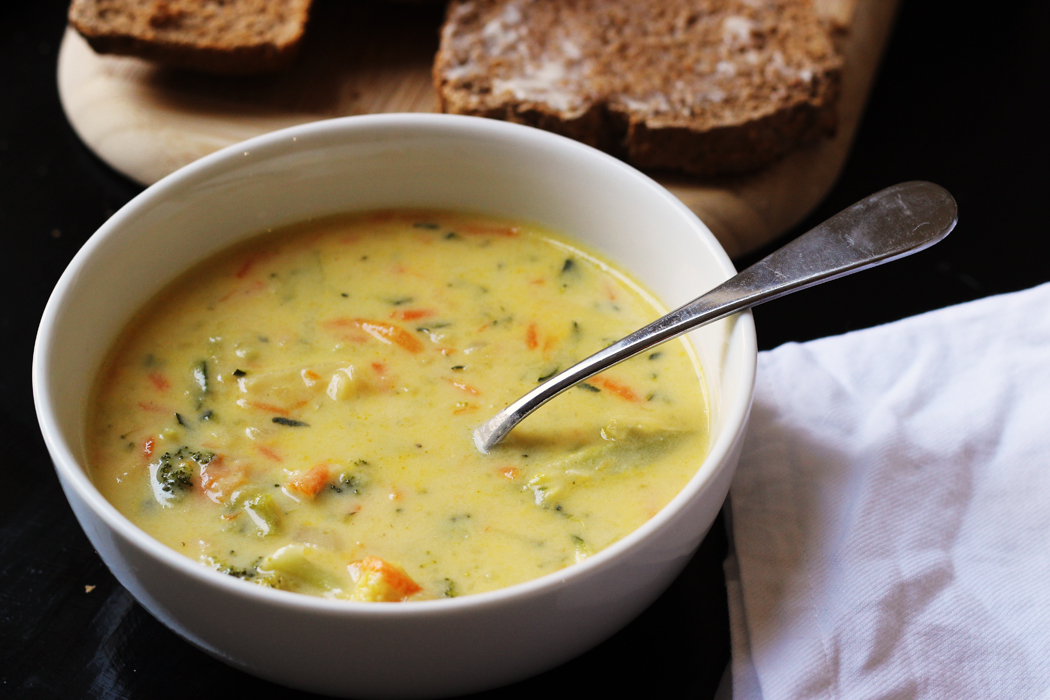 Preparation Time: 10 minutes
Cook time: 25 minutes
Total time: 35 minutes
4 to 6 servings
Ingredients:
2 tablespoons butter

2 cloves garlic, minced

1/2 medium zucchini, grated

1 carrot, peeled and grated

1/2 onion, grated

1 head broccoli, chopped into mini florets

3 cups chicken broth

2 tablespoons butter

1/4 cup flour

2 cups milk

2 cups grated cheddar cheese
Instructions:

In large saucepot, melt butter. Add garlic, zucchini, carrots, and onion. Saute until veggies are tender. Stir in broccoli and broth. Simmer until broccoli is tender.
Meanwhile, melt butter in large pot. Whisk in flour and cook for a minute or two. Whisk in milk until smooth. Simmer until thickened.
Whisk in cheddar cheese. Incorporate vegetable mixture into cheese sauce, whisking until smooth.
Serve immediately.
To freeze: cool the soup and store in meal- or individual-sized portions in the freezer, for up to 2 months. Reheat before serving.
My cookbook, Not Your Mother's Make-Ahead and Freeze Cookbook is filled with all kinds of recipes that freeze well and taste great on the other side of thawing!
Are you looking for more good cheap eats?
Originally posted August 2, 2010. Updated March 14, 2017.