This is an easy stovetop Vegetable Bolognese that is full of meat, eggplant, zucchini, and peppers. It's delicious in a number of dishes and freezes well.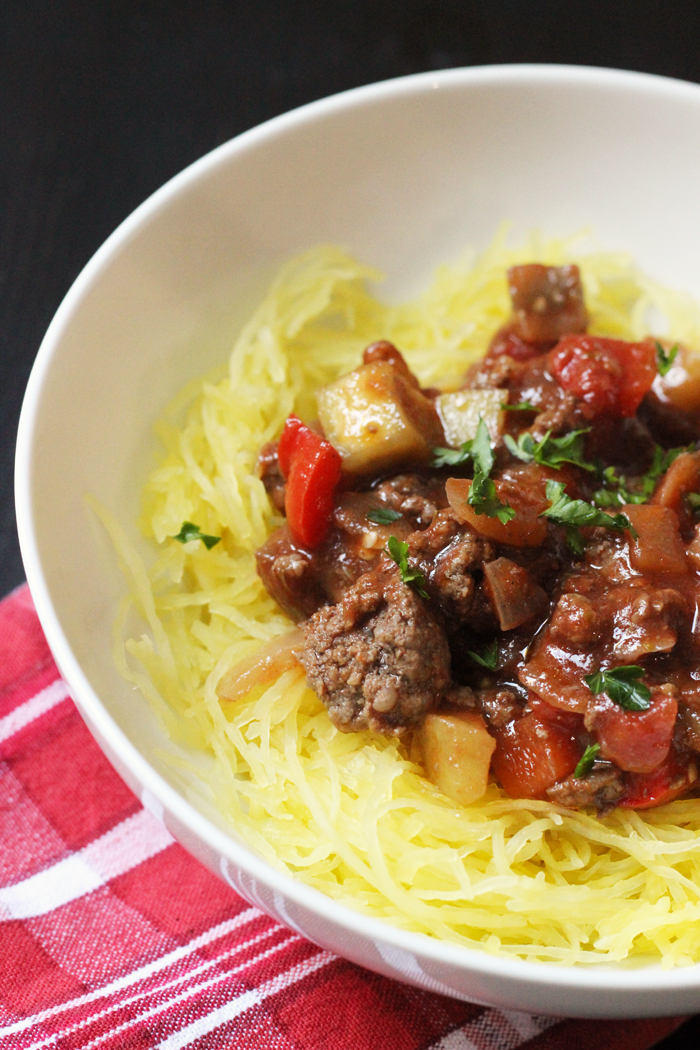 A flavorful meat sauce that's packed with veggies is one of my favorite meals to serve. Since the vegetables are already present in abundance, I don't really need to worry about too many sides or washing too many dishes. This Vegetable Bolognese with Eggplant, Peppers, and Zucchini is perfect for this category.
In fact, it's less a sauce than it is a stew. I've eaten it straight from a bowl. True story.
But, it's equally delicious served over spaghetti squash, noodles, or polenta. And if you do dairy, well, a smattering of parmesan cheese is a nice topping. It's also great made into lasagna. Yum-O!
As if that wasn't enough to love, this bolognese is very freezer friendly. Make a big pot of it, enjoy it for dinner and then cool, label, and freeze the rest in meal-size containers. You'll be doing your future self a great big, ginormous favor.
Props to Martha for giving me the idea for what to do with the eggplant I had on hand one day long ago.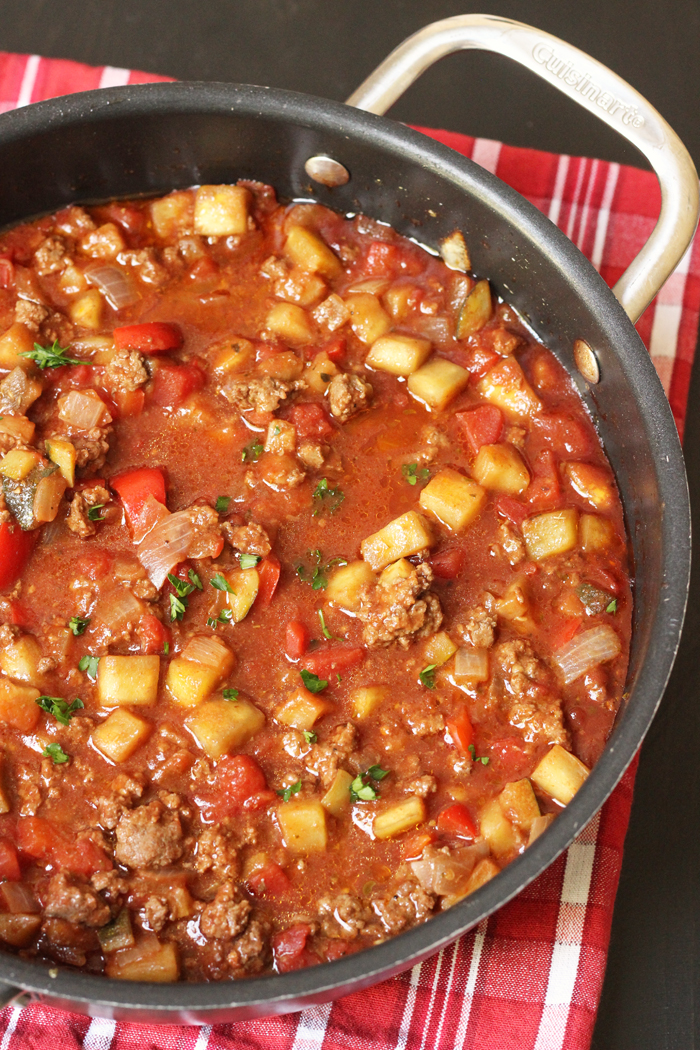 How I make this good:
Whenever possible I like to cook with plain old ingredients. While the convenience of mixes and canned sauces is nice, I feel better about feeding my family just real food whenever possible. (Go here for some of my reasons on all that.)
The fact that this Vegetable Bolognese relies on lots of veggies, seasonings, and ground beef, means that it doesn't rely on additives, preservatives, and sweeteners. It's just good real food.
I like the flavor that a little bit of red wine adds to the sauce, but if you don't do wine or are eating paleo or Whole 30, simply use beef broth instead. Either option adds a little extra depth to the sauce.
How I make this cheap:
Here are some of the strategies I use to make this recipe more economical:
Do a price comparison. I know that Costco is the best place to buy ingredients in bulk, like ground beef, olive oil, and tomato products when there isn't a great sale elsewhere. I keep track of prices so that I know who has the best deal where.
Stock up on ingredients when they are on sale

. For instance, when I see a great price on these vegetables at the grocery store, I buy a lot. Making this sauce is top on the list when I see eggplant on sale.

Cook in bulk. It saves so much time and money to make more than one meal at a time and stash the extras in the freezer. It also helps me avoid pricey convenience foods or take-out on the nights when I just don't want to cook. This recipe is the ideal bulk recipe.
Stretch the more expensive items with less expensive counterparts. Ground beef can be expensive if you don't find it on sale. You can stretch it or substitute it with ground turkey to offset the cost.

Tools I use to make this recipe easy:
Having the right kitchen tools can really make your time in the kitchen more enjoyable. Over time, I've honed my collection so that they are perfect for my needs. Here are the tools that I like to use in this recipe.
Vegetable Bolognese with Eggplant, Peppers, and Zucchini
This is an easy stovetop Vegetable Bolognese that is full of meat, eggplant, zucchini, and peppers. It's delicious in a number of dishes and freezes well.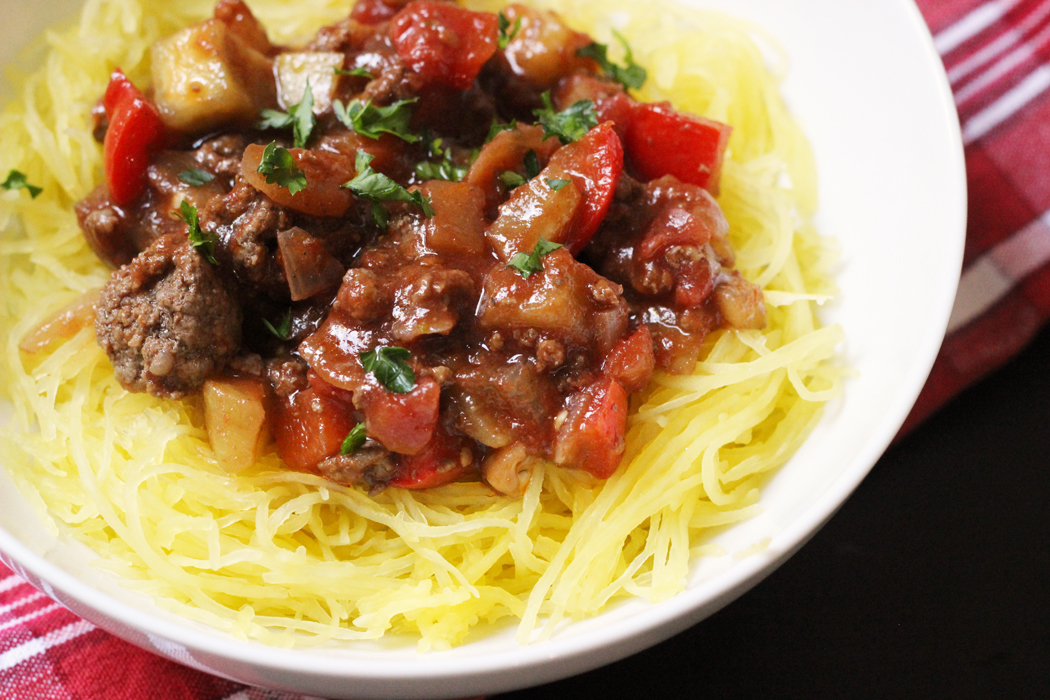 Preparation Time: 10 minutes
Cook time: 45 minutes
Total time: 55 minutes
8 to 12 servings
Ingredients:
6 tablespoons olive oil

1 eggplant, peeled and chopped into 1/2 inch cubes

1 onion, coarsely chopped

1 red bell pepper, coarsely chopped

1 medium zucchini, coarsely chopped

1 teaspoon minced garlic

fine sea salt and freshly ground pepper

1 pound ground beef or turkey

14.5 ounce can diced tomatoes with juices

3 cups tomato sauce

1/4 cup red wine or beef broth

1 tablespoon dried basil or oregano
Instructions:

In a large stockpot, heat 4 tablespoons olive oil. Add the eggplant and cook, stirring, over medium heat for 5 minutes. Remove from the pan.
Add the remaining 2 tablespoons olive oil and heat. Add onion, bell pepper, zucchini and garlic. Cook for 7 minutes. Season to taste with salt and pepper.
Add ground beef and cook until cooked through, stirring often.
Add back in the eggplant as well as the tomatoes, tomato sauce, red wine, and herb of your choice. Adjust seasonings. Bring to a bubble. Reduce the heat. Cover and simmer for 25 minutes.
Serve over pasta, spaghetti squash, or polenta or use in recipes that call for bolognese.
To freeze: cool sauce completely. Wrap, label, and freeze in an airtight container.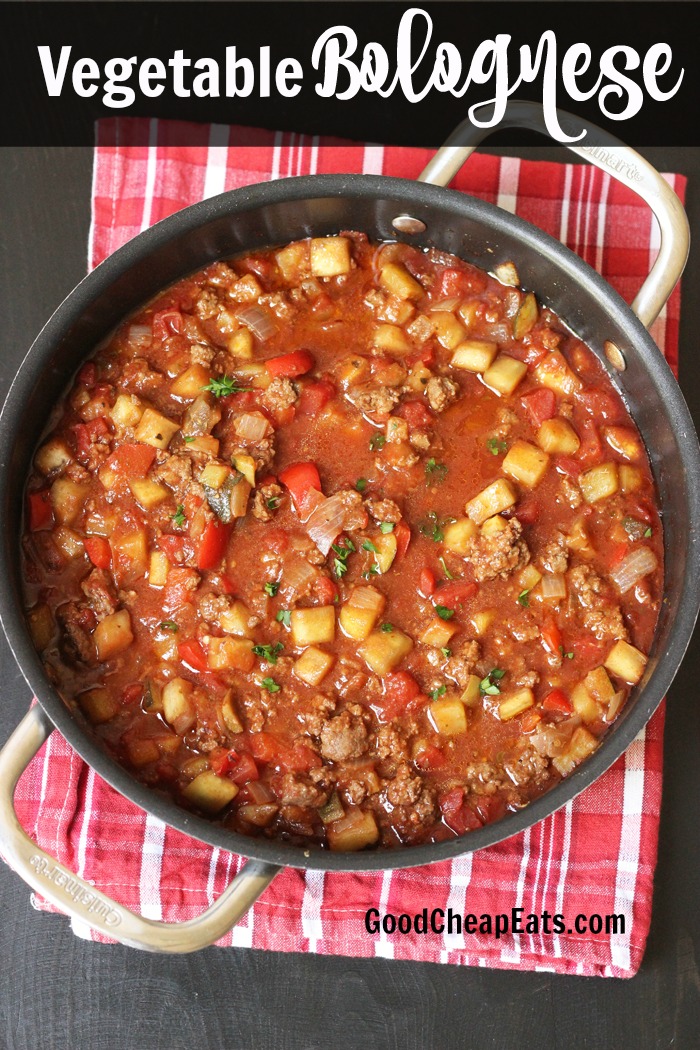 Are you looking for more good cheap eats?
Originally published October 21, 2010. Updated November 11, 2016.